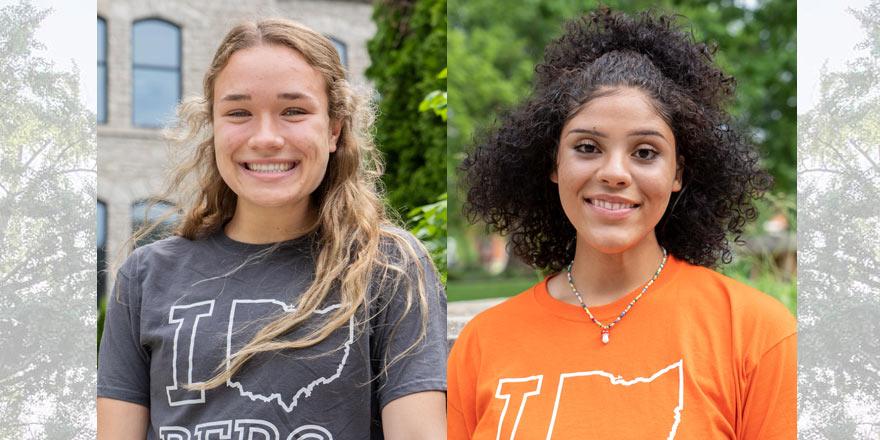 While student-athletes may have a busy schedule, there is much more to engage with than just sports at Heidelberg. Though Maddie, volleyball, and Alex, track and field, are both student-athletes, they find additional ways to be involved on campus. Meet both of them in our Orientation Leader series.
Maddie Szawranskyj, '22
Why did you choose to come to Heidelberg?
"I chose to come to Heidelberg because of its friendly atmosphere, the chance to continue my volleyball career, and the limitless opportunities that were presented to me the first time I stepped foot onto campus."
What stood out to you the most during your orientation?
"It was how involved all the current students were, talking about what there was to do around campus, how much they loved the professors, and endless support/help from faculty and staff. I was super nervous for college, but after going to Heidelberg's orientation, I felt more at ease and eager to move onto campus and start my own journey."
Are you involved in any extracurricular activities?
"I am involved in a number of things on campus. I am on the volleyball team, I am a part of HUCTM which is Heidelberg University Council of Teachers of Mathematics, aka the "Math Camp" club on campus which is an education group (you do not have to be an education major to be a part of it, nor be good at math) that holds math camps at schools around the Tiffin area to make math more fun and enjoyable for young students, persevering in solving equations and problems, and much more. I am a part of the Leadership Team for this group and since I want to be a teacher, I am very passionate about it and truly love being a part of a club that revolves around my corresponding major. I am a part of SAAC, Student Athlete Advisory Committee, which is a club on campus that has a few members from each sports team represent their sport and discuss important details, events, and changes we want for our school. I am a student ambassador/tour guide on campus, I work in Saurwein Health & Wellness Center throughout the school year, I work some of the other sports games, and more. I would say I am definitely a busy gal, as I am always trying to find ways to keep up and moving, especially around campus and in many of the events we hold. I think I enjoy being interactive with what's going on at Heidelberg, as I get to truly experience some of the best things that happen, just like being an orientation leader (for the past two years, last year and this year) and meeting incoming students, so I can express my love and gratitude for Heidelberg to others."
Which faculty and staff members have helped you the most during your time at Heidelberg?  
"Dr. Haubert and Dr. Henry are my supervisors for Math Camp, so I have grown really close to them not only in the classroom, but outside of it as well. Dr. Haubert specifically has been a great burst of energy and motivator for my classmates and I; she is also a great person to rant to and talk about life with. I've loved getting to know all of them and I am truly sad to even think about graduating and leaving them in a year, but I am truly thankful for all that they have taught me so far."
Alex Carter, '23
Are you involved in any extracurricular activities?
"I'm the VP of Black Student Union, student worker, former basketball member, and current track and field member. Being a part of BSU is so important to me as a person of color because it gives us a platform to involve and educate outside demographics, along with creating a tight unit of diverse people who share an experience. Being a student worker is also important to me - I feel like working with some of the most distinguished positions on Heidelberg's campus has both improved my character and work ethic. Lastly, I came into Heidelberg as a two-sport athlete, but will finish my last years with just track. I think it's important for athletes coming to Heidelberg to be okay with something not working out on the team; we have lots of sports, you can always try another."
What is your favorite thing about Heidelberg?
"My favorite thing about Heidelberg is the sense of community it has. The type of people who come to Heidelberg are compassionate and inviting, and it isn't common to see someone you don't already have a relationship with or impression of. My favorite event is absolutely homecoming - alumni, current students, friends and family, and more come together and celebrate the tradition Heidelberg has."
Which faculty and staff members have helped you the most during your time at Heidelberg?  
"Shaun Gunnell, Morgan Harrigan, Daryl Close, Robin Heaton, Paul Sittason Stark, and John Sharp have all helped me tremendously throughout my time at Heidelberg.
Both Shaun and Morgan were formerly my coaches, and through that time period I learned more from them than I have most people in my life. They forced me to be better, and our relationship today is something I'm grateful I can maintain.
Daryl Close and Robin Heaton helped and gave me tips throughout their classes that have helped me tremendously. When I was a Communications Major, Dr. Heaton would help critique and comment on my work - now a Philosophy major, Dr. Close has taken his own personal time to help me when I needed it.
Paul Sittason Stark has helped me unintentionally many times, just by always knowing what to say at the right times - he's also helped me when in times of need. John Sharp is someone I've used as a person to confide in, and he's given me advice and forced me to reflect upon myself many times."
What advice do you have for first-year students that you wish you knew coming in?
"Not everything is the end of the world, although it can feel like it. Getting a bad grade or failing a class won't ruin your college life – what's important is that you adapt accordingly to whatever comes your way."
---
Both Maddie and Alex are enthusiastic about welcoming the new #BergBound students during orientation. They say the opportunities that Heidelberg offers them, "has surpassed my expectations for a college," in Alex's words. Lastly, a tip from Maddie: "Get out and find ways to be involved. I promise you won't regret coming to Heidelberg. Although it's small, the opportunities are BIG." 
Written by Stefania Fiume