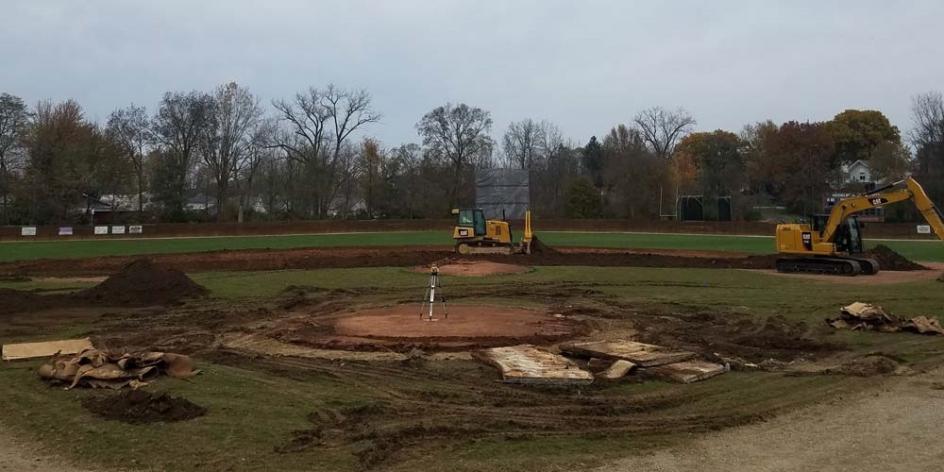 Heidelberg's baseball team was in jeopardy of not having a suitable home field to play on this spring, but that changed this week.
 
With some quick planning and cooperative weather this [last] week, work is now about three-quarters complete on the installation of a turf infield at Peaceful Valley. The natural grass outfield remains playable.
 
"The baseball field especially has been problematic to keep in good, playable condition," said Rod Morrison, associate vice president for facilities and engineering. "This is largely due to poor subsoil conditions and the impact of several floods that made it difficult to grow and sustain growable grass, and a heavy practice and game schedule that hampered efforts to effectively repair and maintain it."
 
Through the years, there have been efforts to replace or amend the infield topsoil or to utilize a better variety of grass, but none have been successful, Rod said. When it was decided that resodding the infield wasn't an option, Heidelberg called on a previous vendor with whom we have had a good experience.
 
The university is working with Maumee Bay Turf Inc. – the same company that installed the turf field at Hoernemann Stadium – to install the new turf infield.
 
Following a meeting on Monday to approve the design and color scheme, and progressing through construction approvals, work began on Tuesday. In three days, all of the excavation and leveling were completed, and a new drainage system was installed. The necessary stone is also in place. Rain halted the work on Thursday, but the crew was able to tarp the new field prior to the weather interruption.
 
"The construction phase is primarily done. The turf is ordered," Rod said. "And now we wait."
 
When the turf arrives, Maumee Bay will need about three to five good weather days, hopefully in January or February, to complete installation.
"We are excited and grateful for this opportunity," said Head Coach Chad Fitzgerald, who took the baseball team to the Division III World Series in 2019. "The turf provides a much safer, consistent surface for our infielders."
When the new surface is installed and ready for gameplay, it will be the only field of its kind in Seneca County.  It will be easier for Heidelberg to host high school tournaments and travel league games, bringing a wide array of visitors to campus. 
 
Rod added that "supply chain issues" could cause a dilemma for finishing the new infield by mid-March, but we remain optimistic. The Student Princes' first home game is scheduled for March 20 vs. Adrian.
 
Published on
Nov 12, 2021