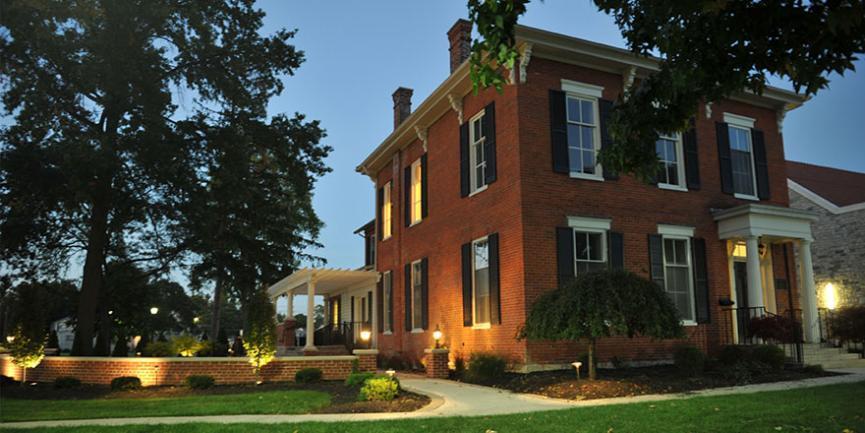 ---
Senior Honors students who will finish their graduation requirements this December will give their Senior Honors Presentations this week, on Wednesday and Thursday, in Herbster Chapel.
The Senior Honors presentations, which also include a written component, are the culmination of four years of study as part of Heidelberg's Life of the Mind Honors Program. Each students worked with a faculty mentor for their capstone Honors course on a project to deepen their understanding of a topic of compelling interest in their major.
Here are this semester's presenters, the title of their capstone project and an abstract of their project:
Wednesday, Dec. 1
3:30 p.m.: Lauren Mussig, "Quantification of a Nitric Oxide Releasing Wound Healing Patch"
Abstract: Nitric oxide (NO) is a vasodilator and can be used to increase blood flow to an area in need of tissue repair. Through the process of electrospinning, a patch was created to release NO which is composed of four layers. The patch consists of a layer of 9% (w/w) Tecophilic®(TP)/cellulose/ascorbic acid, two layers of TP/super absorbent polymer, and a layer of TP/Dowex-NO2. Based upon previous studies, the release of nitric oxide was found to be inconsistent. In collaboration with a neighboring university, a NOx analyzer was used to effectively quantify the patch. Based on the analysis, the most effective location of release was found to be the central quadrant of the patch. The amount of NO released decreased as the sample distance from the center increased. The use of additives to the patch was explored but produced mixed results.
Faculty sponsor: Dr. Nathaniel Beres
3:45 p.m.: Allison Fisher, "The Importance of Teaching the Asia-Pacific Theater of World War II in High Schools"
Abstract: It is essential that we address the events and importance of the Asian Pacific Theater of World War II, so that students may expand upon the white, Americentric and Eurocentric nature of education, as well as the causes, implications, and lasting effects World War II had on nations in the east. Yet, teaching at any level must fulfill the state's required learning standards - as for Ohio's Learning Standards for Social Studies, there is a lack of representation for the Asian Pacific Theater of World War II. In the American History course section, there are only two content statements that may be applicable to the study of the Asian Pacific Theater of World War II. The Modern World History course section only contains one content statement that is applicable. This lack of representation must be addressed, as accurate representations of history widen opportunities to diversify education, while also better preparing students for their future careers and participation in civic responsibility. The following is a two-week unit plan, focused on teaching the Asian-Pacific Theater of World War II to 10th grade students, following the Modern World History content statement 16.
Faculty sponsor: Dr. Courtney DeMayo Pugno
4:00 p.m.: Mitch Luken, "Trends in Algal Communities in a Small Tributary to the Sandusky River"
Abstract: In many areas around the world, algae blooms have negatively impacted aquatic ecosystems by causing hypoxia or producing mass amounts of toxins. The Great Lakes, and Lake Erie in particular, have been notorious for experiencing harmful algal blooms, negatively affecting the millions of individuals who depend on them for drinking water. In order to explore the potential environmental influences on algal bloom dynamics, this study utilized data collected by the National Center for Water Quality Research (NCWQR), as well as field collection data from Rock Creek in Tiffin, Ohio, which flows into the Sandusky river, a tributary of Lake Erie. This study utilized six sites, located at bridge crossings over the creek, with each site being analyzed once a week in the early afternoon, over a period of 10 weeks. Once collected, the researcher analyzed four samples from each site using a Fluoroprobe to determine the composition of algal communities, and how those communities vary both spatially and temporally. After the 10 week period the algae data are compared to several water quality parameters in an effort to determine if changes in community composition are affected by observed environmental changes. Relationships found between the environmental factors and algae concentrations can potentially be used to predict future bloom events, or aid in prevention efforts. This study is important because current research is typically focused on analyzing larger water bodies like Lake Erie, whereas, this study focuses on a tributary of a larger water body which could potentially help understand how changes in tributary algal communities can affect what we observe in the larger water systems they flow into.
Faculty sponsor: Dr. Nathan Manning
4:30 p.m.: Joe Swope, "Cedar Point Hotel Adaptation in the Ever-Expanding Hospitality Industry"
    
Abstract: For this project, I am examining the Cedar Point hotel properties and the improvements that could be made within them. The hospitality industry as a whole is constantly evolving and with that evolution comes innovation that Cedar Point should take advantage of. They currently control five properties around Sandusky, Ohio, and have the opportunity to implement things like loyalty programs, keyless entry for guests, and theming throughout their properties. With loyalty programs and keyless room entry come mobile check-in processes that cut down on wait times and frustration for guests. With these new ideas, of course, come concerns and questions about implantation, all of which will be discussed throughout this presentation.
Faculty sponsor: Dr. Emily Isaacson
4:45 p.m.: Samantha Blake, "Adventuring into Audiobooks in the Elementary Classroom"
Abstract: Audiobooks being used in the classroom can be a controversial topic because raise the challenging question: Does listening to audiobooks count as reading? The definition and features of an audiobook, as well as the many different ways to access them will be explored. The use of audiobooks in the elementary classroom has been linked to several positive outcomes in student's reading abilities. The purpose of this study is to investigate the benefits from utilizing audiobooks in the elementary classroom, and obstacles and opinions that teachers might face when implementing them. A survey was performed to gain a better understanding of educators personal and educational experience with audiobooks, opinions and thoughts around them and the usage of audiobooks in the classroom. This will also examine different ways to utilize audiobooks in the classroom including my own implementation plan.
Faculty sponsor: Dr. Michele Castleman
5:00 p.m.: Allison Wiggins, "Music Therapy as a Treatment for Anxiety and Depression"
Abstract: Music therapy has been used, to positive effect, to treat mental illnesses such as anxiety and depression, although it is prescribed less frequently by doctors than other treatments. Although it has recently become popularized in modern medicine, music therapy can be traced back to Aristotle and Plato. The presence of music therapy in America began after World Wars I and II when used to treat veterans suffering both physically and mentally. Since then, music therapy has become more heavily researched and more commonly practiced. This led to the official founding of the American Music Therapy Association in 1998. Despite its growing popularity and research proving its effectiveness, music therapy is not among the most frequently used forms of treatment prescribed for anxiety and depression. Cognitive Behavioral Therapy and any number of medications are more commonly prescribed forms of treatment. Music therapy has proven to be highly effective in treating mental illness and provides little to no risk, a unique quality among treatments for mental illness. In consideration of the possibilities for innovation that it provides, music therapy warrants stronger and more in-depth research and implementation.
Faculty sponsor: Prof. Jon Waters
Tuesday, December 2
3:30 p.m.: Spencer Tredwell, "The Future: Digital Currency"
    
Abstract: The state of what we perceive as "money" and the institutions that control it are at a crossroads.
Technology has transformed the world's financial systems and how they operate. Long gone are the days of transacting with coins and cash. Instead, debit and credit cards are commonplace throughout industrialized nations. Technological advancements such as Bitcoin show trends towards digital money intensifying. Bitcoin's breakthrough creation is the introduction of a peer-to-peer transaction system that can be done anywhere throughout the world and without a third party like a bank. Inspired by Bitcoin, many alternative cryptocurrencies have been created; what has also come out of this innovation is a new way of thinking for how monetary systems should operate. In contrast to the supporters of cryptocurrency, critics believe that too much volatility and lack of sustainability exist within cryptocurrency. To counteract the surge in use of cryptocurrency, the Federal Reserve alongside the United States government has been exploring a creation of their own Central Bank Digital Currency. This is a monumental moment in history as the next five to ten years will determine the future of how the world will transact.
Faculty sponsor: Dr. Emily Isaacson
3:45 p.m.: Gavin Buurma, "Gay-Story: The Gay Experience through Musical Theatre"
Abstract: Gay-Story: The Gay Experience through Musical Theatre is a solo performance piece curated by the performer to reflect not only the history of LGBTQ representation in the pantheon of Musical Theatre, but to also explore his personal journey with his own sexuality. In the piece, Buurma explores the connection between representation and personal worth; arguing that gay men through history have internalized the heterosexual depiction of gayness leading to a lack of identity and self-actualization. It isn't until the musical theatre of the last ten years that gayness on-stage has come to reflect the diversity and complexity of the true gay experience.
Faculty sponsor: Prof. Stephen Svoboda
4:00 p.m.: Noah Walker, "The Influence of Professional Athletics on Social Change"
Abstract: It is undeniable that professional athletes have had their say in the social justice movement for decades now. Many people, teams, and groups have spoken up in regards to the injustices that our country, and the world, faces through their platform as professionals. This raises the question of whether or not professional athletes should be speaking or acting on social/political issues, and also whether or not their strategies are effective in the first place. This study and historical recollection will examine how professional athletics has influenced genuine social change. Athletes have been involved in social advocacy since the 1800s with people like baseball player Moses Fleetwood Walker, to the modern day with people like Colin Kaepernick. Through acts of protest and speaking their mind, athletes have influenced legislation, new guidelines, and criminal charges in cases of police brutality, while bringing the social justice movement to the forefront of national conversation.
Faculty sponsor: Prof. Kayela Tidrick
4:30 p.m.: Kaitlyn Ferrario, "The Impact of Robotic Process Automation: How RPA Has Affected Both Companies and Their Employees"
    
Abstract: The exponential rate at which technology is advancing has had a significant impact on the way businesses view efficiency and success. Robotic Process Automation (RPA) is one of the many recent technological advancements that has been introduced to increase a company's efficiency in this modern, fast-paced world. RPA has revolutionized not only businesses, but also the roles of the employees. This technology has had a major impact in a variety of career fields, including but not limited to finance, human resources, accounting, information technology, and marketing. The aim of RPA is to automate rule-based tasks in order to increase efficiency. With the use of automation, employees are able to shift their focus from time-consuming, mundane tasks and put their effort into more value-adding aspects of their careers. This paper examines the impact of this RPA implementation in both companies and their employees.
Faculty sponsor: Dr. Emily Isaacson
4:45 p.m.: Hailey Taylor, "COVID-19: The Labor Shortage Crisis"
Abstract: With the emergence of COVID-19 (Coronavirus Disease), many businesses and corporations have had to change daily operations with the fluctuations within the economic markets. Between quarantines (state mandated, locally mandated, and mandated by businesses to keep workers safe), mask mandates, new vaccines, and other events caused by the global pandemic, businesses have experienced difficulty in finding the right amount of labor to supply the demands they need to meet. COVID-19 had directly and indirectly affected the way businesses operate, as well as their struggle to retain and find new workers in the fast changing economy. To remedy the issue, both the government and businesses can work together to close the gap between supply and demand of laborers, therefore helping to meet the demand of goods and services expected of them.
Faculty sponsor: Dr. Scott Johnson
Published on
Nov 29, 2021