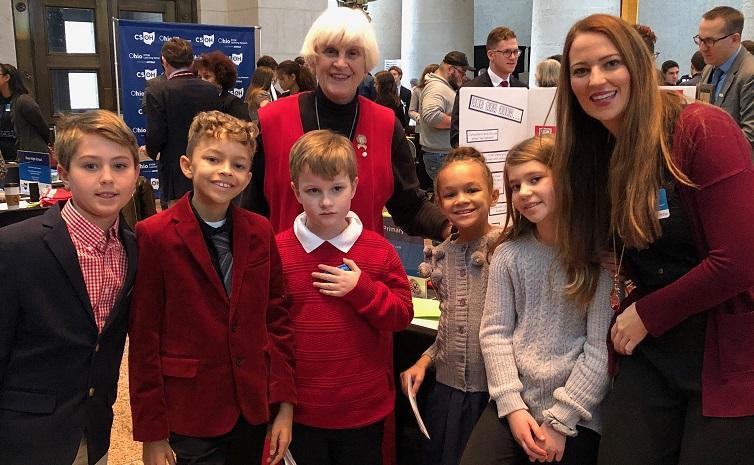 Many times, the work of classroom teachers goes unnoticed. But Krystina Pratt's outstanding teaching of her elementary students in New Albany, Ohio, caught someone's eye.
Kryssie, '10, is a state finalist for a 2021 Presidential Award for Excellence in Mathematics and Science Teaching. It's the nation's highest honor for math and science teachers, and recognizes outstanding teachers for their contributions to instruction and learning and their ability to help students make progress in those subject areas.
"It was so nice to know that someone had noticed my dedication to my students," says Kryssie.
The nomination process was complex and quite lengthy. Through it, Kryssie worked with a mentor – a past award recipient – to guide her. "I had to submit three professional letters of recommendation and a curriculum vitae … submit a video-taped lesson and a written response, which is broken into five dimensions," she explains.
The teaching dimensions focused on teacher mastery of content, instructional methods and strategies, effective use of assessments, reflective practice, lifelong learning and leadership in education. "The most challenging aspect was being precise in explaining myself without leaving anything out," she says.
With all of those requirements checked and Kryssie moving on to the national level, now she waits. Judges could select one or two winners from each state, or no one. "The last timeline I saw showed summer 2021 as the time when they'd announce the winners," she says.
Building a career
Kryssie has always wanted to be a teacher. "So it's pretty cool to say I get to do my dream job every day." Her passion for STEM grew from professional development programs through The Teaching & Learning Collaborative. Halfway through her 11 years in teaching, she participated in a TLC program focused on integrating computer science into math and science lessons.
"I knew nothing about computer science, but jumped right in and quickly realized I had been teaching math all wrong," Kryssie says.
From that point, she decided to soak up every piece of information she could about how students best learn math concepts. "I feel like there is such a literacy focus in early elementary school that we often forget about the importance of math, even though research shows that early math success is a better predictor of future literacy success.
"Since then, I've felt a duty to shout from the rooftops, 'All students deserve quality math instruction!'"
A strong foundation at 'Berg
At Heidelberg, Kryssie was the winner of the Rose Moore Award from the School of Education, so her faculty members recognized her potential, too. When she graduated in 2010, Kryssie felt well prepared to tackle her teaching job. She started as an intervention specialist in Tiffin and then Old Fort before moving to Mohawk Local Schools to teach second grade. In 2015, she began her current job as a third-grade teacher for the New Albany-Plain Local Schools, outside of Columbus.
She credits her many Heidelberg classroom experiences, beginning freshman year, as an undergrad for setting her up for success. She didn't realize at the time how rare that was. "Due to Heidelberg's small size, I was able to build relationships with professors, which helped me network to get several jobs in the Tiffin area after graduation," she says.
She's also grateful for two faculty mentors – Dr. Brian Haley and Dr. Lori Arnold-Grine, both now retired – for influencing her career, then and now.
Dr. Haley challenged traditional thinking with regard to education. "I'm not sure I even agreed with him back then," Kryssie says. "But I listened and took it all in because he had high expectations and I knew I had to work really to earn an A in his class. I didn't fully understand it then, but now, I can see that the views he had and his beliefs on teaching really went against the traditional idea of 'school.'"
As a result, Kryssie's own believes and practices now go against the grain, so she's still able to make those strong connections to her teaching practices and the concepts she learned in his classes.
Dr. Arnold-Grine brought out the nurturing side in Kryssie. She shared stories about how she'd give her students shoes and socks if they didn't have any. "I always thought, 'I want to be that teacher.' I wanted to be the teacher that no matter how awful life was at home or outside of school, students knew they could walk into my classroom and have safety, love and basic needs met."
Paying it forward
It's so important for future teachers to hear the perspectives of those in the field. Kryssie recently returned to HU to speak to one of Dr. Haley's classes. She's also returned as a presenter during the School of Education's annual Education Summit.
Her messages: It can be difficult to go against the grain, but kids deserve for teachers to do it anyway. Children will most remember how their teachers made them feel. Spend your time on building relationships, as well as your own professional development and quality planning.
"Kids deserve for us to advocate for and utilize best practices in our classrooms, and we have a duty to do so even when it's difficult, even when others disagree, and even if we are shunned," she says.
A break from the classroom
This year, Kryssie is on special assignment with the Teaching & Learning Collaborative as a professional development coordinator. There, she's developing and facilitating professional development for other teachers.
Congratulations, Kryssie, and we hope we can report more great news this summer!