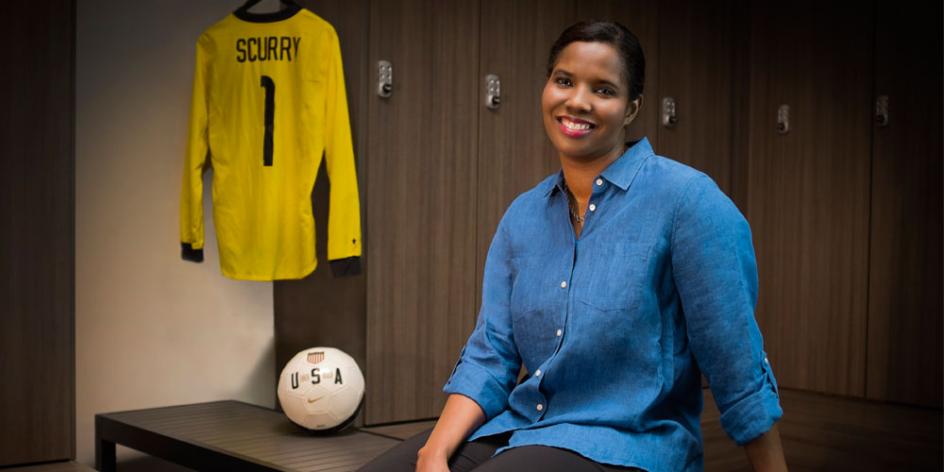 Briana Scurry is widely recognized as one of the best women's soccer players of all time who, as one of the first African American professional female soccer players, helped diversity the sport. But it wasn't always easy.
A two-time gold medalist as a goalkeeper for the USA Women's Soccer team, Scurry has reached enormous heights while playing soccer. With 173 international appearances, Scurry lived her dream and now is helping students by telling her story and sharing those lessons she learned on her path to becoming an Olympic champion. She inspired Heidelberg students Wednesday as the first HYPE Career Ready® keynote speaker for the spring semester.
A blooming dream
Scurry vividly remembers the first time she told herself she wanted to become an Olympic champion. It was 1980, the men's U.S. hockey team was going up against the Soviet Union. Many recall that game as "the miracle on ice." Sandwiched between her father and mother on the couch in her Minnesota home, Scurry sat in awe with fascination, not with the sport but with how a team could come together and defy the odds. To "beat this unbeatable team … they did that together, they did that as a unit, they did it against all odds." At that time, she told her parents her epiphany of a dream. Instead of negatively responding to
 their 8-years-old's sudden dream of becoming an Olympic athlete, they "nurtured that aspiration. They nurtured that little bitty dream," Scurry said.
A few years later, in middle school, Scurry was still in pursuit of her dream. There was an underlying thought and motive behind everything she did. Scurry went as far as to make a sign titled "1996 Olympics, I have a dream." She organized the different teams by ages to see which she was more likely to be expected on. It hung on her wall for years every morning and every night she would see the sign and the flame of her dream would rekindle.
Hard Work Pays Off
By the end of Scurry's high school career, she had 70 college offers for all four sports she competed in during high school: track and field, softball, basketball, and of course, soccer. She had a major choice to make. On one hand she preferred basketball, yet on the other, she was better at soccer. In the end, Scurry decided to go to the University of Massachusetts, where she competed with the No. 1  goalkeeper in the country. Everyone was confused as to why Scurry would choose that school where she wasn't guaranteed playing time. Scurry's response to this comment was, "There are no guarantees." 
"I made the best possible decision I could have made going to UMass where the No. 1 rated goalkeeper already stood, because I was going to be going up against the best on a daily basis and see what I was made of and who I was going to become," she said. The daily pressure Scurry endured helped her become an amazing goalkeeper. That pressure drove her. "You don't become a diamond without pressure," she said.
Over the years, Scurry and her teammate battled for playing time, but during Scurry's senior year, her teammate transferred. After a successful season, Scurry and her team were in the national semifinals against powerhouse opponent University of North Carolina. Scurry knew that if she wanted to continue pursuing her dream, she had to play to the best of her ability because the coach of UNC, Anson Dorrance, was also the coach of the U.S. Women's National Team. Scurry and her team came into the game with confidence that they were going to take down this force of a team. They came up short, 4-1. Scurry was disappointed, but Mia Hamm, a great soccer player on UNC, made a comment to Scurry after the game saying Dorrance had seen her massive potential. She questioned why since she had just given up four goals, yet he was still interested in having her on the national team. It was because of her skills but also her work ethic and attitude for not throw in the towel when things weren't going her way.
A Dream Coming True
Scurry had been invited to her first national camp in 1993, where there were a total of five goalkeepers; she landed fifth on the depth chart. At the end of the week-long camp, Scurry felt pretty good about her performance but had a meeting with Dorrance to see how she was performing. Dorrance wanted Scurry to come back for the second camp, which she did. By the second camp, she was rated as the first goalkeeper. Scurry and her team went on to the finals, but lost to Sweden. Then and there, the U.S. women's soccer team decided to never again let another team celebrate a win against them.
The next year, 1996, it was time for Olympic organizers to decide the next Olympic sport; women's soccer was chosen. With the help of many others, Scurry was able to continue her dream of becoming an Olympic athlete. In the 1996 Games in Atlanta, in front of 76,000 people, the U.S. women's soccer team played China and won 2-1 to claim the gold medal.
"There I was on that podium. … that little 8-year-old girl, getting that medal put around my neck," Scurry recalled. "I still had my sign on my wall at that time. My parents didn't take it down even though I didn't live at the house anymore. And that sign stayed there until I actually had that medal around my neck."
Helping Others Chase Their Own Dreams
Scurry's path to Olympic greatness wasn't laid out for her. She worked every single day to make her it happen and in the end, it did. She was forced into retirement after suffering a concussion that led her into some dark days of depression and considering suicide. But she persevered through those days and today, Scurry is speaking to many more students to help motivate them to find and achieve their dreams. She is also writing a book about her story to hopefully inspire people to pursue their dream.
She concluded, "Go for what you want."
---
Photo courtesy BriScurry.com
Written by Bailey Walter, '23