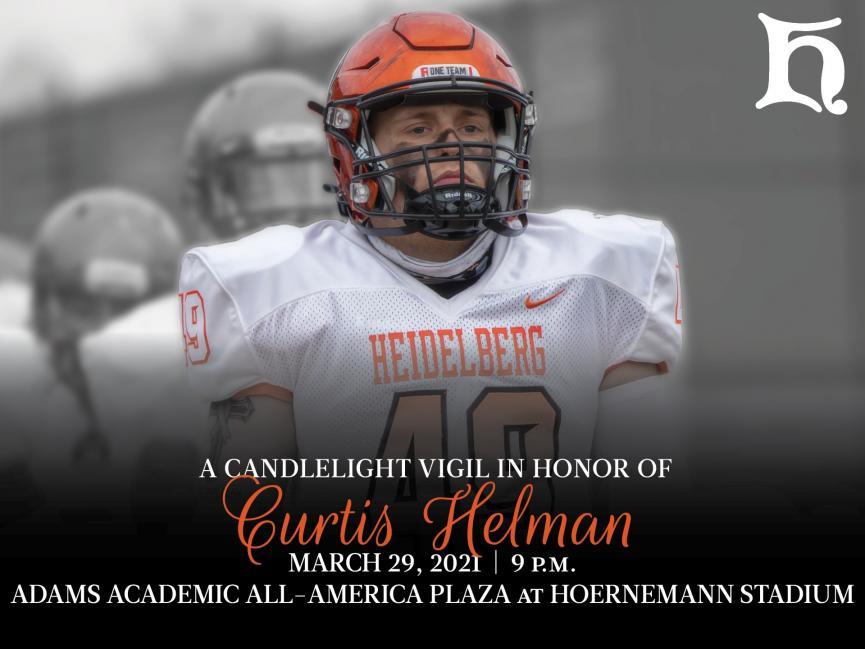 Dear Classmates and Friends of Curtis Helman,
Our campus will gather to share our loss and to remember Curtis Helman this evening at 9:00 pm. We will gather at Adams Academic All-American Plaza in front of Hoernemann Stadium for a candlelight vigil. Every death is difficult. The loss of a fellow resident, classmate, and teammate is especially difficult.
Our purpose is to light candles in memory of Curtis as we join in silence and in speaking about our loss, in prayer, in poetry, in song if any of us wish to share. You will receive a candle as you arrive. You are invited to stand as a part of the Heidelberg community as we share this loss together. And, we will remember the gifts Curtis shared with us.      
Please dress warmly and be prepared to observe COVID-19 protocols by standing individually, separated by 6 feet, and wearing facial coverings. 
Please remember that we have support services through Stoner Health and Counseling Center at (419)-448-2041, counseling [at] heidelberg.edu or jsharp [at] heidelbeg.edu, as well as pastoral care through the Office of Religious Life at (419)-448-2066, pstark [at] heidelberg.edu.  
Thank you for being a caring community,
John Sharp,
Associate Director of Counseling
Paul Sittason Stark
Chaplain and Director of Religious Life and Civic Engagement 
Published on
Mar 29, 2021