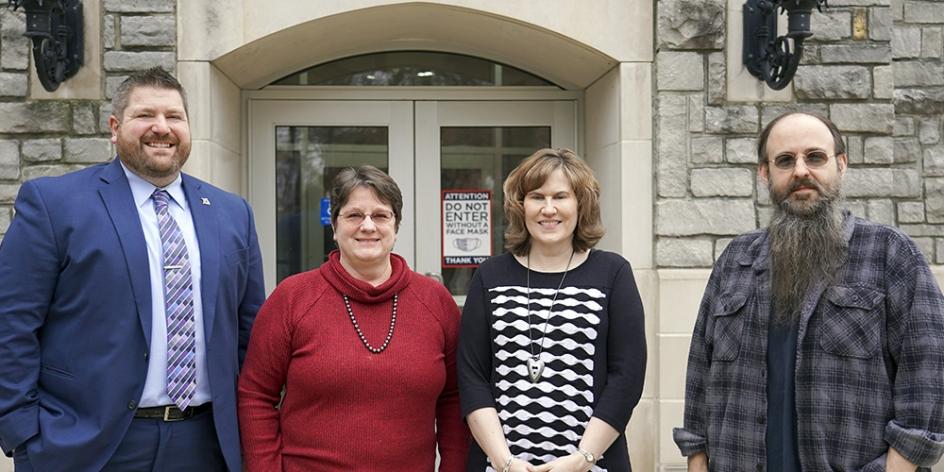 The Heidelberg community extends huge congratulations to four faculty members, who have been honored for their excellence in teaching, research, commitment to the humanities and distinguished service.
The awards were presented as part of the winter Board of Trustees meeting annual dinner on Friday, Feb. 18.
This year's winners are:
•    Dr. Nate Beres (chemistry) – the Ream-Paradiso Distinguished Teaching Award
•    Dr. Pam Faber (biology) – the Faculty Distinguished Service Award
•    Dr. Julie O'Reilly (communication/women's & gender studies) – the Jane Frost Kalnow Professorship in the Humanities
•    Dr. Aaron Sell (psychology/criminology) – the Distinguished Scholarship/Research Award
Each of the award recipients shared remarks, advice and appreciation for teaching, research and service to students.
The Ream-Paradiso Teaching Award was first presented in 1996 and the Distinguished Scholarship/Research Award in 1999. This is the 21st year for the Frost-Kalnow Professorship and the fourth time the Distinguished Service Award has been presented.
Published on
Feb 23, 2022
Programs
Biology
Chemistry
Communication
Criminology
Psychology
Gender and Identity Studies