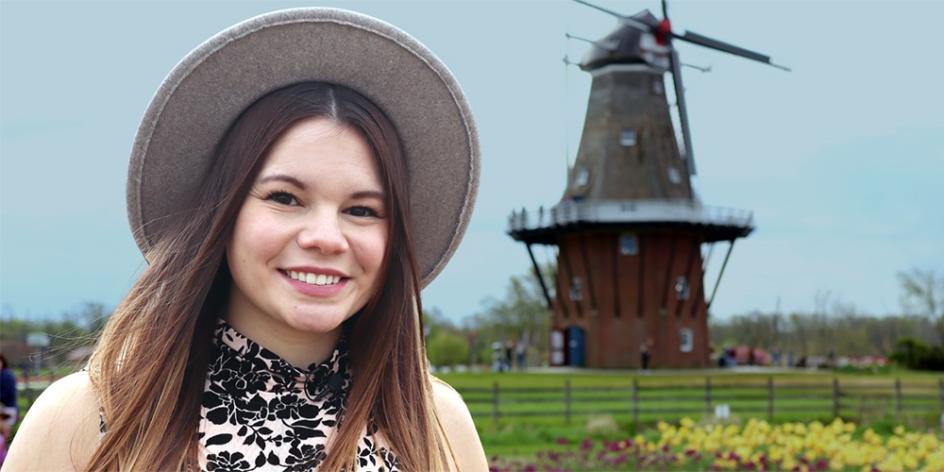 Haylie Robinson, or @Hayliestory as she is known online, is a Heidelberg alumna from the class of 2015. On her way home from a recent trip to Disney World, she learned that she had been voted the winner of the "Media Personality" category for the Toledo Blade's Readers' Choice 2022. Haylie has worked in media and marketing since graduation and made her broadcasting debut on channel WTOL 11. At  WTOL 11, Haylie wrote and produced content supporting local businesses in the Toledo area. "I truly have my online community and the viewers of WTOL 11 to thank for the nomination and win. I am so grateful for their support!" Haylie says.
Today, she works as a digital media planner for Cooper Smith Integrated Media Solutions. While working "9-to- 5's" and building her resume, Haylie made time to build up her own online travel content brand, Hayliestory.
"The Hayliestory brand is designed to inspire viewers to explore their own cities," Haylie explains, "and welcomes them to learn, engage and experience a unique travel style consisting of festivals, road trips and mixology." Hayliestory was inspired by a friend claiming that there was "nothing to do in Toledo," after Haylie moved there. Since its inception, the blog works to inform viewers and readers about local hidden gems or nearby opportunities for her local audience. 
Haylie's passion for travel has resulted in three online travel series since 2016, focusing on the fun that a person can have "only a car ride away." Each series is a one-woman band, with Haylie acting as writer, filmmaker, photographer, producer and host. She functions as her own business manager, creating deals and partnerships to help expand and promote her work. In spite of balancing a regular job and her family, her brand showcases high-quality video content, photography and a genuine writing style, showcased through her website, hayliestory.com. By giving honest feedback on her travels, Haylie helps her readers and viewers with tips, tricks, do's and don'ts, so those looking for a fun weekend can save some money and support local businesses.
Haylie also has a lot on the horizon for her career and her brand: she's currently fundraising and finalizing ideas for a travel genre television show she'll be producing to air on PBS. "Finding Festivals" is a show inspired by Haylie's experience as a fair queen, where she got to travel to various fairs and festivals as an ambassador for her hometown. Haylie explains how her show "will use annual events as a vehicle to educate viewers on art, heritage, community, history, culture, agriculture and economics." At this time, "Finding Festivals" is in communication with potential sponsors and onboarding an underwriter. 
Haylie plans to make the show available for carriage on all PBS channels nationwide. Production is anticipated for fall 2022 and slated to air in the fall of 2023. For additional information or to support Haylie's project, visit her website.