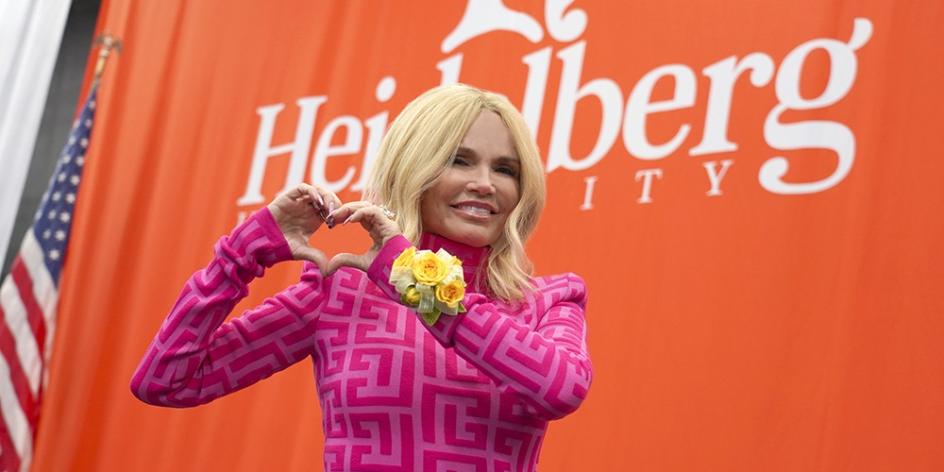 She's the Tony and Emmy Award-winning star of stage and screen, author and philanthropist. On Friday, the Heidelberg community found out there's much more to Kristin Chenoweth. Kristin spent the day on campus as the guest for the 2022 Patricia Adams Lecture Series, and she really delivered! 
She was warm and charming, funny and inspiring, and she freely shared her wisdom and advice on such topics as mentors and leaders, family, her performing arts roles, women in music, the importance of higher education, values, dealing with stress, health and wellness.
More than 500 people attended the culminating dinner and Kristin's keynote address during which she talked about miracles. "I believe in them," she said, noting that her first of many miracles along her journey to fame happened the day her Oklahoma parents adopted her.
Kristen credited her engineer father and her mother for teaching her to "work hard and play hard." 
"He really got me prepared for life. There's no way I ever could have worked in this business without those two people."
When she announced her intention to move to New York to pursue her career, presumably as an opera singer, her dad simply wished her good luck. But she kept churning, building on her first job that paid $180 a week minus agent fees. 
In 1999, she was cast in "You're a Good Man, Charlie Brown," a role she called life-changing, brought her a Tony Award and taught her a lot of lessons.
"The people you see on the way up are the same people you see on the way down," she told the Seiberling audience.
In 2004, she took on one of her most famous roles: Glinda the Good Witch in the Broadway production of "Wicked."
Speaking directly to John Adams and his family, and sending a message to John's wife and PALS founder, Patricia Adams, who was unable to travel to be at the event, "What you and your wife have done here is so special. I spent time today with your kids, and y'all think you are learning? Well, I'm learning."
"Today, y'all's kids asked great questions. They asked different questions," she said. And she got to teach.
After spending the day in intimate settings with students and entertaining during a fireside Q&A chat, Kristin and students from the School of Music and Theatre got down to business. That final session of the day started with a discussion but quickly transformed into a masterclass.
"No more questions. Let's do some work," Kristin told the students. She proceeded to listen to them sing and gave them pointers on their vocal and performance skills. Hearing the students sing 'inspired me," Kristin said. "I loved it."
"These are the things that really light me up."
Throughout the day, Kristin spoke about the role her faith and prayer play in her daily life. She encouraged everyone to do the same, keep working hard, be open to opportunities and own it. "All of you did that today," she said. 
"These kids are in perfect hands … in the perfect place for miracles, faith and mentorship. What you have here is so special."