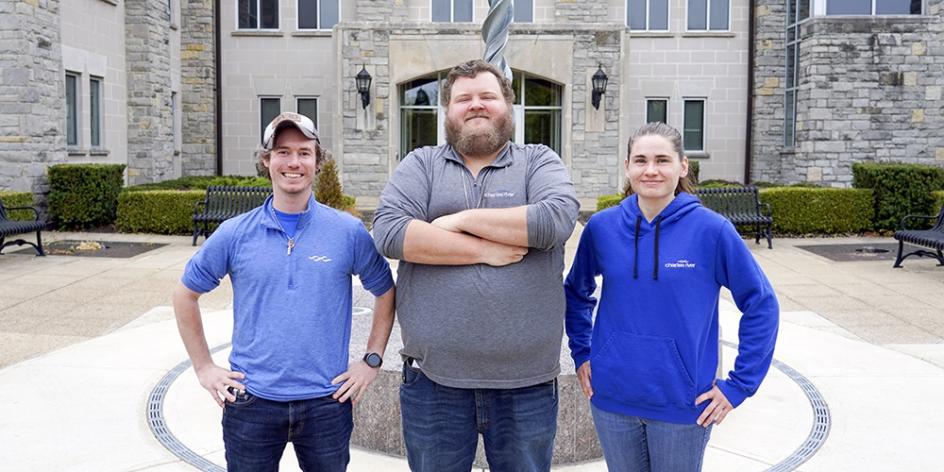 As part of HYPE Day #2 on Wednesday, science students at Heidelberg had a unique opportunity to get a glimpse into the life of a working research scientist.
Science faculty members Dr. Aaron Roerdink, Dr. Pam Faber and Dr. Nate Beres arranged for a HYPE networking session with 9 working scientists – including three alumni – from the Ashland, Ohio, facility of Charles River Laboratories International Inc. For 75 years, Charles River Labs have worked to assist in the discovery, development and safe manufacture of new drug therapies.
During the session, the 'Berg students interacted with the scientists from various divisions of Charles River Labs to learn more about their roles at the lab and their careers as researchers. 
"We hope this will help to create a pipeline for HU students to work at Charles River Labs, either permanently or as interns," Nate said.
The three alumni scientists did exactly that. Heidelberg was pleased to welcome back to campus Geoff Clay '13, Manager Analytical Chemistry; Mike Fallon '11, SA Global Learning and Development Scientist; and Jenny Simko '14, Senior Chemist Bioanalytical Chemistry.
The faculty members are planning travel with a group of students to the lab next semester for a next level, a real-world experience.
Many thanks Geoff, Mike and Jenny and their colleagues for sharing their expertise and experiences with our 'Berg future scientists!
 
Published on
Oct 13, 2022
Programs
Biochemistry
Biology
Chemistry