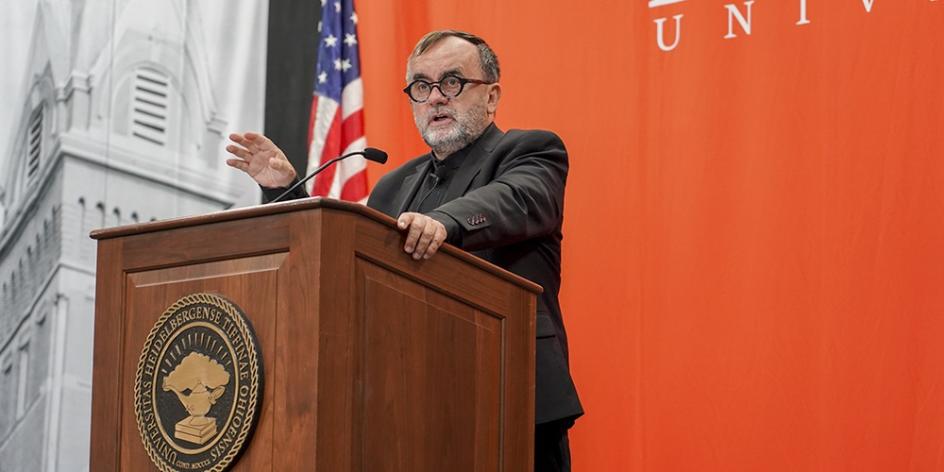 The Lichtman-Behm Genocide Lecture Series – in its effort to learn from the past to prevent future instances of genocide -- has focused on the Holocaust and other contemporary examples of genocide, such as Rwanda, Cambodia, Armenia and the Native American population. Tuesday marked the 12th year for the series and a "somber occasion" on campus as Heidelberg welcomed Father Patrick Desbois, author, professor, historian, forensic detective and human rights activist, as this year's keynote speaker.
As the founder of the non-profit Yahad-In Unum – "Together in One" in Hebrew and Latin – Father Desbois is known for uncovering genocidal practices, originally in eastern Europe and where they are found around the world and providing documentation of crimes against humanity. He is a voice of protest on behalf of all past and present victims of mass murder.
For the keynote, Heidelberg hosted about 400 eighth- through 12th-graders from local and area schools, as well as the campus community. They heard Father Desbois' personal story growing up as the grandson of a World War II French soldier who had been held captive in a German camp in Ukraine. His unexpected encounter with eyewitnesses of the local 1943 massacre of Jews turned into a visit to western Ukraine in 2003. This was the starting point for finding witnesses and documenting mass shootings of Jews and Roma throughout the country and beyond (according to holocaustremembrance.com).
Through the methodology developed by Yahad-In Unum, he and his associates have uncovered the location of more than 2,900 killing sites and documented more than 7,000 witness testimonies to the war crimes of the Nazi death squads.
The overarching goal of Father Desbois' presentation aligns with the Lichtman-Behm Genocide Lecture Series mission: to get people – especially young people – to think.
Much of his Heidelberg talk centered around those horrific stories of families participating in hatred and violence. "And why?" Father Desbois asked. "Because they hate Jews."
Individuals are fragile, he said, and it's easy to fall into propaganda. A part of his mission is "to teach the younger generations to be careful with propaganda." 
"If you feel you're suddenly beginning to hate people, be careful. It begins like that. A small seed of hate can bring you to crime. And it's very easy to pass from hate to killing."
One student asked Father Desbois, "Is it difficult to listen to interviews of witnesses?"
His response: "No. You have to have a poker face. Try to show nothing." 
Father Desbois, whose work today is far from over, said it's difficult to work against genocide "when mass killers are still alive."
Yahad-In Unum has expanded its scope of anti-genocide vigilance. He has spent the last several years with his team gathering testimonies from survivors of Yazidi massacres in northern Iraq at the hands of ISIS. According to his official biography, the team's work has resulted in hundreds of hours of eyewitness accounts of this modern-day genocide and revealed disturbing strategies and tactics. The group also works to establish skill advancement centers in refugee camps to help former captives transition back into society.
Published on
Oct 26, 2022