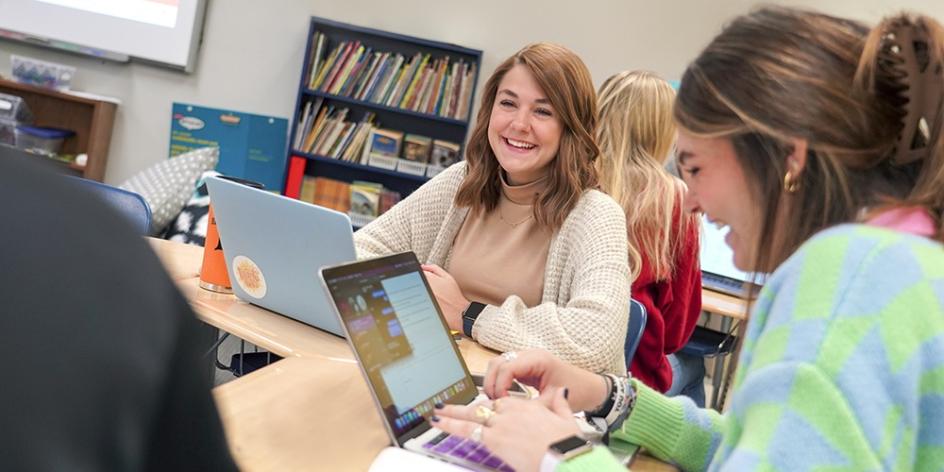 Students have asked, and we're finding ways to deliver. Heidelberg is adding a series of new majors and creating an accelerated "bridge" into our graduate counseling program. Building on academic programs at which we already excel, these new majors have the potential to change students' lives and set them on an awesome career trajectory.
 
The new majors and "bridge" program will be available a year from now, beginning with the fall semester of 2023.
"All of our majors are designed to develop the professional skills students need for success in their chosen fields and those that they are asking for," said Dr. Tony Bourne, Vice President for Enrollment Management and Marketing. "The new majors are market-driven, addressing demand in emerging fields such as Supply Chain Management, Data Analytics and Health Information Management, as well as targeting employee shortages in the increasingly important fields of mental health service."
Coming next fall, the School of Business will be home to five new majors. Accounting, Business Administration, Economics, Finance, Management, Human Resource Management and Marketing, which are currently concentrations, will be converted to full majors. Also within the School of Business, Heidelberg will add an entirely new major in Supply Chain Management.
New majors also will be offered in Data Analytics (within Computer Science) and Health Information Management (within Health Sciences). The latter would be an interdisciplinary major with Business and Data Analytics, Tony said.
 "The two new majors coupled with the conversion of four existing concentrations to majors and the existing majors in Accounting, Business and Economics expand the portfolio of offerings delivered by the Heidelberg University School of Business to seven distinctive majors," said Heidelberg Provost Dr. Bryan Smith. "These clearly defined majors will assist prospective students in assessing if Heidelberg is a good fit for their future goals, enable current students to more clearly articulate their focus of study, and assist future alumni with their employment or graduate school applications."
"The motivation behind these changes is to better serve our existing and future students on their journeys to lead lives of purpose with distinction," Bryan added. 
  
There's also good news for current Heidelberg undergrads who are planning on pursuing a master's degree in the counseling field. Heidelberg is creating an accelerated, five-year "bridge" pathway for current majors in Psychology and Criminology into the Master of Arts in Counseling Program, whereby undergrads could complete up to two semesters of graduate coursework while pursuing their bachelor's degree.
"We're excited to expand upon areas of academic strength with excellent teaching, high-performing students, and a track record of achieving preferred placement by graduates," Bryan said. "We're especially happy that we will be providing these new opportunities to prospective students in areas that we know will lead them on a successful career path."
 
The new majors are tied directly into a goal within Heidelberg's Strategic Action Growth Plan, 2022-2026 that targets enrollment growth and expanded student educational opportunities.
Published on
Oct 20, 2022
Programs
Business Administration
Computer Science
Finance
Health Science
Healthcare Administration
Human Resource Management
Management
Marketing
Master of Arts in Counseling