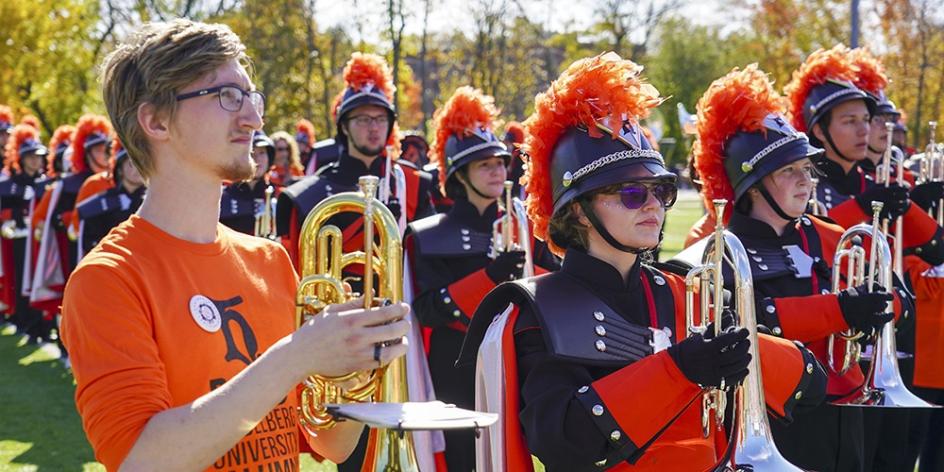 This past weekend's Viva Las Heidelberg Homecoming '22 was an explosion of creativity, unity and the Heidelberg spirit. With October in full swing, even the campus's trees were chanting orange and red. As several hundred alumni returned to their Sweet Alma Home by plane, car or RV, current students celebrated their community and uplifted each other throughout the week. By the end of the weekend, it was proven again: nothing beats an autumn at Heidelberg.
Wednesday night was the Homecoming Showcase. The 10 seniors of the Homecoming Court showed off their talents to the supportive applause of their peers. With musical acts, stage fights, freshly made guacamole and paintings of Heidelberg's logos (blindfolded, in one case), our students wowed the judges and their friends.
At the Saturday morning Homecoming Parade, groups across campus came together to distribute candy and smiles in preparation for the homecoming game. 
Alumni members rejoined the Marching Band for the first time that day, sharing the fight song along Greenfield and Rebecca streets. Those alumni brought their talents to the pre-game show and the half-time show, showing off the lasting love of the Heidelberg School of Music & Theatre family.
Heidelberg celebrated our wins on Saturday. Not only did the Student Prince football team win their game 29-21 against the Marietta Pioneers, the Student Prince women's soccer team won 2-0 against Marietta at Hidden Valley.
At half time, homecoming royalty was crowned. Students selected offensive lineman Ryan Shock, an exercise science major from Rockaway, Ohio, and Megan Veseley, a business marketing major from Louisville, Ohio, as this year's Homecoming Royalty.
Also during halftime, Heidelberg celebrated the 50th reunion of the 1972 Stagg Bowl Championship, with teammates from that historic team returning to campus for a reunion and recognition at the game.
'Berg colors were on display throughout the weekend, as alumni also participated in the annual Homecoming Hustle (1-K saunter and 2-K run), connected with current students in Greek halls and at Greek Village and participated in a pizza tailgate.
Alumni and current students came together in the Theater Department to perform the improvisational parody, Spooky Dog and the Teenage Gang Mysteries. Directed by MBA student Jasmine Ridler, the student-produced comedy was performed in Heidelberg's "Little Theater," as it has just been re-dubbed after its recent remodel.
Published on
Oct 24, 2022