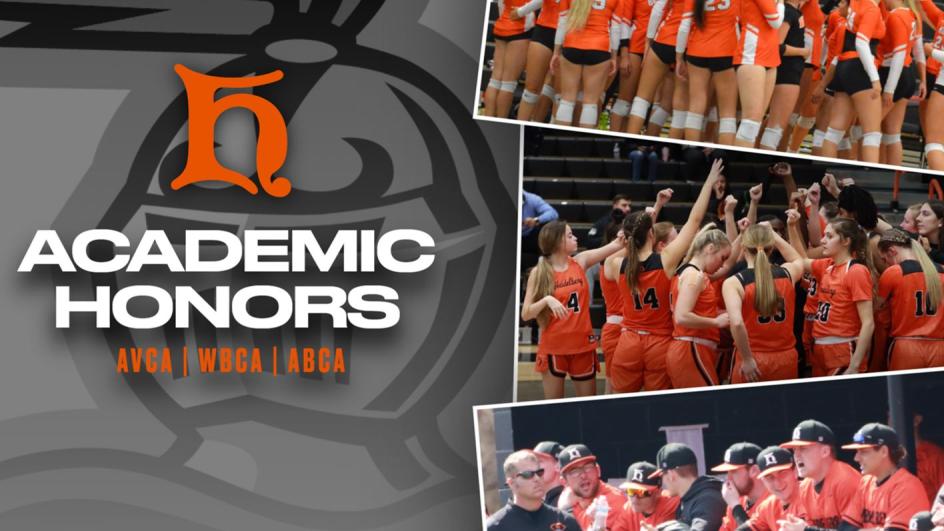 In the month of July, Heidelberg University had three athletic teams recognized for their academic accomplishments for the 2021-22 school year. The scholar teams were volleyball, women's basketball and baseball.
The American Volleyball Coaches Association (AVCA) announced that 212 DIII volleyball teams earned the Team Academic Award this season. The award honors volleyball teams that maintain a year-long GPA of 3.3 or higher. Heidelberg, led by Head Coach Jason Miller, was one of four OAC schools on the list. This marks a five-year streak for the women, totaling 11 for the program. 
The Women's Basketball Coaches Association (WBCA) Top 25 recognizes collegiate women's basketball teams that carry the highest combined GPAs for the entire season. The Student Princes, under the guidance of Head Coach Rachel Ferri, was named an honorable mention. To qualify for the honor, teams must maintain a 3.0 GPA. This is the team's first recognition since the 2007-08 squad led by Karen McConnell, who had a 3.57. 
The American Baseball Coaches Association (ABCA) recognized over 420 college programs from across the country who have been awarded the Team Academic Excellence Award. In order to qualify, the team must have a minimum cumulative GPA of 3.00 or higher during the 2021-22 academic year. Led by Head Coach Chad Fitzgerald, Heidelberg was one of four conference foes to make the cut. The team has received the award for the past five years. 
Wrestling also received recognition for its efforts during the season. In April, the National Wrestling Coaches Association (NWCA) announced their 2022 Top-25 GPAs. As a team, the Heidelberg University wrestling program finished the season with the eighth-best team grades. Head Coach Tony Patrizi's wrestlers had a collective 3.678 GPA. 
In 2021-22, a total of 114 Heidelberg student-athletes received Academic All-OAC accolades by maintaining above a 3.5 cumulative GPA. 
Published on
Jul 29, 2022