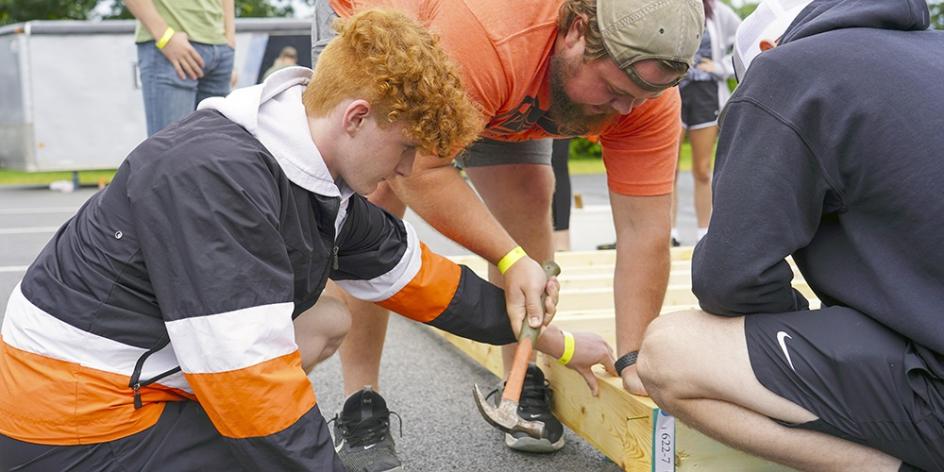 There was no way a 3½-hour rain delay was going to dissuade more than 200 Heidelberg University students from completing the annual Blitz Build – a project that will improve the life of one local soon-to-be homeowner.
As part of the HYPE Career Ready® Second Year Common Experience, teams of 'Berg second-year students at the job site in the parking lot of Krieg Residence Hall on Sunday rested, dry and ready to construct the walls for a Habitat for Humanity home in Tiffin.
"We finished the walls for a house in less than two hours. Less than two hours – it's mind-boggling to me," said Paul Stark, Heidelberg's chaplain and director of Religious Life and Civic Engagement.
The Office of Civic Engagement and its student assistant, Carson Pottenger '23, coordinated the annual Blitz Build, the fifth year that Heidelberg has undertaken the project.
"I was extremely pleased with how smoothly the build took place," Carson said. "All of the students seemed energized after the rain delay and were ready to tackle the task of building 46 walls."
The Blitz Build holds special meaning for Carson; he's been involved with the event for three years and this year was his final build.
As always, Blitz Build was a true team effort. The night before, the students met the future Habitat for Humanity homeowner, Martha Sostaric. Working in teams, they received their marching orders and a pep talk that set the tone for the build.
"There was a great spirit with the students," Paul said.
A total of 24 upper-class mentors also worked the night before to cut, label and stack the wood in preparation for the build. 
On the day of the build, Ryan Oiler, the representative from Help Build Hope – which provided house plans and instructions for the students – was on site to manage the build. Volunteers from Seneca Habitat for Humanity were also on hand, sharing laughs and lending a hand. Habitat Executive Director Carol Dell was the head cheerleader, rooting on the novice student builders. 
A ton of work and planning took place ahead of the build as well. "We're thankful for Dean of Student Affairs Chris Abrams supporting the cutting of the wood and mentor training on Saturday," Paul said. "And of course, Bob Youngblood, Alumni Engagement liaison, who was up to his usual humor and good nature checking all of the students into the build."
Heidelberg received huge support from some great friends as well. Marker Construction sponsored this year's build and has committed to sponsoring the next two as well. Paul said, "I am amazed by the generosity of Marker Construction for their support of an experience when students serve and a family steps into home ownership through Habitat for Humanity."
Additionally, Republic Lumber supplied the lumber at an affordable rate and donated the use of a truck to transport the walls to the new site on Third Avenue.
Published on
Aug 17, 2022