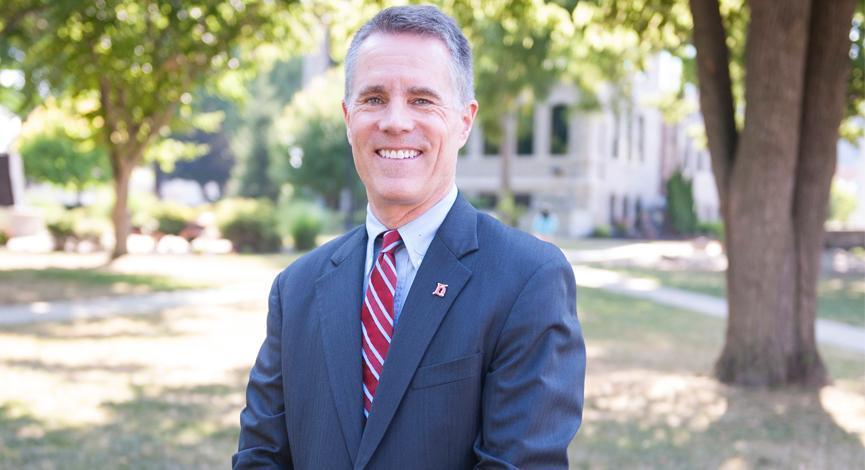 The Heidelberg University Board of Trustees has announced that, in accordance with the terms of President Robert H. Huntington's 2023-2028 employment agreement, his contract has been extended an additional year.
Board Chair Kathleen Tirbovich Geier made the announcement following the Board's fall meetings last week. Huntington was given a rolling contract designed to automatically turn into another five-year contract at the end of the first year and every year thereafter.  As a result, his new contract has been extended to June 2028.
Kathy praised Rob's leadership in guiding Heidelberg through the completion and early stages of implementation of the University's Strategic Growth Action Plan 2022-2026, the key document that has charted a new direction for Heidelberg for the next five years and beyond.
"It has been rewarding, as a board, to partner with a strong leader such as Rob Huntington in guiding Heidelberg on our shared path of excellent and affordable education for all students," Kathy said. "Because of the collaboration among the board, senior leadership and all members of the Heidelberg family, our University continues to rise, despite the challenges of COVID and higher education demographics we have experienced over the past few years.
"Rob continues to maintain his focus on the urgent strategic, institutional goals of Heidelberg Value and gaining competitive market advantages; Enrollment Growth by expanding student educational opportunities; Diversity, Equity, and Inclusion by emphasizing efforts to make Heidelberg a more diverse, equitable, and inclusive learning community; and Financial Sustainability by strengthening resilience for University sustainability."
Leadership accomplishments
Under Rob's leadership, Heidelberg has invested nearly $55 million since 2010 to complete 24 new construction and major renovation projects that have dramatically improved the student and guest experience on campus. Most recently, in August, the University completed an $8.9 million renovation of Miller Residence Hall. A year ago, Heidelberg's faculty approved the Integrated Studies General Education Curriculum, which was implemented this semester. Earlier this month, Academic Affairs leadership and Heidelberg's faculty decided to convert three currently popular business concentrations to majors, add two new market-driven business majors, add to new market-driven interdisciplinary majors and create a new undergraduate to master's five-year pathway program. All of these new academic programs will start next fall.
Rob has overseen the development and implementation of a number of innovative programs targeted at recruiting strong classes of new students to Heidelberg each fall. For example, the Heidelberg Tuition Guarantee locks in the cost of tuition for students over their four years of study at Heidelberg. Combined with a Test-Optional Admission Option for incoming students, a Four-Year Graduation Guarantee, the HYPE Career Ready® Program, the PlusOneAdvantage® MBA Tuition-Free Scholarship Program, and a Diversity and Inclusion Scholarship, the Tuition Guarantee complements Heidelberg's strong student-value and high student-impact initiatives. In combination, these initiatives promote accessibility, affordability, student success, and student placement, all key drivers of Heidelberg's core student mission.
'Onward and upward'
"I look forward to broad-based collaboration in pursuit of our multi-layered goal of transforming generations of students. That's something that really matters to us," Rob said. "Heidelberg is committed to providing differentiated programming, excellent teaching, academic innovation and targeted co-curricular and extra-curricular programming that we sincerely believe will continue to enrich the lives of current and future students, and engage with our alumni."
The stage is set for students to reach their full potential toward lives of purpose with distinction, he added. "I am energized by our students who are fully engaged, by our faculty and staff who are intensely focused on our important goals, our alumni who help sustain and support our work and our vision, and the community partnerships that help all of us rise together. Onward and upward!"
Rob began as Heidelberg's 14th president in July 2009. In their 14th year as residents of Tiffin and Seneca County, he and his family have established roots in the community they now call home. He is a past chair of the Board of Trustees of the Tiffin-Seneca Economic Partnership and its Executive Committee and still serves on that board. He is also a member of the Board of Trustees of the Tiffin Community Foundation and a member of the Tiffin Rotary. In addition, he became a member of the Lakeside Chautauqua Board of Directors in 2020. In higher education, Rob serves as a member of the Board of Trustees for the Ohio Foundation of Independent Colleges (OFIC) and as a Trustee for the Association of Independent Colleges and Universities in Ohio (AICUO). Nationally, he served on the NCAA Division III Presidents Council and as a member of the Strategic Planning and Finance Committee, while also representing the Ohio Athletic Conference (OAC) on the NCAA Division III Presidents Advisory Group for eight years. Rob has served as chair of the OAC Presidents Council twice since coming to Heidelberg.
 
Published on
Oct 26, 2022