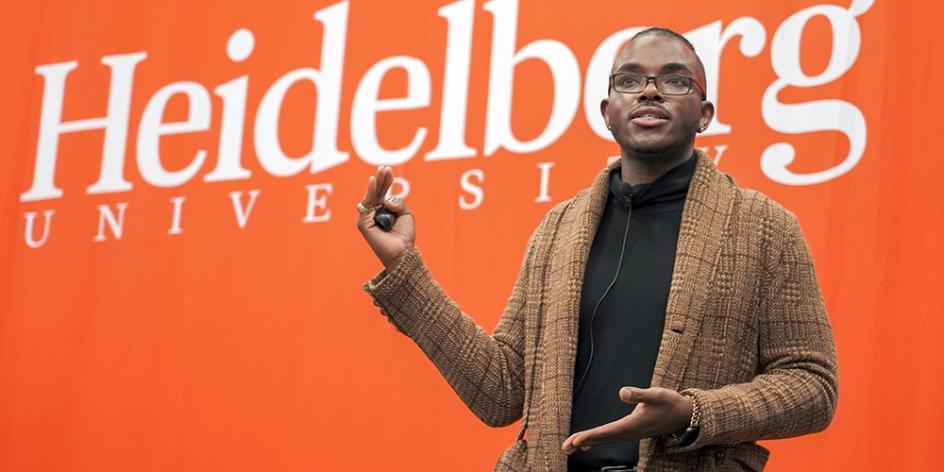 The aftermath of the racially charged riots in Ferguson, Missouri, in 2014 changed Payton Head's life.
As a college student at the University of Missouri – Mizzou, for short – Payton was trying to figure out where he fit in. He joined all types of student organizations, worked as a tour guide and an orientation leader, even dealt with the culture shock of being at a predominantly white campus. But he didn't like what he was seeing at Mizzou. 
"I loved my university … but everyone was siloed. There were so many from different walks of life, but no one was working together. I didn't see any (effort toward) diversity, equity, inclusion and belonging," said Payton, who was on campus Wednesday as the keynote speaker for the second HYPE Day of the semester.
Coupled with the racial unrest ignited by the shooting of a black man by a white police officer in Ferguson, Payton believed his experience at Mizzou called for change. And the situation needed a change agent.
"The university didn't do anything to acknowledge what was happening 100 miles down the road," he told the Heidelberg students. "Not even a simple statement … 'We see you. We hear you. Nothing."
Payton decided to run for president of Mizzou's student government, where he would represent 28,000 students. When he won, conversations about improving race relations and creating institutional change at the university – and on college campuses across the country – began in earnest. 
The conversations led to student protests, hunger strikes, walkouts, sit-ins and study-ins that spilled out onto Mizzou's campus. The reactions generated headlines across the country and around the globe, and proved something to Payton: Solidarity can be a powerful change agent too. Ultimately, the chancellor and Mizzou's system president resigned.
As student government president, Payton said, "We decided we wanted to better our institution. We asked challenging questions. We spoke up and spoke out as often as we could and asked ourselves how we could elevate the voices of those who were unheard."
Payton's time and experiences on Mizzou's campus during such a tumultuous time shaped his life today as a rising community leader and race relations advocate. He learned quickly the value of building connections with people and of building communities. 
He closed his presentation with a quote from former President Barack Obama: "Change will not come if we wait for some other person or if we wait for some other time. We are the ones we've been waiting for. We are the change that we seek."
 
Following, he answered a series of thought-provoking questions from 'Berg students about ways to promote diversity and belonging on campus, regardless of race, how to elevate people with disabilities, advice for university administrators, and giving power to individuals or groups when limited resources exist, among others.
"The interactions you have with someone now go a long way to building a web and building a community," he concluded. "If you don't make those connections, it's going to be difficult to take advantage of opportunities."
Published on
Oct 12, 2022