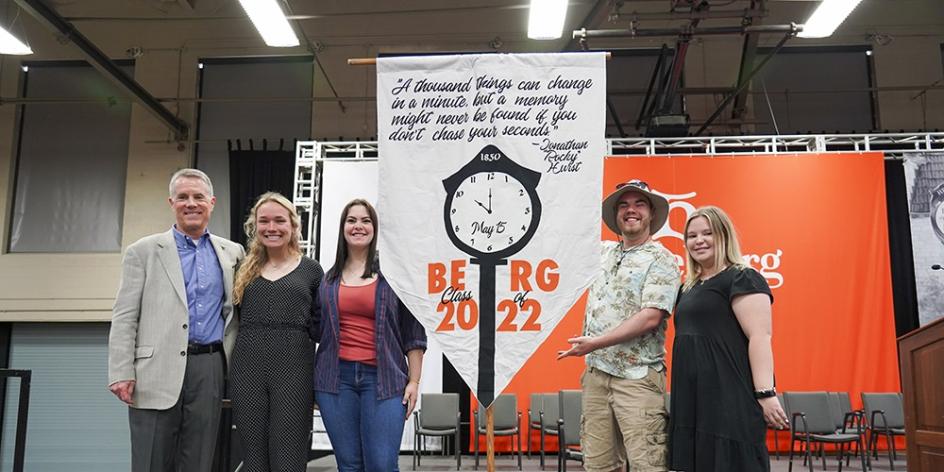 There's no disputing the Class of '22 has endured challenges like no other class, brought on by the pandemic. But they're not focusing on what they lost.
Instead, they're demonstrating appreciation for their accomplishments and their time at the 'Berg. That's the message on their class banner, which was unveiled and presented to President Rob Huntington during Commencement rehearsal on Friday. It's a Heidelberg tradition that dates back more than 100 years.
Accepting the banner, President Huntington acknowledged the "long, long, long relationship" each of the graduates-to-be is beginning. "That's a really special thing," he said, praising the banner's symbolism, uniqueness and individuality.
Symbolic of the times
The symbolic image on the banner is of the iconic clock in front of Campus Center, set at 10 a.m. – the exact time of Commencement. The cloth/felt banner contains a quote from senior Jonathan "Rocky" Hurst, who – along with classmates Emily Fox, Paige Leary and Maddie Szawranskyj – worked together on the creation of the banner.
They wanted it to "encompass the feeling of home that Heidelberg is," Emily said. But they also wanted it to be something new and different.
"We all thought about different things and came up with many ideas, but we came down to the idea of how we have been through a lot in the last few years," Paige explained. "We have been through a winter weather storm, a pandemic, missing a whole semester and so much more. But after everything, we always come back together time and time again."
That's the sentiment in Rocky's quote:
A thousand things can change in a minute, but a memory might never be found if you don't chase your seconds.
Despite lost time, there's nothing to be gained by thinking about what could have been. "We can get past the turbulence and change by looking at what we have now. We did it," Rocky said. "We got through undergrad and the last thing we could possibly describe it as is 'short.' But we can keep living for the now, and we can keep looking to the future."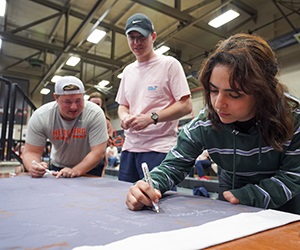 Now, the Class of '22 banner – unique and special in telling the class's story – will live in perpetuity, brought out for milestone reunions and eventually taking its place in Wickham Great Hall. As part of Commencement rehearsal, each member of the class signed the back of the banner – a "first" for the banner tradition that makes this one unique. "We really wanted to do something different," says Maddie.
"I love this banner because it connects a place on campus that is meaningful to a date and time that is significant to each member of the class," said Ashley Helmstetter, who guided the committee through the project. "I don't know of any other banner that is signed by the entire class. Emily, Maddie, Paige and Rocky really worked hard to make this an inclusive project, one that will be loved and treasured by their class and Heidelberg."
A family connection
The Class of '22 banner was made by Amber Hotzfeld, Emily's older sister, who lives in Centennial, Colorado. Ironically, Amber is completing her own graduate program after recently retiring from the Air Force.
"It's special to me because my sister made it," Emily said. 
Through her travels, Amber has picked up a lot of knowledge on quilting, knitting, painting and other crafts. She was open to design changes the committee had, and completed the banner in about two weeks. 
Newest 'Berg alumni going forward
During rehearsal, the class also heard three important messages from Ashley as they transition from student to graduate.
"Your 'Sweet Alma Home' is yours forever and will be here for you always." She encouraged them to return to campus often and connect and network with the 15,000-plus 'Berg alumni who stand ready and waiting to help.
"Stay connected – we are where you want us to be." The new alums should share their joys with their alma mater so we can celebrate with them.
"Give back and pay it forward." It's important to remember each person who helped them reach Commencement day, as well as the opportunities offered during the past four years. Those memories become a part of their future and Heidelberg's future, so share your story with a prospective student and make a gift to The Heidelberg Fund because it supports students just like you.
Hats off to the Class of '22. Now go chase those seconds!
 
Published on
May 13, 2022