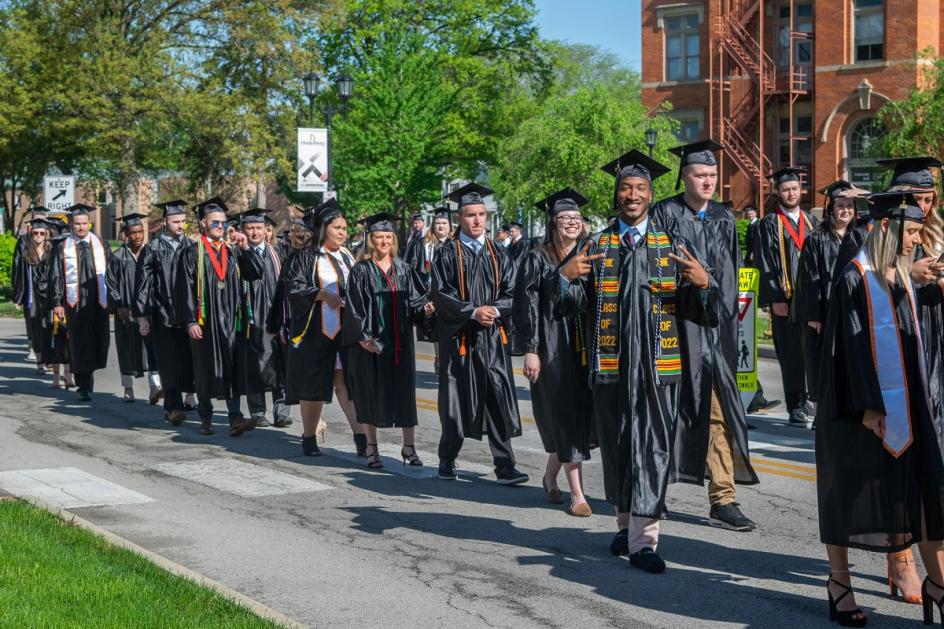 In the words of student Commencement speaker Emma Baughman, throughout their time at Heidelberg, her Class of '22 has had to "pivot, roll with the punches, adjust and re-adjust." But on a gloriously sunny Sunday morning, their perseverance and resilience – and choosing to make the most of it – were rewarded as Heidelberg University held its 169th Commencement.
The ceremony was the first held in Hoernemann Stadium since 2017.  Degrees were presented to 70 graduate students and 205 undergrads.
In what he described as "a great moment for all of us," President Rob Huntington acknowledged the difficult challenges of the last two years, telling the graduates, "I admire your unwavering persistence and unflappable resilience. It has not been easy."
But going forward, they will continue to make Heidelberg stronger with their courage, strength, kindness and humility as they join more than 15,000 'Berg alumni who have preceded them.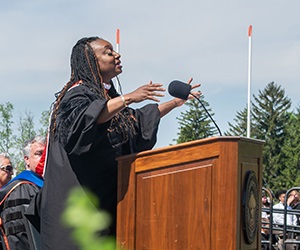 And making the most of it? That was the theme of the uplifting, heartwarming Commencement address delivered by '91 alumna Tracey Ashley Hilyard, a successful standup comedian, writer and actress. 
Journey to joyful career of laughs
Tracey shared with the grads her journey to Heidelberg which started from her home in Miami, Florida, where she was a talkative, even loud, opinionated kid who loved to be funny and make her friends laugh.
A recruiting call from then-Speech Coach and professor Dr. Jan Younger launched what would become a meaningful mentor-student relationship that Tracey cherishes to this day. "I had competed, placed and even won a few competitions back in Florida, and he asked if I would be part of the team for Heidelberg," she recalled. "'I said, Heide-who? … Tiffin-who?'" Eventually, Dr. Younger persuaded her to enroll. 
As a black woman on Heidelberg's campus, Ashley Hilyard experienced loneliness, but her mentor, Dr. Younger, stepped in.
"He helped me to realize that wherever I am in that moment, I have to make the most of it," she said. At that moment, Dr. Younger gave her some advice that has stood the test of time: "You can either decide to leave, you can decide to stay and be miserable or you can decide to stay and make the most of it and in the process, find your way."
She chose finding her way – not only for her time at Heidelberg but for her career. She excelled on the Speech Team, joined the Philalethean Society, worked at WHEI and was active in the Black Student Union.
"My life here on campus happened because I chose to make the most of it. This ideal was the first thing I took with me everywhere post-college and it did not let me down," she said. 
And the Class of '22 has already done the same.
For Ashley Hilyard, that ideal led her on an interesting career path: 10 years as cruise ship director where she got to see the world and make people laugh, 7 years in marketing and sales for a radio station in Minneapolis and finally, comedy. She knew she was destined for comedy all along.
"It was amazing to look back and see how far I had come," she said. "Your girl went from the little 'ol Heidelberg Speech Team to opening for Tracy Morgan at the Kennedy Center and Carnegie Hall."
All because she took her mentor's advice. Now a writer and producer, Ashley Hilyard continues to perform. And on Commencement – the day she became Dr. Ashley Hilyard – she hasn't forgotten her Heidelberg roots. 
Ashley Hilyard invited Dr. Younger to be her "family," along with her husband Scot, just as he had done at her graduation in 1991 when her Florida family couldn't attend. She gave him a sweet, emotional shout-out to her former professor – the person who put her on this path and was a father figure when she didn't have one. Although now retired, he was here in person for her on this day too.
Then, she told the graduates, "Today is the day you begin to unleash your potential to the world. You've made the most of your education in a lockdown. You survived and now it's time to thrive. …
"Make the most of it. Go out and give it your all, and most importantly, have fun. You can achieve what you set your mind to."
In her closing, she told President Huntington, "They ready!" – a nod to the Netflix series Tiffany Haddish Presents They Ready, on which she performs. 
No one does it alone
During milestone moments such as Commencement, it takes a village. 
Special music was provided by the Heidelberg Symphonic Band and Director Jon Waters and the Concert Choir and student director Seth Eisenhower, a member of the Class of '22. Seth also performed the "Star-Spangled Banner" and sophomore Zaria Keys performed "Lift Every Voice and Sing."
Graduating senior Kaitlyn Ferrario provided the invocation and student remarks were delivered by Alyssa Kontak, representing graduate students, and Emma Baughman, representing undergrads. 
For the first time during Commencement, students presented the Faculty Member of the Year Award, this year selecting Dr. Carol Dusdieker, associate professor of voice and director of the School of Music & Theatre.
Board of Trustees Chair Kathleen Geier, '78, assisted President Huntington in presenting honorary degrees to the Rev. David Long-Higgins, '84, who delivered the sermon at Baccalaureate on Saturday, and to Tracey Ashley Hilyard.
Congrats to all of the graduates! "They ready!"
Published on
May 16, 2022