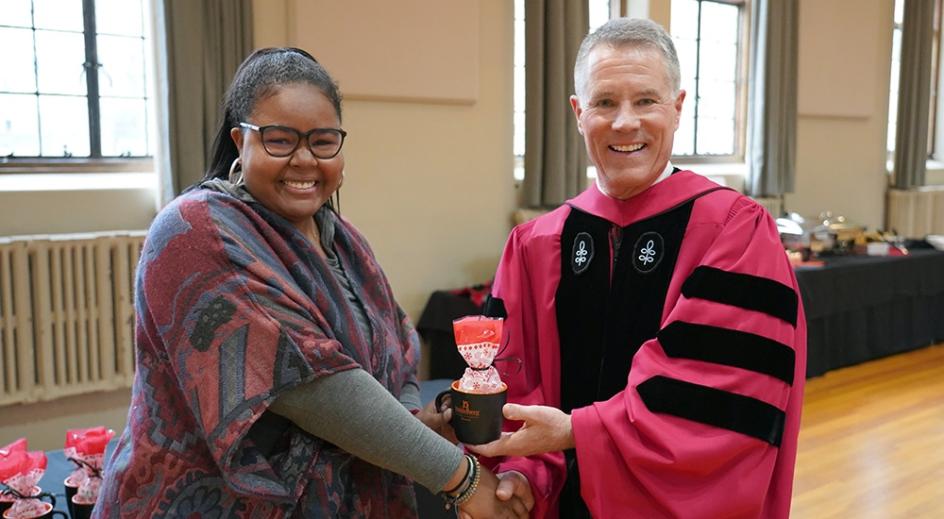 On Friday, Heidelberg celebrated the accomplishments of 32 students who completed graduation requirements this semester.
The annual December Graduation Reception, while more informal than the traditional ceremony each May, was an opportunity to recognize and honor 26 undergrads and six graduate students who now move on to that next chapter!
At the reception, President Rob Huntington gave remarks and welcomed the grads, their families and 'Berg faculty in attendance. Provost Bryan Smith did a presentation to the graduates and Ashley Helmstetter, assistant vice president of Alumni Engagement and HYPE Career Ready® and Placement, welcomed the grads into Heidelberg's alumni family. The program concluded with the singing of Sweet Alma Home by December grad Anna Zeller. 
Best wishes to the following December graduates:
Master of Arts in Counseling: Travis Bruns, Robert Craig Haines, Steven Eric Myers, Michael Anthony Rizzi, Joshua David Stanley and James Urwin
Bachelor of Arts: Cody Scott Burnside, Anna Louise Gerber, Zachary Daniel Piltz, Ashton Trasatt, Tramon Dy'Ares Wiley and Anna Madeline Zeller
Bachelor of Nursing: Tyler Trapp 
Bachelor of Science: Samuel Benson Buckey, Trenton Judd Cooper, Alfred Joshua Daum, Meriah Patricia Estremera, Brianna Renee Farrell, Ashley Nicole Foster, Jessica Fuentes, Yvensky Gedna, Jacob Allen Gerlak, Alyssa Mae Goetz, Chase Lawrence Harden, Colin Howard Hughes, Jessika Keller, Samantha Brooke Mann, Da'Veon Parker, Kelsey Renee Ringkor, Madison Sharp, Courtney Eileen Temple and Kendall Leiana Wright
Published on
Dec 12, 2022