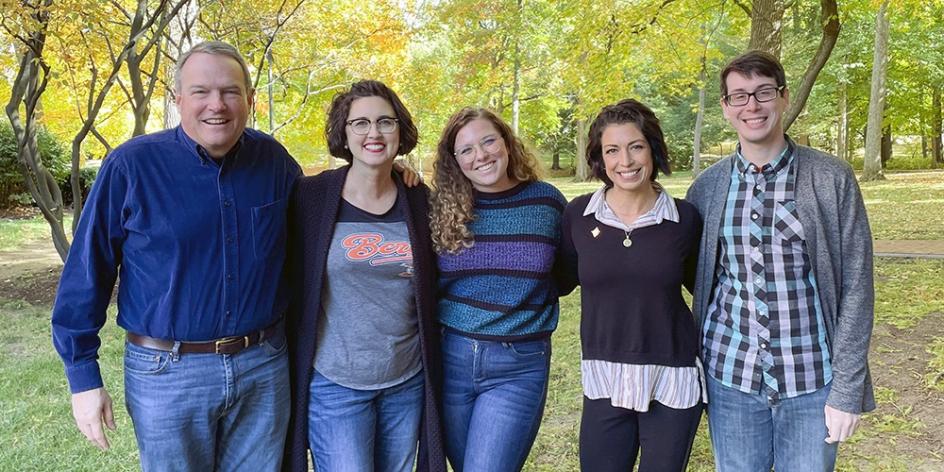 Last week, five members of Heidelberg's Diversity, Equity, Inclusion Committee (DEIC) traveled to Crawfordsville, Indiana, to participate in the HEDS Diversity, Equity, Inclusion and Student Success Workshop.
Representing Heidelberg at the workshop were DEIC Co-Chairs Leslie Erwin and Morgan Harrigan, along with Brad Gibson, Alyssa Kontak and Paul Stark.
This workshop was the perfect opportunity to fully dive into DEI work and the initiatives that our DEIC is passionate about. The DEIC has been working on a variety of projects that align with Heidelberg's Strategic Growth Action Plan (SGAP) that will help us continue the long road to making Heidelberg a place that embodies inclusion and belonging.
The HEDS workshop gave our members a project planning template, a team facilitator, and plenty of uninterrupted time to sit down and have meaningful, courageous conversations that will help them move forward with their project initiatives. These initiatives include creating an equitable, effective and inclusive search process and a reframing of the preferred name policy on Heidelberg's campus. 
The team also had a chance to connect with colleagues from other universities around the country to talk about the DEI work being done on their own campuses. This provided the Heidelberg team with new ideas and perspectives to bring back to our campus. The team also appreciated being able to foster new relationships with other individuals who are passionate about this work. At the end of the weekend, each team presented their project plans in a poster session to celebrate their progress, gather feedback and discuss ways to collaborate further.  
When talking with the DEIC members about the work they're doing throughout this workshop, they agreed, "We understand that this work is continuous. There were individuals doing DEI work before us, and there will be individuals continuing DEI work after us. It is up to us to carry the baton for this leg of the marathon." 
Published on
Oct 17, 2022