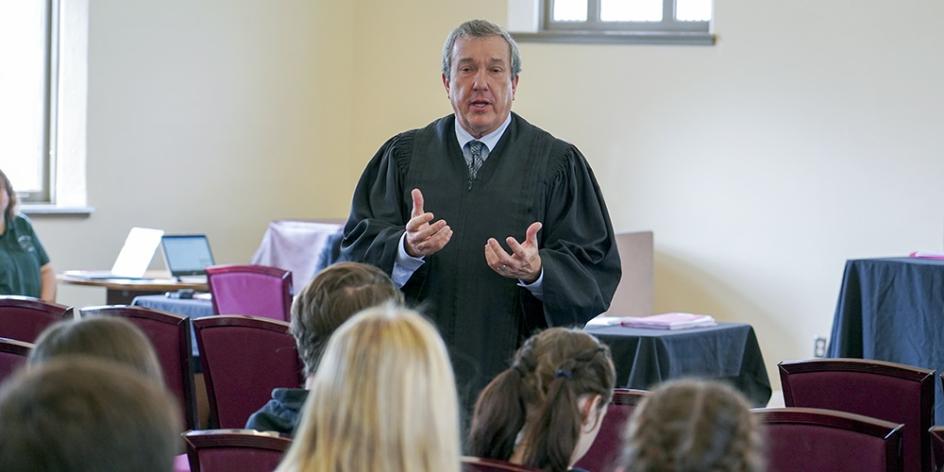 "We the people …"
Three simple words, but they are powerful in their meaning, especially on Constitution Day. On Monday, in observance of the 235th anniversary of the founding of the U.S. Constitution on Sept. 17, 1787, Heidelberg returned to the annual tradition of hosting Court on Campus.
For the event, Common Pleas Judge Steve Shuff, a '75 Heidelberg alumnus, brought his courtroom to campus for a day of criminal hearings, giving students the opportunity to witness the Constitution in action.
Court on Campus was organized by Dr. Susan McCafferty, who teaches the Negotiations course at Heidelberg. "Our hope every year is to expose our students to actual court and have them observe Judge Shuff protect the Constitutional rights of the defendants who appear," she said. 
This year, Court on Campus drew a standing-room-only crowd. Between cases, Judge Shuff came out from behind his makeshift bench to engage the 'Berg students, answering their many questions about the law, the court and the just concluded cases. 
"In addition to being a fine jurist, Judge Shuff is an excellent teacher," Susan said. "This is an incredible opportunity for our Heidelberg students."
The day consisted of a variety of hearings such as a motion to change in the conditions of community control (formerly probation), a petition to amend community control to include a drug addiction program, a sentencing hearing on charges of importuning and attempted unlawful sexual conduct with a minor, a change of plea hearing and a sentencing hearing to a change of plea on two attempted murder charges, reduced to felonious assault with a firearms specifications and possessing a firearm under a disability.
No matter the case, Judge Shuff handled each case precisely, to the letter of the law, always careful to speak with defendants about their Constitutional rights.
"I love the Constitution," the judge said, giving a history lesson on some of its guarantees. For example, one defendant had petitioned to have his community control amended so that he could bow hunt during deer season. In granting the request, the judge explained some of the intricacies of the Second Amendment and why he granted the motion. "Our freedoms are very special and we should always safeguard them."
Judge Shuff has served as a common pleas judge in Seneca County for 24 years and as an attorney and prosecutor for 20 years before that. He spoke at length about his thought process when sentencing individuals in criminal cases, likening his decisions to the spokes of a wheel.
"A lot of factors go into my decisions," he noted. "Sentencing isn't about the person. I have no right (to sentence based on that). I have never walked a day in their shoes."
"But I am judging you for a specific act you committed on a specific day."
In addition to felony criminal cases, Shuff handles civil cases and domestic relations cases. Among the criminal cases that come across his bench, an estimated 85 percent are related to substance abuse. In one case on Monday, he amended a defendant's community control conditions to enrollment in PIVOT, a court-supervised program that stands for Participating in Victory of Transition. PIVOT, he said, connects them with treatment, life services and resources to "transition from their old life to a new life" and get back on the right path to long-term sobriety.
It's the hope, Judge Shuff explained, that PIVOT stops the cycle of substance abuse. "Putting people in jail wasn't the answer. This gives them the tools to get their lives back together."
Bleeding red, orange and black
Shuff was given an opportunity when he was a junior at Heidelberg to work at the Seneca County Prosecutor's Office and he never left. He could be the poster child for the value of a Heidelberg education. He told the students that when he entered law school at Wake Forest, he was uncertain if he was prepared. As it turned out, he more than held his own.
"That was a misconception," he said. "I was very prepared for law school, very prepared for my career. I found out I could compete with students from Temple, Holy Cross, Duke and other big schools." 
He invited 'Berg students to visit his courtroom any time and always feel free to ask him questions. 
He even congratulated the dozen or so football players in attendance on their big win over Ohio Northern over the weekend.
Published on
Sep 20, 2022