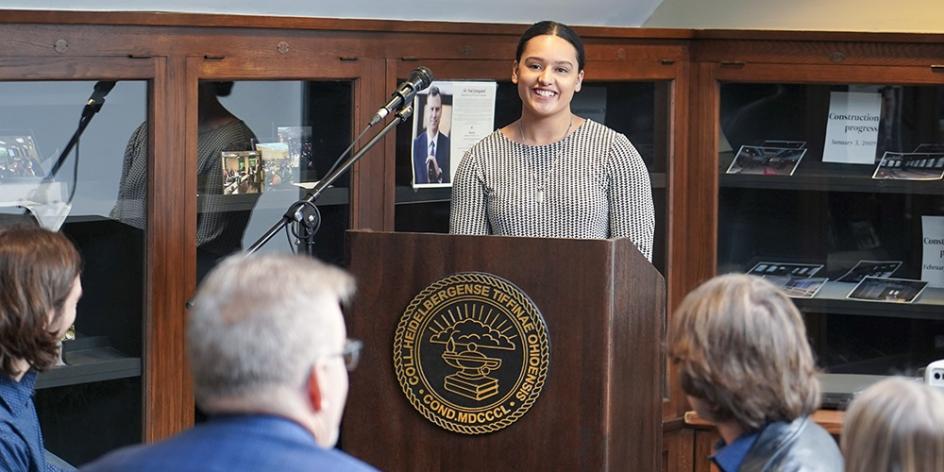 On Friday, the School of Business provided a venue for area high school business educators and guidance counselors to come together to learn about Heidelberg's program as well as interact with each other.
The inaugural Business Educators Day was a success, with participation from educators from Columbian High School, Millstream Career Center in Findlay, Riverdale Local Schools, Eastwood Local Schools and Highland High School.
"Our goal was to familiarize them with our undergraduate program, our MBA and introduce them to opportunities available to students who choose to study business at Heidelberg," said Doug Woods, interim dean of the School of Business.
The day started with a welcome and opening remarks from President Rob Huntington, followed by a delicious breakfast provided by Parkhurst Dining. Doug led a School of Business presentation, with support from faculty colleagues Dr. Trish Berg, Dr. Lisa Kahle-Piasecki, Dr. Salil Khetani, Dr. John McGinnis, Scott Miller and Dr. Diane Monaco.
The participants then took a campus tour and then heard a presentation about HYPE and internship opportunities, delivered by Dr. Carole Thomas, the new Career Services Specialist. Three 'Berg students – Dreona Hughes (Deloitte CPAs), Guy Tibbels (Sutton Bank and Barnes Wendling CPAs) and Ethan Campbell (J.M. Smucker & Co.) – also shared their positive experiences with internships.
Dr. Courtney DeMayo Pugno spoke about the resources available via the Owen Center for Teaching and Learning to help promote student success. Provost Dr. Bryan Smith gave closing remarks.
"It was an excellent day," Doug said. "There was a good exchange of ideas. We even got requests for additional materials and follow-up from some of those in attendance."
Ideally, the takeaway for the educators was to plant a seed and make sure Heidelberg is top of mind when their students inquire about studying business in college. 
 
Published on
Oct 14, 2022
Programs
Accounting
Business Administration
Economics
Finance
Management
Marketing
Master of Business Administration