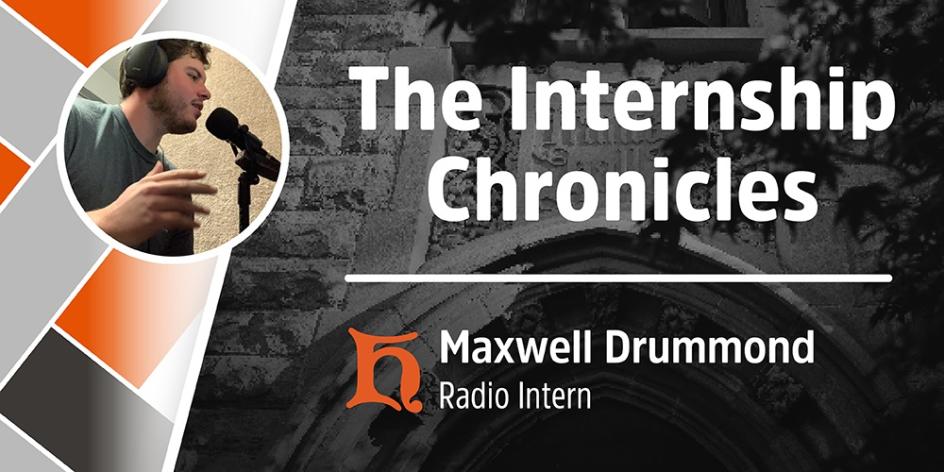 One spring day, a Student Prince decided to go on a summer adventure. "It won't be long before I have a career," the Prince said, "so I'd better start preparing now." So with some 'Berg education under their hat, and some connections in their back pocket, the Student Prince began forging their way through an internship.
We continue our web series, Internship Chronicles.
Chapter 4: "Getting Rocking and Rolling Right Away"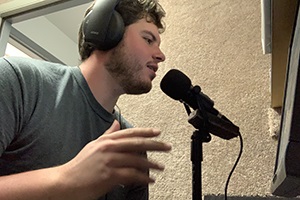 Max Drummond just graduated from Heidelberg with a degree in Sport Management with a concentration in communication. This summer, Max is interning with the WOBL radio station in Oberlin, Ohio.  WOBL is one of the longest-running country music stations in Ohio. Max aims to work in media coverage of high school, college or professional sports in Ohio.
How did you find your internship, or how did the internship find you?
The original internship and a few others I applied for were through teamworkonline.com. However, the one at the radio station was a connection through a family member who gave me a name to mention when I called the station. They knew my family a little bit and after a phone call, I was invited in for a semi-formal interview. 
What did you expect from your internship initially?
I have only begun in the last week of May at this new internship but I was expecting to help with miscellaneous things around the station, run errands, and possibly have some air time eventually while also participating in events out of the station and in the community.
What really happens in your day-to-day work?
So on my first day, I was paired up with Michelle Lee, who hosts a morning show on the Gold Country station. I was introduced and given some lessons and tips as well as being set up in front of the equipment where I was able to have airtime in conversations guided by her, read ad spots and come up with and present a trivia question for the day. There was some paperwork and envelope work I assisted with at the station that day. A couple of days a week, I shadow their news reporter, Brian Engle, who records daily news segments and writes news stories for the station. Other days of the week, I divide my time between the staff during other radio shows or sitting in on sales calls/meetings. The president of the station, Gary Tollett, has been very accommodating and adamant about ensuring I have a structured role and get to experience as much as possible around the station so I get a good idea of what I enjoy doing. There are also days where I have simply picked their brains and asked how they handle certain instances, basically shadowing.  
What connections have you made?
Everyone at the station has been very interested and curious about my future, and areas I am interested in and constantly has suggestions for what to do and experiences of their own that relate. An amazing opportunity moving forward through the station and Gary Tollett is if things go well this summer, then they have said they always take any help or additions they can for their station's Friday Night Football broadcast of Lorain County high schools. There's even a chance of an exciting, relatively new production of a play-by-play broadcast of Amherst youth football on Saturdays in the fall, where I would have more of a chance to be on air.   
What is the most valuable thing you'll bring back to the classroom after this experience?
A valuable asset I'll bring back right away is practical experience in a field I am interested in, as well as the skill of being adaptable and wearing many different hats so to speak, while being involved in a business. Also, (it will be helpful) being able to perform different tasks on short notice without worrying about if I am a right fit, and instead remaining calm and going about figuring out the assignment in a productive way while also not being afraid to ask relevant questions when needed.      
If your internship was a book or a chapter in a book, what should it be titled?
"Getting Rocking and Rolling Right Away"
For more information about WBOL radio station, visit their website. To keep up with what Max is doing, check out his LinkedIn profile. 
 
Published on
Jul 12, 2022
Programs
Communication
Sport Management