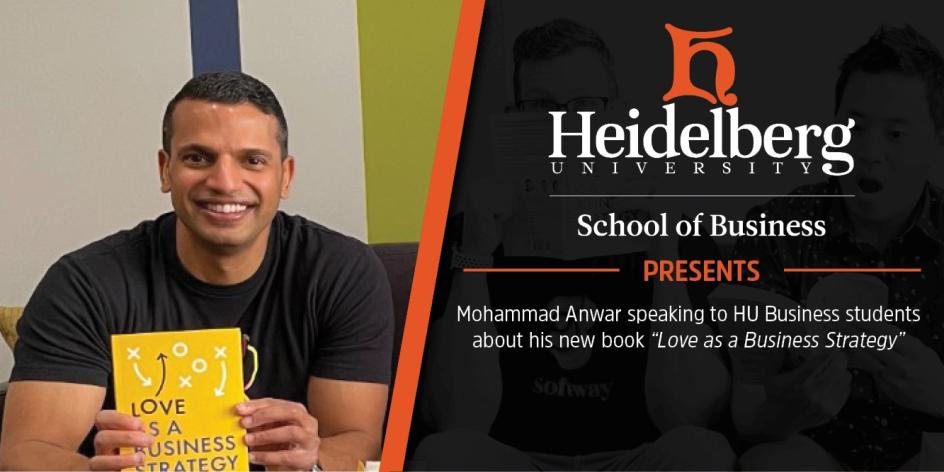 Sometimes the most random, unexpected connections turn out to be really valuable. And cool.
When Dr. Trish Berg was prepping for her Introduction to Business and Community class as well as the MBA capstone class she's teaching, she decided to incorporate the Wall Street Journal best-selling book, Love as a Business Strategy: Resilience, Belonging & Success.
"I was drawn to this book because it's about serving others and how to treat people," Trish says. "It was a nice fit for the class. I was really struck by its honesty and how great the message is."
One of the book's four co-authors, Mohammad F. Anwar, took note that Trish was exploring some of the resources related to the book and reached out to her.
"Mohammad emailed out of the blue and wanted to know how we're using the book in class," she recalls. "And he offered to help in any way he can."
The first installment of Mohammad's "help" came when Trish interviewed him and the co-authors Jeffrey F. Ma, Frank E. Danna and Christopher J. Pitre on January 27. Then, on Monday, Trish's students had an "Ask Me Anything" zoom call with Mohammad and Jeff. And ask they did!
A little background about the book …
Mohammad is president and CEO of Softway, a solutions-based company that serves diverse technology partners, based in Sugar Land, Texas. He started the business his senior year of college with a goal "to become a millionaire as fast as possible." When he started the business, his focus was solely on the bottom line.
It wasn't always smooth sailing. In 2015, a moment of reckoning shook the company and forever changed the way Mohammad led and Softway did business.
"I became a millionaire but I lost it overnight," Mohammad told the students. One of his darkest days, he says, was having to lay off one-third of his workforce. He did it by gathering the employees and essentially telling them, "If you're in this room, you no longer have a job."
After that, he came to the realization that his mindset needed to change. And he had to find a way to lead with compassion. With love. It's a transformation that has taken years and remains a work in progress. Today, Mohammad says he is "far poorer financially but far richer in terms of relationships and surrounding myself with good people."
With the new concept, the authors facilitated leadership training across the world, where they connected on a human level about their concept of love as a business strategy. Spurred on by those they were coaching, they decided to write the book.
It was very personal to the co-authors, and now, 'Berg students are learning the story of the company's transformation.
Some really relevant questions
Trish's students took turns asking Mohammad and Jeff some very pointed questions, and they got some very honest answers
Asked whether the company is perceived as weak because of its new focus, Jeff said it's more about being vulnerable. "And vulnerability is strength."
"The reality is, we're not talking about anything more than just being human," he says.
Mohammad added, "If you practice tough love with genuine compassion and care for one another, it gets you to a tougher environment where you can achieve what you want to do." And employees can become the best versions of themselves.
In response to a question about how to build relationships with associates, Jeff said the key is really getting to know each other, and we often don't take time for that in the workplace. "When you start to see another person differently, it's very powerful," he says, adding that the best way to accomplish that is through life experiences.
Bringing humanity back
Self-awareness was half the battle in transforming Softway. Mohammad realized that being rich was born out of greed and selfishness. There's a certain sense of introspection that comes with failure. Accepting fault led to the redefinition of why he's in business in the first place.
Through one personal revelation after another, Mohammad discovered that bringing humanity to the workplace "was our purpose, our calling." Learning to become consistent in the new culture was a challenge that came with rewards. "That way, even if I make a mistake … I keep working on myself to do those things less."
The company culture definitely feels different these days. "It's a continual journey," Jeff concedes. "We have more love now, yes. But are we there yet? No."
The connection continues …
The zoom class wasn't a one-and-done. Mohammad and his co-authors are planning to travel to Heidelberg in June to meet with about 45 MBA students, to get to know them and share the strategies spelled out in the book. He's also providing a free case of books, all for free. Why is he doing this?
"I think he's just so passionate about what he's doing and what he believes that I think he just wants it to catch on," Trish says. "It's a very powerful message. I'm super excited."
She believes the kind of connection that her students are making with Mohammad and the co-authors is something that will be impactful for students 10, 20 years from now. 
Published on
Feb 16, 2022
Programs
Accounting
Business Administration
Economics
Master of Business Administration