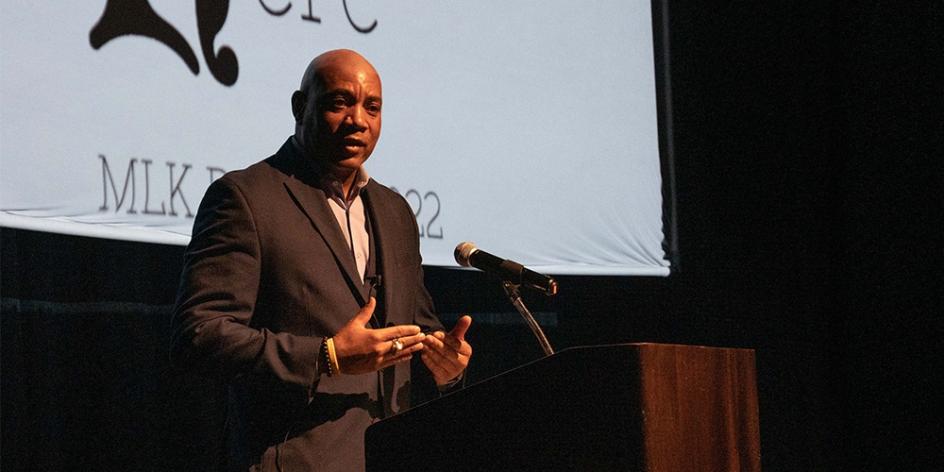 ---
While paying homage to his ancestors – Martin Luther King Jr., Malcolm X, Rosa Parks, the Freedom Riders – 'Berg Trustee and alum Claudie Johnson '85 doesn't take any of their accomplishments for granted.
"Without them, I'm not here. Without them, I don't have the opportunities to go the places I can go," said Claudie, who delivered the keynote address during Heidelberg's celebration and observance of Martin Luther King Jr. Day with a Day ON! of learning and service.
He added that he "loves how Heidelberg has embraced Martin Luther King Jr. Day as a day on" because it pays respect to the civil rights icon and it's an indicator that work remains.
But he had an even stronger, powerful personal message for the campus community: the need to understand and take action toward economic justice for all. 
Dr. King's writings on economic justice
Citing this quote from a 1966 King speech on economic justice – "People of ill will still stubbornly cling to the determination to maintain a double standard of social and economic justice" – Claudie discussed the ways in which we frame the concepts of entitlement vs. stimulus programs. 
He defined stimulus programs as business bailouts, pandemic-related programs such as increased unemployment benefits, delayed student loan repayments, PPP – programs that provide support to individuals and businesses. On the flip side, programs that provide support to individuals who are struggling, to feed their families and find housing, for example, are referenced as entitlement programs. 
"Why is that entitlement and the others are stimulus?" he wondered. "In both cases, they use taxpayer dollars to help individuals who are challenged and going through changes in life.
"I'd love for us to get rid of those terms," he said. "The challenges for us are to think differently because you never know where we are in our lives."
The story of the Freedman bank
Freedman Savings and Trust Co. was chartered in 1865 by President Lincoln to help develop the newly freed African Americans on their quest to become financially stable. 
The bank was well-intentioned, but a few "bad actors" got involved and prohibited the freed slaves to borrow, even though they were depositing their money toward financial stability. When the bank failed, the former slaves lost their life savings they were using to change the trajectory of their lives, Claudie said.
"This story should compel all of us to uplift each other so we all have equal opportunity," he said. "It would be better for all of us."
A father's example
Financial empowerment is so important to Claudie that he has made it his career. It started with a trip to the bank with his father in search of a car loan. He recalls the banker – dressed in a suit and tie – issuing his dad a $5,000 cashier's check on the spot. That experience provided Claudie with two "ah-ha" moments. 
"One, Mr. Jameson (the banker) had on a suit and tie … and two, what just happened? Mr. Jameson had just provided an opportunity for my family to get a car. I need to learn more about this," he said.
The scenario was surprising from Claudie's blue-collar community of Sidney, Ohio. 
But it set him on the path to financial learning and a mission to educate himself so he could educate the community about economic equality.
A financial empowerment declaration
Claudie extended his financial empowerment lessons to the Heidelberg community during his keynote by asking the crowd to participate in a financial empowerment declaration that addresses a lifetime commitment to saving, investing, spending, wealth accumulation and awareness.
Becoming anti-racist
Claudie applauded Heidelberg for "championing diversity, equity and inclusion" and for getting out into the community to help create an open and welcome environment for all.
"It has to be inclusive, and Heidelberg has taken the lead," he said.
As an analogy to define anti-racism, he asked the audience to envision a moving sidewalk at an airport and picture racist behavior is in the direction of the sidewalk. "If you are heading down that path, you are racist. If you want to be anti-racist, you have to go in the opposite direction. You have to do things to change."
"It's incumbent upon all of us to be anti-racist. We have that power and control."
He encouraged all of us to take a look at our own little world, and ask ourselves, "What can I do to lift people up? If we all do that, we'll be better as a community."
"I challenge all of us to go out and electrify the world."
About Claudie Johnson
A resident of Charlotte, North Carolina, Claudie has been working in the financial services industry for more than 30 years, primarily in the area of wealth management. He is currently the Charlotte City Executive for Self-Help Credit Union and serves as the managing director of JareMarc Advisors, LLC, a financial planning firm which he founded in 2011. He is a Certified Financial Planner. In his community, he has volunteered with the Board of Visitors at Johnson C. Smith University. He is a member of the Charlotte Rescue Mission Endowment Board of Directors.
At Heidelberg, Claudie excelled on the basketball court during one of the greatest eras of 'Berg basketball and remains one of the program's most recognizable stars. A sharp-shooting guard, he helped lead the Student Princes to the NCAA Sweet 16 at the conclusion of the 1983-84 dream season. In 2017, he was inducted into the Heidelberg Athletics Hall of Fame. He was appointed to the Board of Trustees in October.
Published on
Jan 17, 2022