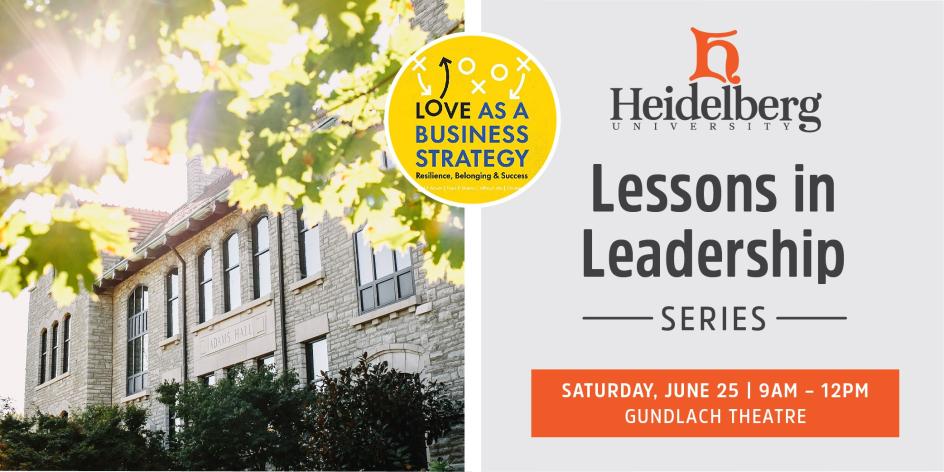 Heidelberg's School of Business is planning to launch its new Lessons in Leadership Series in June with the co-authors of the Wall Street Journal best-selling book Love as a Business Strategy.
According to Dr. Trish Berg, associate professor of management and the series organizer, Lessons in Leadership is targeted at the university's MBA students as well as the community and business leaders. The series will feature key guest speakers for the annual event, which is designed to bring outstanding organizational leaders from throughout the U.S. to campus to share their insights and experiences in leadership.
The two-day event on June 24-25 starts with an informal dinner Friday night with current MBA students, School of Business faculty, Heidelberg administration and members of the Berg Business Board.
The signature event on Saturday, June 25, is free and open to the public and will be a keynote address and panel discussion. The presentation will be offered to MBA students, the Heidelberg community, alumni and local business leaders.
According to Trish, the goal of the Lessons in Leadership series is to "give students, the campus and the local business community the opportunity to engage with and be inspired by some of the great leaders of today."
Kicking off the inaugural series will be the co-authors of Love as a Business Strategy: Resilience, Belonging & Success. Mohammad Anwar, Chris Pitre, Jeffrey Ma and Frank Danna will travel from Texas as the invited keynote speakers on Saturday.
Love as a Business Strategy has become near and dear to Trish's heart, and she's thrilled that all four co-authors will be visiting to share more about failures and ultimately, the culture change and success of Softway, a solutions-based company that serves diverse technology partners based in Sugar Land, Texas. Mohammad is Softway's president and CEO. Chris is a vice president, Jeffrey is a director of product development and Frank is a founding member at Culture+.
"In creating the Heidelberg Lessons in Leadership series, I wanted to open the door for our MBA students to engage with top leaders of today, inspiring them to grow in their own leadership capabilities," Trish says. "I also wanted to engage with our community in Tiffin and Seneca County and include them in our series so that ultimately, we are enriching the lives of leaders in our own back yard as well."
Trish was introduced to Love as a Business Strategy when she was searching for a marketing book to include in her Introduction to Business class as well as her MBA capstone course this academic year. She decided to incorporate the book into both courses
"I was drawn to the book because it's about serving others and how to treat people," she says. "It was a nice fit for the class. I was really struck by the authors' honesty and how great their message is."
So, just what is the core message? The secret to strong leadership is bringing humanity to the workplace.
Easier said than done, but Softway has successfully implemented the concept for companies worldwide. The co-authors have facilitated leadership training around the world, where they connect on a human level and train others on how to change their work and culture to include love.
The Lessons in Leadership Saturday event is free and open to the public. It will be from 9 a.m.-noon in Gundlach Theatre. To get your free tickets, please visit https:/tinyurl.com/HULeadership.
Published on
May 19, 2022