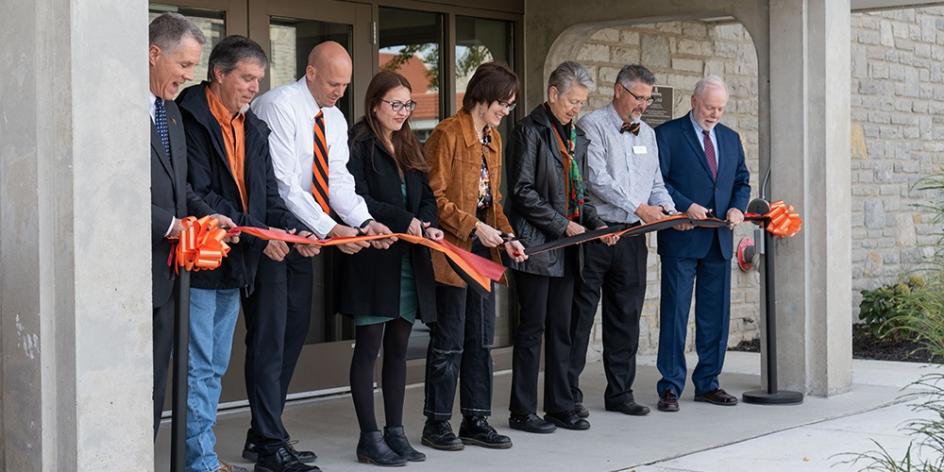 Miller Residence Hall – before Heidelberg completed the $8.9 million renovation in late summer – had seen its better days. Now, post-renovation, it's seeing its very best ones for the students who call it home.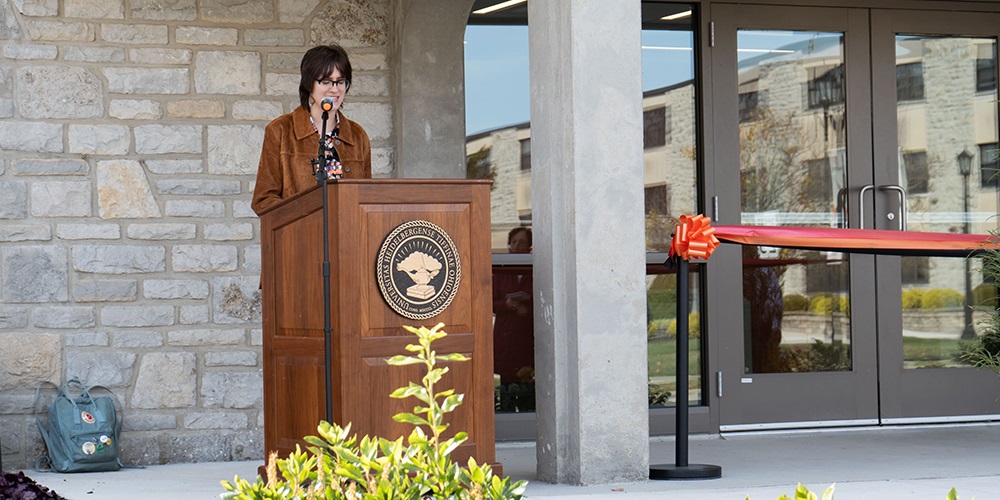 On Friday, Heidelberg held a dedication ceremony for the new and improved Miller Hall as Board of Trustees members, project partners and Heidelberg administrators looked on. In his welcome remarks, Dean of Student Affairs Dr. Chris Abrams said, "Our students greatly appreciate that their home – the place where they live – is part of the college experience."
One of those students is sophomore theatre major Audrey Warren, who's enjoying her Miller Hall "penthouse" on the fifth floor. Living in Miller is special for Audrey because her mom, Julie Wang Warren, '92, also lived in Miller when she was a 'Berg undergrad.
Audrey told those gathered at the dedication that "a lot has changed" since 1966 when Miller originally opened bearing the name of Heidelberg's longest-serving president, Dr. Charles E. Miller.
Drawing from her mom's insight of living in Miller some 30 years ago, Audrey reflected on the differences in the room selection process as well as the amenities that Miller residents – then and now – enjoy. 
"Back in the day, my mom was so proud of her state-of-the-art, 15-inch color TV with a remote control AND built-in VHS player that she shared with her roommate," Audrey said. "Now, in the 'new' Miller, we have amazing lounge areas for students to unwind – including multiple flat-screen TVs, as well as ping-pong and pool tables."
Other generational upgrades include laundry facilities, the aforementioned lounges and fabulous kitchen facilities. "Have you seen the kitchens?" an enthusiastic Audrey asked. "Go see the kitchens!" They are "very home-renovation show chic" and are the envy of her mom.
Yet, mother and daughter do enjoy some Miller commonalities. "When my mom found out that I would be living in Miller, her first response was, 'Oh, you'll be able to walk to Hoernemann Refectory in your slippers. And I do," Audrey said. 
She concluded, "I am greatly appreciative that Heidelberg invested in renovating Miller Hall. For everyone who has shared memories in these halls, for the hours of studying, sleeping, showering, socializing, laughing and learning, I am so proud that I get to be a small part of the legacy of calling Miller Residence Hall my home."
Thanks to those on the ground, behind the scenes
Allison Marker, president and CEO of Marker Construction – Heidelberg's long-time partner on building and renovation projects for the past 13 years, expressed heartfelt thanks for the strong partnership between Marker, who served as the general contractor for the Miller Hall project, and the university. She also expressed gratitude to The Collaborative, BHDP Architects and Prater Engineering, as well as the Heidelberg team on the ground, led by Rod Morrison.
In his acknowledgments, President Rob Huntington told the group that the Miller Hall renovation was the last of six projects that are part of Heidelberg's USDA Recapitalization Plan. Heidelberg invested approximately $22 million over 36 months while recapitalizing its debt, which required Board of Trustees approval. That process was the vision of Trustee Ralph Talmage, Rob said, adding that it involved a lot of complexities and mounds of paperwork between many individuals and government agencies.
"All of these projects are about living and learning space for our students. Fantastic," Rob said.
The ceremony concluded with a Prayer of Dedication delivered by Chaplain Paul Sittason Stark, whose wish for all who reside in Miller, now and in the future, is to "experience belonging, find their way to graduation and live lives of purpose with distinction."
Published on
Oct 21, 2022