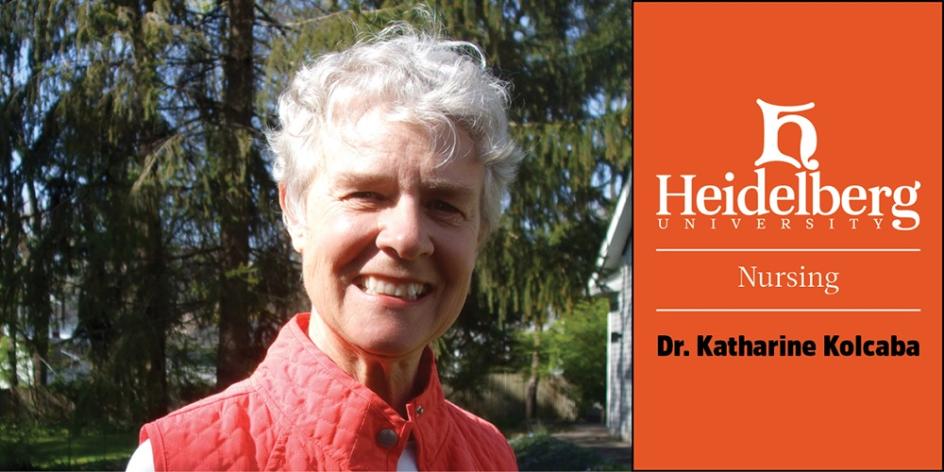 Sometimes, it pays to have friends in important places, especially if they're visionary and brilliant. That's the case for Director of Nursing Dr. Karen Estridge, who has maintained a long-time friendship with Dr. Katharine Kolcaba. Dr. Kolcaba is a retired professor of nursing, author, and creator of the Comfort Theory. Her enthusiasm for nursing theory and Comfort Care has now filtered down to benefit Karen's nursing students at Heidelberg this semester. 
As a personal favor, Dr. Kolcaba was kind enough to join Karen and her nursing students in their post-licensure Theoretical Foundations of Nursing class for a Zoom conversation earlier this month. It was a wonderful opportunity for two friends to reconnect and a cool opportunity for the 'Berg nursing students to hear more about how the Comfort Theory was developed. 
"We met when I tested her theory during my doctoral research with an adult hemodialysis population. Dr. Kolcaba agreed to be on my dissertation committee, Karen explains, noting that she has remained close with her mentor over the years. "She's very well known in the nursing world and our friendship has been one of the joyful parts of my nursing journey." The two share an alma mater in Case Western Reserve University.
During the Zoom session, Dr. Kolcaba engaged in a candid conversation with the students. The session also featured Karen interviewing Dr. Kolcaba about the process of developing her Comfort Theory, how it went from idea to writing, how she developed the concepts that led to the theory, her inspiration for developing her taxonomic structure of the concept of comfort and the process of developing a full conceptual framework.  Heidelberg nursing adjunct instructor, Dr. Robert Koch, also joined the Zoom conversation.
The universal Comfort Theory, with its institution-wide approach, appears in nursing theory textbooks, so it was a great experience for Karen's students to understand the back story and ways they can apply theory to their own careers.
"The students enjoyed this personal exposure to a known nursing theorist. They found Dr. Kolcaba to be refreshing and down-to-earth in her approach to the nurse's role in providing comfort to those in need." Karen said. "It is my hope that they realize how a thought-provoking question or assignment can lead to positive influences in patient care."
What is Comfort Theory?
Dr. Kolcaba explains the Comfort Theory in her vision for nursing. Comfort Care for All, she says, includes patients, their families, staff and institutions (hospitals, nursing homes, agencies, student nurses and communities).
The Comfort Theory philosophy proposes that when comfort of patients and/or their families is enhanced, they can engage more fully, either consciously or subconsciously, in health-seeking behaviors. In essence, patients' holistic comfort is strengthened by addressing needs for Relief (the state of having a specific comfort need met), Ease (the state of calm or contentment) and Transcendence (the state in which one can rise above problems or challenges). Comfort occurs when those three needs are met in the realms of Physical, Psychospiritual, Environmental and Socio-Cultural-Political contexts.
"In this model of care," she writes on her website, thecomfortline.com, "administrators have a primary responsibility to provide the resources necessary for nurses to engage in comforting interventions. When the entire agency or institution is engaged in providing comfort care, patients will do better and the facility will benefit from increased patient satisfaction, cost savings, less staff turnover, etc."
Published on
Mar 15, 2022