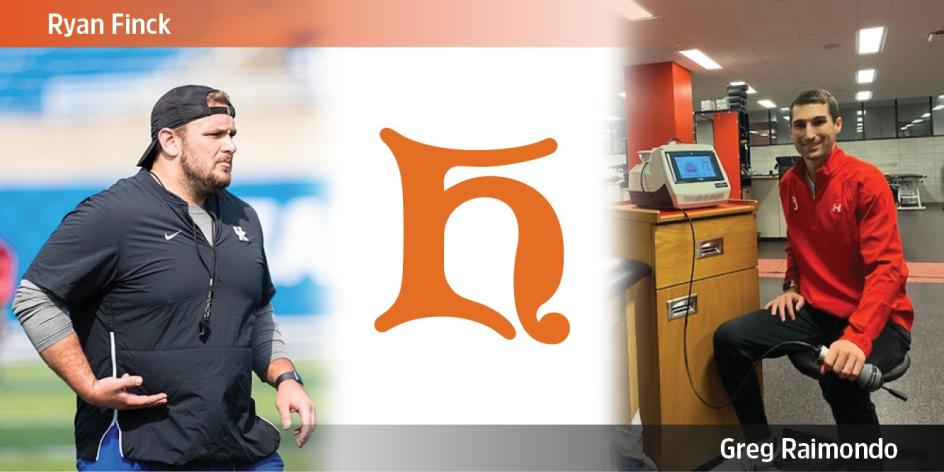 Maybe, just maybe, recent 'Berg grads Ryan Finck and Greg Raimondo will be standing on opposite sidelines during the College Football Playoffs game next year. It could happen!
Ryan, '16 and '18, and Greg, '17, have recently landed new jobs with college football powerhouses Alabama and Cincinnati – two of the schools who battled it out in the college football playoffs at the end of the 2021 season.
Ryan, who majored in Communication and earned his master's in Education, has consistently climbed the college coaching ranks since serving as a football GA at Heidelberg for two seasons. He has worked with the offensive line at Ohio University, the University of Wyoming and the University of Kentucky. He just landed at what many would consider the college football capital – the University of Alabama – as an assistant offensive line coach.
"The thing I'm most excited about is working for the greatest football coach of all time (Nick Saban)," Ryan says. "When a person thinks of college football, they think of Alabama. The opportunity to learn and grow here is really an exciting feeling. I'm just happy to be a part of it."
In his new coaching position, which began Feb. 9, Ryan works directly with Offensive Line Coach Eric Wolford with recruiting, and works on opponent breakdown and with the scout team during the season. 
As an Athletic Training major and a Wellness minor at the 'Berg, Greg took the GA route too, spending two years at Southeast Missouri State. After graduation, he worked as an intern athletic trainer for the football team at Middle Tennessee State. From there, he got his first full-time job at Southeastern Louisiana, where he worked with women's basketball and transitioned to football.
At UC, Greg will assist in all aspects of healthcare related to the football student-athletes, working primarily with the offense. This is his first week in his new position.
"I'm excited to be working with a team that has had a ton of success over the last few years," he says. "I am also really excited to continue to learn from the staff I will be working with and being closer to home is a bonus."
Super strong foundation
Both Ryan and Greg attribute their early career success to the great preparation they received at Heidelberg. Both agree that the hands-on training and the knowledge base they gained have served them very well so far. 
"I left the Berg with a great knowledge of anatomy and I still utilize that information every day," says Greg, who is a certified athletic trainer and a certified strength and conditioning specialist. "Clinically, I am confident in what I do and that all started with a foundation of clinical skills learned at Heidelberg. I've definitely continued to mold and adapt my skills, building on that solid foundation I already had."
In addition to honing a coaching skillset, Ryan utilizes his communication skills daily, from running position meetings to recruiting. "Everything from the classroom has shown up in my life," he says. "The communication program at Heidelberg is top-notch. Dr. (Julie) O'Reilly and Dr. (Robin) Heaton are two of the best people I've had come into my life. There isn't wasted time in their classes and everything I've learned has been useful in my career."
Molding through mentoring
Greg and Ryan agree that their Heidelberg mentors – too many to name – have had a major impact on their early career success. "'Berg Head Football Coach Scott Donaldson gave me the first job I've ever loved and was the first person I called after I got hired at Alabama," Ryan notes. 
Greg can't single out just one mentor, but he gave a shout-out to the entire Athletic Training staff who impacted his time and training on campus. "All of them had a hand in shaping me as a young clinician as well as a student in the classroom. … I'm really thankful I chose the Berg when I was a senior in high school."
• • •
On Dec. 31, 2021, in a semi-final game, Alabama defeated Cincinnati 27-6. Could this year be a repeat? It certainly could! With the trajectory and history of both teams, there's a great chance they'll meet again in the playoffs, and two up-and-coming Heidelberg grads will get a chance to meet up and say hello. They'll just be on the opposing sidelines.
 
Published on
Feb 22, 2022
Programs
Communication
Master of Athletic Training