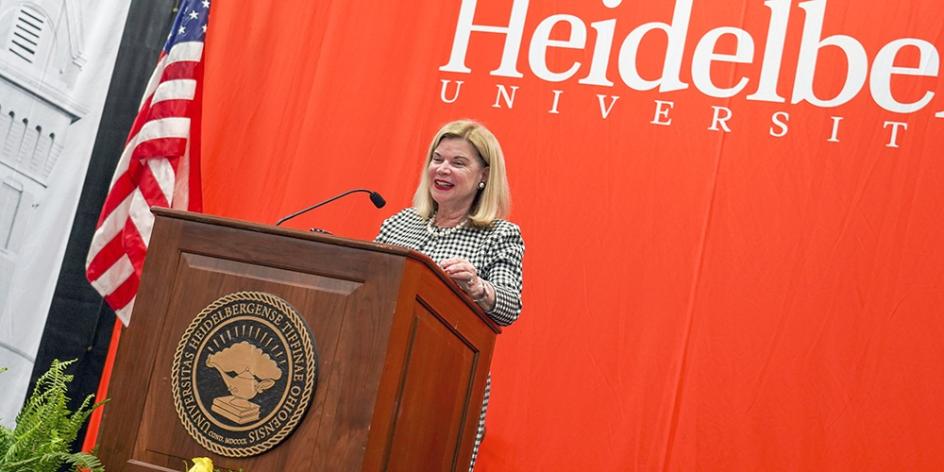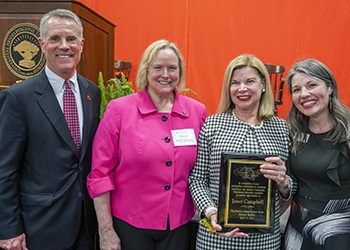 Dreamer, inventor, entrepreneur and CEO Janet Campbell shared her journey in her work to develop medical devices as the keynote speaker for The Patricia Adams Lecture Series Thursday night. About 250 people attended the culminating event of the day after a two-year PALS hiatus due to the pandemic.
As the founder and CEO of three companies that deal with the use of lasers for medical and aesthetic treatment, Campbell's entrepreneurship and leadership have literally "touched millions of lives and truly made a difference."
That's been her motivation throughout her career, she told students, faculty, staff and community members gathered in Seiberling Gymnasium. A very personal "ah-ha" moment early in her life has fueled her momentum and passion for her work.
As a 5-year-old, Janet shared that she lost a sister to illness. "Even at that young age, that changed everything in my life," she said. "That loss always drove me, even though I didn't tell anyone for a long time."
She gained even more clarity in her career when she suffered yet another loss – this time, her mother, who passed away from cancer. "My passion was so strong (to make a difference) at that point that I felt unstoppable."
But Janet turned personal tragedy into something positive. She founded Seno Medical Instruments, a company that pioneered a new technology called Imagio, an opto-acoustic ultrasound that "shines a new light on breast cancer diagnostics enabling a real-time assessment to differentiate malignant from benign breast tissue." At the time, this technology wasn't well developed – there hadn't been any new cancer detection technology in over 25 years – so Janet and her Seno team took it through the exhaustive process of development for commercialization.
"This technology and what it now offers is astonishing," she said, adding that the Nobel Prize-worthy Imagio has implications for imaging and targeted cancer treatment across the globe.
She spoke about the importance of employing a team of talented individuals with shared passion, vision, drive and determination, which she said is contagious. "It's very powerful to have our vision coming together with new technologies," she said.
Janet used that same approach to launch her second company, Dominion Aesthetic Technologies, which is recognized for its creation of eon, a laser body contouring device. Eon was Janet's foray into aesthetic devices, and she invented this product "to make the world a little brighter for those who use it."
"I invented this one for my girlfriends to help them feel better about themselves," she explained.
Eon is the world's first non-contact, touchless laser body contouring robotic platform device. The company's target market is focused on one of the fastest-growing aesthetic applications: body contouring. Eon's development involved assembling a team comprised of some of the world's leading laser experts who have developed and commercialized multiple laser devices for an array of industries, including the aesthetic market.
"Eon is a beautiful medical device. Of all of (her company's) patents, this is the one I put my name on," she said. 
Bella Mia, Janet's third company which she calls "my baby," is in the development stages but on a fast track. The company focuses on laser cell rejuvenation, targeting health and aesthetic benefits. "People want their internal clocks to match their external appearances," Janet said. Bella Mia's technologies can "take 10 years off your life" by improving such issues as fine lines and wrinkles, scarring and skin discoloration.
"I'm very proud of my philosophy. All of our products are very innovative," Janet said. 
At the center of her career and legacy is an enduring interest in serving and helping people improve their lives through wellness and a sense of self-worth. Heidelberg thanks Janet for sharing her inspiration and entrepreneurial spirit with us.
Published on
Apr 14, 2022