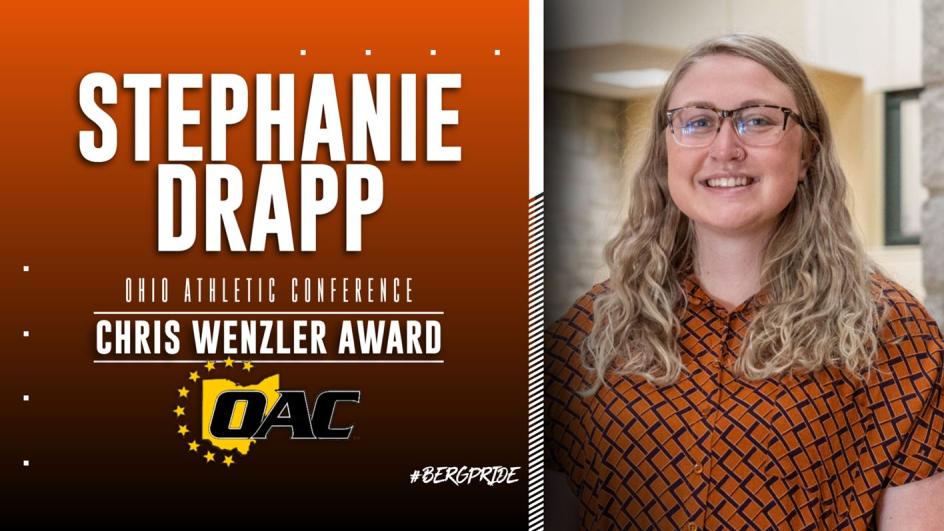 WESTERVILLE, Ohio -- A three-year student-assistant in Heidelberg University's Office of Sports Information – who filled nearly every role when the office needed it most – is the 2022 recipient of the Ohio Athletic Conference's Chris Wenzler Award. 
The OAC announced the award winner, '22 'Berg graduate Stephanie Drapp, on Tuesday. The award recognizes an outstanding sports information student-assistant for their dedication to their institution and the conference.
A native of Lancaster, Ohio, Stephanie worked in Heidelberg's Sports Information Office for three years and assisted in nearly every facet of the department. From photography and videography to statting and spotting, she filled in wherever -- and whenever -- needed.  
"Stephanie is very deserving of the Wenzler Award," said Director of Athletics Marketing and Information Jeff Garvin '04. "Her incredible sense of humor and dependable sense of duty helped our office in many ways."
Stephanie, a biology and chemistry Honors student, played softball for two years. She hit .444 and logged 121 innings in the circle as a freshman. But as the onset of the COVID-19 pandemic cut her sophomore year short, she made the emotional, life-altering decision to step away from softball in order to concentrate on academics. 
Fortunately for Jeff, Drapp's "retirement" was serendipitously well-timed. In the spring semester of 2021, Heidelberg juggled the schedules of 16 varsity sports as college athletics began to crawl out from the shadow of COVID-19. During the 2021-22 school year, Jeff was a one-man operation because of a mid-year departure of a graduate assistant. During these times, Stephanie stepped up in a big way.
"Without fanfare, Steph unofficially assumed the role as captain of student-workers. She helped train and mentor our new employees," Jeff said. "She filled in empty spots at a moment's notice, sometimes arriving at the press box between the national anthem and the start of the contest … always prepared and ready to go."
The award was created in the fall of 2020 to honor the late Chris Wenzler, who led the John Carroll University Sports Information Department for more than 30 years. Wenzler's passion for providing professional growth opportunities resonated across the conference.  
"When I moved from college admissions into the sports information profession in 2012, I was struck by how much camaraderie the student workers at JCU had because of the environment Chris cultivated," Jeff said. "It was one of the many things Chris, a CoSIDA (College Sports Information Directors of American) Hall of Famer, did so well.
Chris passed away in June of 2020 following a battle with multiple myeloma.
But unlike many potential nominees for the award, Stephanie was not pursuing a career in college athletic administration. Now employed as a lab technician in the Cleveland area, she found that her role as a student assistant helped round out her college experience.
"It is a genuine honor to receive the Wenzler Award," said Stephanie, whose Senior Honors project was titled Microflora of the Mouth: A Comparative Study of Smokers versus Non-smokers.  "Working alongside Jeff and his staff provided an avenue for me to maintain my passion for sports while giving me the time I needed to do everything I wanted to accomplish."