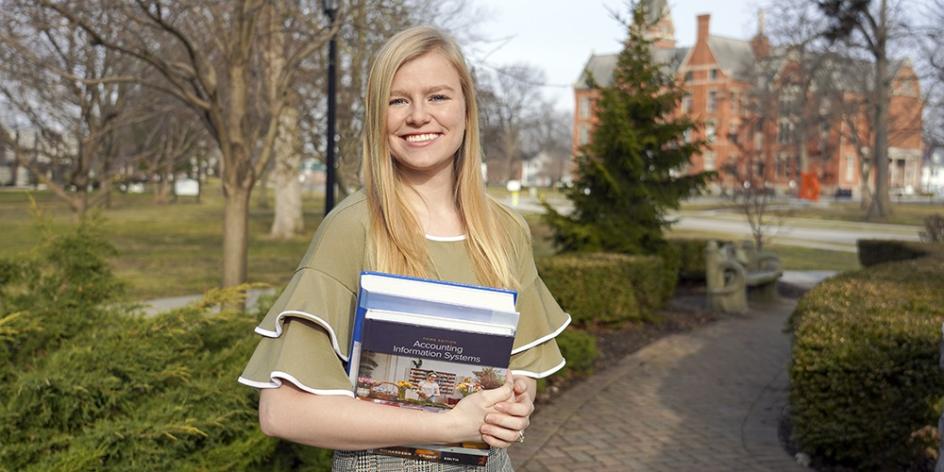 When Accounting professors Douglas Woods and Scott Miller were charged with selecting this year's Berg-Falcon Scholarship recipient, they knew just the student!
Congratulations to senior Kaitlyn (Price) Ferrario, who will graduate from Heidelberg in May with her bachelor's degree in accounting. The scholarship will provide Kaitlyn with free tuition in the Master of Accountancy Program at Bowling Green State University.
"Kaitlyn has an impressive academic track record, extensive internship experience and a strong interest in accounting," Douglas and Scott said jointly. "Her education at both Heidelberg and BGSU will set her up for a bright future in public accounting."
For her part, Kaitlyn is honored to be this year's Berg Falcon Scholarship recipient, which will allow her to pursue the career of her dreams.
"It serves as a reminder that others are always there to help you achieve your dreams," she said. "I have worked hard throughout my time at Heidelberg and it is a comfort to know that this effort has been acknowledged by others as well."
As she strives to become "the best accounting professional I can be," Kaitlyn also hopes to exemplify the academic excellence instilled in her during her time at the Berg.
After she completes her Master of Accountancy degree, she plans to earn her CPA license and pursue a career in external auditing.  
The Berg Falcon Scholarship is a partnership between Heidelberg's School of Business and BGSU's College of Business. It is designed to recruit the best and brightest accounting students who want to take the next step toward a successful career in accounting. Students who have received their undergraduate degree in accounting from Heidelberg are considered for acceptance.
 
Through the program, Heidelberg accounting students take an additional 30 semester hours of coursework to meet the 150-hour requirement to sit for the CPA exam via BGSU's Master of Accountancy program, which meets the Ohio State Board of Accountancy requirements for obtaining the CPA designation.  
As she gets ready for this next step, Kaitlyn feels well prepared. "I have a lot of people to thank," she noted. "Many of these are current and past Heidelberg faculty."
She has gained more than just skills needed to retain basic and complex concepts from accounting faculty members with practical experience, a true love of the fields they teach and teaching itself. "Learning from professors who know the field has given me the chance to learn at real-world level as the professors include actual practices in their courses," she said.
"The joy I feel in my courses between faculty and students truly excites me to be furthering my education in accounting. I know I always have professors at Heidelberg who I can connect with even after I graduate."
Best wishes, Kaitlyn!
 
Published on
Mar 10, 2022