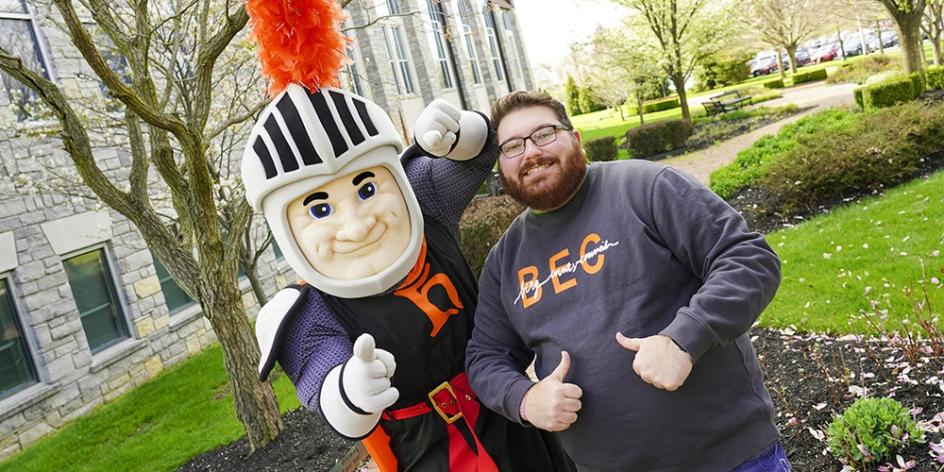 Senior Noah Kennard is planning this year's Siggy Summer Send-Off – and a new path for his life.
Noah is an Adolescent/Young Adult Math Education major and Student Senate president for this school year and next. He participates in Greek Life as an active member of his fraternity, Nu Sigma Alpha, as well as his corollary, the Delt Guys. He's an executive member of the Berg Events Council (BEC) and works in Student Engagement, where he helps plan some of the university's signature student events. 
Heidelberg events are a huge part of Noah's life. He is frequently involved in planning committees and task forces. His love of Berg's traditional events started his freshman year, when he was able to enjoy Nu Sigma Alpha's 160th Anniversary. "It was nice to get to meet so many people – like, 90-somethings who came to celebrate with us – and just hang out with them," Noah explains. 
Since then, Noah has helped plan several events. The process is democratic – he relies a lot on polls, social media and personal feedback about what people would like to see on campus. Part of this step involves knowing what we have to offer, which can involve a lot of research. Beyond the internet, Noah attended the National Association for Campus Activities conference last semester, where student leaders were able to meet different acts and talent that can be booked for Heidelberg's campus. 
Planning and participating in these events is more than fun, games and meeting cool alumni. Noah has learned real professional skills from his extracurriculars on campus. Beyond planning and organizational skills, Noah's experiences on Senate and BEC have honed his communication skills and time management. 
"People don't talk about it enough because it's just an expectation, but I've really gained a lot of professionalism since I started here," Noah says.
These new experiences and skills have changed Noah's course in life. While he is still an AYA Math Education major, he has changed his planned career path. Instead of working toward the licensure needed to teach in K-12 schools, he has his sights set on higher education. "I think the end goal is (to become a) Dean of Students," Noah says. "I've developed a passion for what I did here the last couple of years, and it pushed me toward a new future."
To experience some of Noah's outstanding work, be sure to stop by the Siggy Summer Send-Off on Sunday, May 1, at 6 p.m. This major event will be held on Campus Center's front lawn (rain location: Seiberling Gymnasium). 
"It's a great way to let students blow off some steam before exams – like a last hurrah," Noah affirms. He is excited about the carnival food that will be provided by Parkhurst – so don't forget to stop by, say hello and grab a bite!
—by Em Swain '22
Published on
Apr 27, 2022