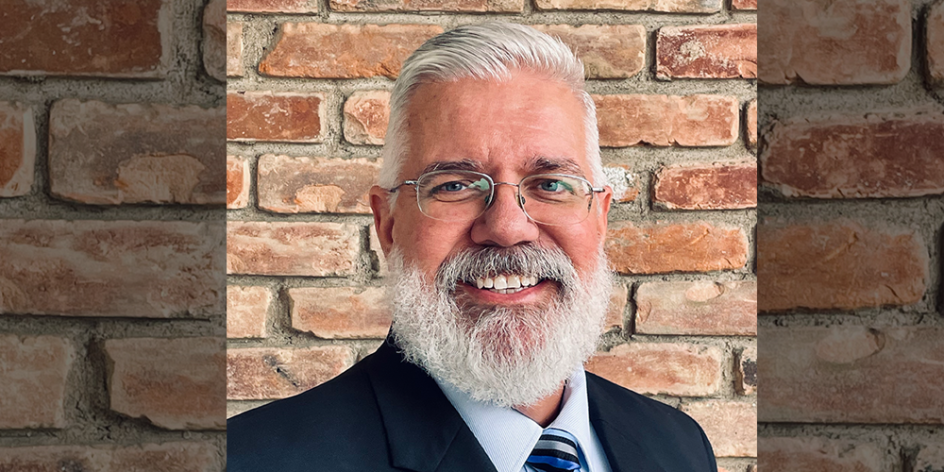 Rod Miller – the former announcer with the booming voice for the Heidelberg Marching Band and historic portrayer of the famous composer and conductor John Philip Sousa – is the new Director of Bands and instructor of Music at the 'Berg.
Rod is a native of Springfield, Ohio, and life-long music professional and educator with additional ties to Heidelberg. After earning his Bachelor of Music Education from The Ohio State University and his Master of Music degree from Cleveland State, he had a 34-year career teaching and directing bands. Most recently, he worked as the band director at Port Clinton City Schools. Throughout his career, he was twice nominated for "Music Educator of the Year" Grammy awards. He has conducted professional bands across the country, including The Marine Band at Quantico. 
Rod is a longtime friend of Heidelberg. He is the husband of 'Berg alumna Kathy (Vogelbacher) Miller '92, and the father of twins Ella '21 and Collin Miller. Their entire family is musically inclined, each having participated in university-level bands. 
We had a chance to chat with Rod about his new appointment, and he shares his excitement for his new position below.
What attracted you to this position?
As I have told many people, I have skin in the game. Over the years, I have built a great admiration, respect and love for Heidelberg. With my wife and daughter both being Heidelberg graduates, I know what it has done for them. Getting to know so many of the students in the band over the past 5 years, I have also seen what Heidelberg has done for them. So when the position opened, I felt the desire to continue what has been here. I care deeply about this university and its current and past students. 
Tell us about your directing philosophy and the role music plays in your life and work?
I am a student-first kind of teacher who believes that it is important that we do our very best to give all of our students the tools they need to then go out and have a successful and gratifying life. I believe that all students, regardless of ability, should have the opportunity to have a life-lasting and positive experience while at Heidelberg. Music has provided me with so many lasting memories and life lessons and the least I can do is provide the same to our students. 
What will it be like for you to follow Jon Waters as the band director?
Jon is one of my very best friends and has been for nearly 30 years. We are very much the same yet different in many ways as well. Our philosophy of music education is aligned with each other, we have a family-based culture in our programs, and we both believe that students must be our first priority.  We both marched in The Ohio State Marching Band and both dotted the "I" in Script Ohio multiple times. Jon and I talk on the phone a lot and I know that we will continue to do that and be each other's biggest supporters. 
What has been your interaction with students so far? How have those gone?
I have been the announcer for the Heidelberg Marching Band for the past 5 years and so I have gotten to know so many of the students. I have always been impressed with their attitude and willingness to work.  Knowing the students as well as I do is one of the main reasons I applied for this position.  
What plans do you have for the band this upcoming year?
While I have a lot of ideas, I am looking forward to working with the band's student leadership to really put the year together. This is their band. This is Heidelberg's band. As the director, I am here to help guide and facilitate the direction that is continuing on. It is very important that we continue to build a culture within the band other students want to be a part of. The success of my career has been built upon a family concept and that in turn establishes a great family culture. 
Is there anything else you want to add?
Just let me express how excited I am to accept this position.  I am eager to work with the great students, staff and administration at Heidelberg and continue on the great path that has been established.  Now, help me spread the word that the Heidelberg Band is the place to be! Let's get to work and bring more students to Heidelberg and let them experience what we have to offer. GO BERG!
We also asked a current Marching Band member, rising senior Carla Dixon, as well as the director of Heidelberg's School of Music & Theatre, Dr. Carol Dusdieker, what they're looking forward to most with Rod's arrival.
How did you meet Rod Miller?
Carla: I met Rod my freshman year here at Heidelberg. He came into class one evening for a speech on how we continue to make our band great! He was also at every game freshman year as our announcer and always came down to chat with the band!
What do you anticipate Rod bringing to the School of Music and Theatre?
Carla: I believe Rod will be bringing so much to our SMT family. With his 34 years of public school teaching, he knows so much about the band world. Having this experience for our Instrumental Methods class will be tremendous for the students taking this class. He knows how to keep the band energy alive and wants us to be the absolute best we can be. 
I am very excited to be working alongside Mr. Miller as our band president this year and to keep this band program thriving!
Carol: I am thrilled to have Rod Miller joining the Heidelberg School of Music & Theatre faculty.  Rod has been a frequent guest conductor and lecturer for the music area. It will be wonderful to further welcome him into the Heidelberg family. His energy is contagious. His talent is outstanding. Our School of Music & Theatre team cannot wait to start collaborating with Rod, further integrating our music and theatre excellence in performance on and off campus.
I cannot wait for marching band season. As the voice of the Heidelberg Marching Band for years, I am excited to see him take the podium, inspiring and continuing the growth in numbers and performance caliber of  Heidelberg's band tradition. I am especially excited for Homecoming, as it is one of my favorite events on campus.  
 
Published on
Jul 25, 2022