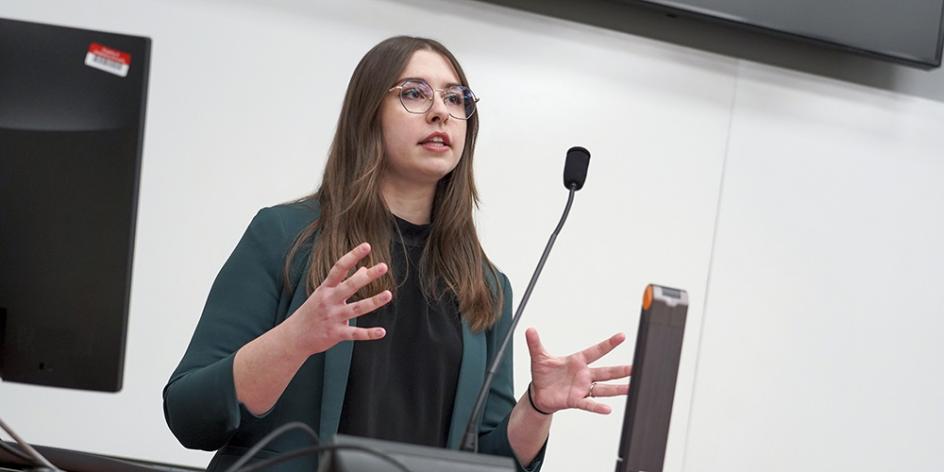 The 29th annual Minds@Work Student Research Conference is in the books. Each spring, the conference provides a stage for students to dig deep into topics of interest, with the help of faculty mentors, and demonstrate their research and presentation skills. This year's conference was held primarily virtually on Monday (April 4)
In all, there were a total of 74 students who participated, giving 55 presentations and 6 who shared posters. Students also competed for the prestigious Hammel Prize, established by alumni Dr. Ernest (deceased) and Martha Hammel to recognize the top three papers this academic year. The three Hammel Prize winners will be announced at the upcoming Student Awards Celebration later this month. 
Compelling keynote address
We were pleased to welcome someone very familiar with one of the student organizers of the conference: Dr. Kim Raines, a nurse practitioner, professor and the mom of Alessandra Piazza. Raines, an unsuspecting researcher, spoke about the ways research has impacted her nursing career and vice versa.
Raines is an assistant professor of nursing at Penn State Behrend and has been in nursing for 31 years, the majority of her experience coming in cardiac and medical ICU areas. She is credited with designing and implementing two successful, hospital-wide sepsis quality improvement projects through education of staff, process analysis and innovation. 
Research, she said, "must start with a passion for learning."
"If you are born with the spirit of inquiry, that drives each step in the research process."
She started on her research journey as a product of her direct care of patients with sepsis, which often leads to death if not treated properly. "As a bedside nurse, I kept asking myself, 'Why are some patients getting better and others are advancing quickly?'" she said in her virtual keynote.
Certain situations, she said, require research to guide practice. For example, some basic interventions are standard for every patient. But looking at the process and figuring out what could be done to improve those processes for positive change and improved patient care and outcomes was at the core of her research.
There were plenty of anecdotal stories but measurable data was required in an effort to make changes in hospital procedures, Raines explained. Her mentor sent her to the literature and combined with local data, she was able to show there was a "significant problem" that needed to be addressed with more consistent and higher quality of care in the treatment of sepsis ICU patients. 
The process of implementing change required a team that worked together to create a screening tool and provided a lot of teaching to each of the hospital's units. "We had a strategy, we had a plan and we had support," she said. "That enabled us to move forward and start to make real progress."
Raines worked for eight more years on her "roadmap": identifying the problem, learning, getting creative, taking action and seeing change. The roadmap produced her paper, "Improving Compliance with the Severe Sepsis Protocol: Putting Guidelines into Practice."
The years of work produced results. "By changing the process – and with clear communication – it did make a difference in the time antibiotics were delivered, the time sepsis was recognized and in the time interventions were applied. We were hoping patient mortality would be improved and it was," she said. "I won't kid you about how much work this was, but it was very satisfying."
She encouraged the students, "Don't be afraid to wonder. Never stop asking questions about how you can make things better. Your ideas matter."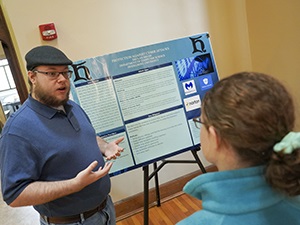 Congrats to this year's presenters
Listed here are students who gave presentations at this year's conference:
McCartney Betz
"Queerness and Crystal Gems: An Analysis of Queer Grief in Steven Universe's 'Mr. Greg'"
Kaitlyn Ferrario
"The Reliability of Fair Value Measurements"
Melissa Babb and Mackenzie Dever
"Comparing Patients' Lives Post Stroke"
Jasmine Ridler
"Hick, Darling! Capstone Presentation"
Brooke Franz
"Experiences of Loneliness: COVID-19 vs. Incarceration" and "Returning Citizens as Prison Volunteers: "'To Build a Bridge Between Institutions and Communities'"
Kendall Wright
"Experiences of Loneliness: COVID-19 vs. Incarceration"
Seth Hohman
"The Effect of Music on Acute Aerobic Performance in Division III College Students"
Kelsey Stanfield
"Callie Torres: Bygone or Bi-con?"
Spencer Tredwell
"Cryptocurrency Balance Sheet Valuation"
Kerry Hastings
"Callie Torres: Bygone or Bi-con?"
Ashtyn Wolph, Sydney Fortney and Sophia Lee
"The Thrush of the Hour"
Kamryn Stanfield, Tristin Buurma and Morgan Wright
"The Continued Pervasiveness of the Patriarchy in the World"
Dreona Hughes
"Accounting for Emerging Technologies"
Shadra Hamsher and Ashley Foster
"Relationship Between Mental Health and Participation in Travel Sports"
Annabelle Auble
"Hercules Mulligan: A Spy on the Inside"
Sarah Toppin
"Applied Behavioral Analysis Therapy and Autism" and "Gender Differences in Concussions"
Savannah Sutherland
"Effects of the Primary Colors on Simple Visual Reaction Time in College Students"
Julia Jacobs
"An Analysis of Ethical Concerns in Neurological and Cognitive Research"
Kathleen Brady
"Institutionalization of Marginalized Populations"
Samantha Stanley
"Comparison of NCAA DIII Athletes' FMS Scores with Already Established Scores at the Collegiate Level"
Emma Baughman
"No Oxbridge of Her Own: Virginia Woolf and the Legacy of Female Students in Britain"
Caitlin Dems and Katelyn Wansik
"How Unemployment Rates Affect Illicit Drug Use"
Isabel Chasney
"A (Super) Villain: The Russian Federation's Quest to Become a Global Superpower"
Chayce Schaub
"Will Magic Erasers Whiten Cow Teeth"
Cassey Bolyard and Adam Flores
"Diet and Depression Symptoms"
Lily Roth
"How Mr. Rogers' Neighborhood Discusses Divorce"
Kayla Mullinax
"Translation and Choice: The Metamorphosis of 'Die Verwandlung'"
Zachery Belko
"The Evaluation and Valuation of Rock Creek Ecosystem Services"
Declan Brush
"Protection Against Cyber Attacks"
Spencer Kaup
"The Crypto Currency Antivirus Bot Net"
Chloe Duquette
"Cygilant Ransomeware Attack"
Elizabeth Vincent
"Nutrient Limitations Constrain Phytoplankton Grown in the Western Basin of Lake Erie"
Emma Swain
"Explaining Grandpa's Vote"
Rabekah Thomas and Lexi Foley
"Asthmatic College Athletes: How Are They Affected?"
Kelly Spence
"Implementation of a Lab-Scale Augmented Reality Topographic Model"
Aaron McCoy
"'This Is Us': How Family Members Grieve the Loss of a Loved One"
Braeden Kahl
"Ethical Analysis of Corporal Punishment & Other Alternatives"
Rebecca Eppard
"The Last Encore"
Noah Paris
"Continuing the Flight for Equality: A Comparative Analysis of the U.S. Civil Rights Movement and the Black Lives Matter Movement"
David Haines
"How Corporations are Paying Less in Taxes"
Crimson Stuckert
"A Brief Analysis of Huntington's Disease: The Causes and Prevalence, Physical and Emotional Implications, Treatment and Research of a Hereditary Neurodegenerative Condition"
Haley Martin
"Boudicca, Queen of the Iceni: Forgotten Throughout History, Remembered Through Theatre"
Lauren Reeves
"The COVID-19 Pandemic and Effects on Workplace and Productivity"
Tess Connors
"Categorizing Ketanji Brown Jackson's Supreme Court Confirmation Hearing Questions"
Stephanie Drapp
"Does Nicotine Influence the Bacteria Found in the Mouth?"
Tomea Abbitt
"Gender Differences in Concussions"
William Bohlen and Jayce Porter
"Pathways for Accompanied Navigator"
Harley Collins, Austin Lindley and Ti'Kyran Fikes
"Kenny's Mom Gets Fired"
Gavin Robison
"The Magnificent? A Critical Evaluation of the Military Career of Suleiman I"
Emily Fox
"The Negative Impact of Neem Oil on Embryonic Development in Chicken Eggs"
Jessica Martini and Madison Sharp
"Ankle Reinjury Rates of Male and Female Collegiate Basketball Players"
Bernae DySart
"Government in the Mongolian Empire"
Cayden Rollins-Springer
"Government in the Mongolian Empire"
Lillian Whitcomb
"A Comprehensive Study of Oman"
Anna Zeller
"The Musical Innovations of Eric Whitacre"