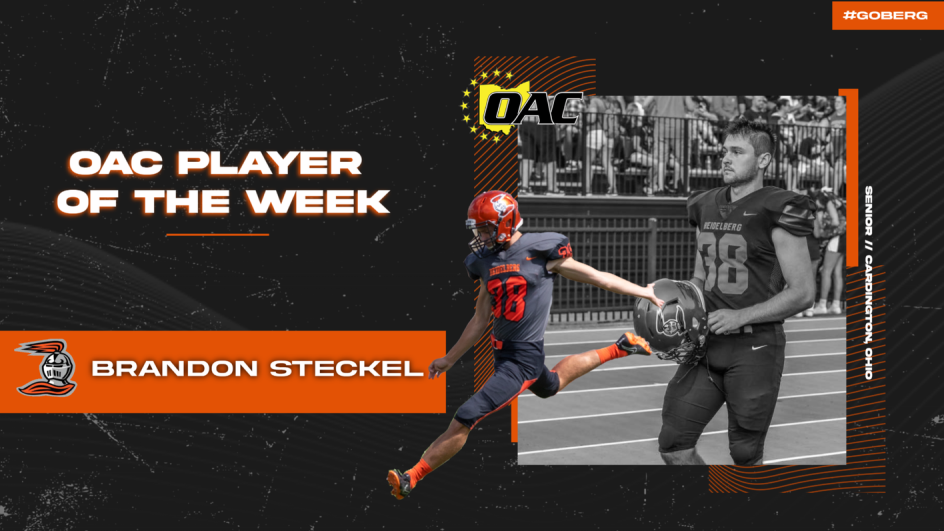 The Heidelberg University football team's Branden Steckel earned the OAC Player of the Week. After tying the OAC record for field goals made in a game, he helped vault the Student Princes to victory over Marietta on Saturday. 
This weekend, Steckel went a perfect 5-5 on field goals. He hit them from distances of 22, 22, 23, 34, and 39. The Cardington native's golden leg was a major factor in Heidelberg knocking off Marietta 29-21. 
In addition to tying the OAC single-game record, he broke the Heidelberg career field goal record previously held by John Davis (1985-88) and Jesse Hawkins (2007-2010).  Steckel has made 30 field goals in his career.  
On the season, Steckel is 9-of-11 on FGs with one of those being a career-long 40-yarder. He is 21-of-23 on PATs.
The weekly honor is the fourth of his career. He also earned All-OAC second-team honors in 2021. 
Heidelberg currently sits at 5-2 (4-2 OAC) and will be traveling to Wilmington on Saturday.
 
Published on
Oct 25, 2022