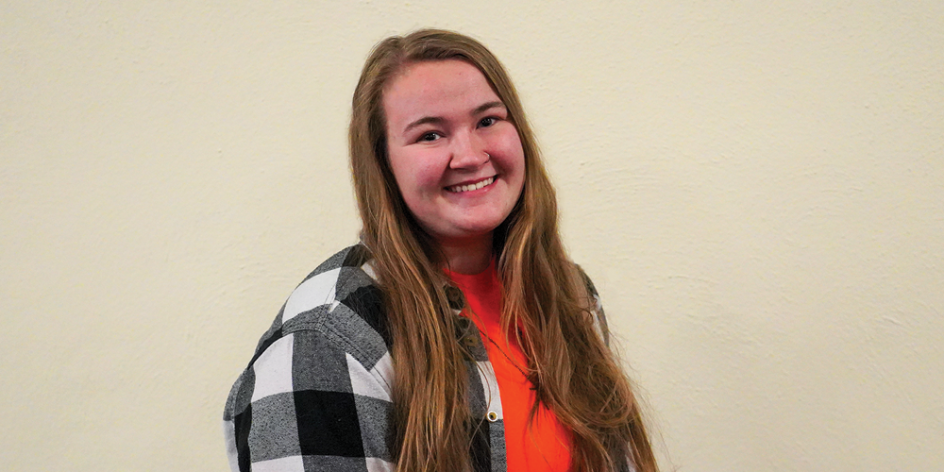 Many students leave high school as solitary jaguars, on a quest to find their place in the world. When they arrive at Heidelberg, they encounter a multitude of leadership opportunities and discover an entirely different animal. Welcome to our new monthly web series: The Adventures of Student Leaders.
---
Kailyn Kroll is a junior from a "small, middle of nowhere town called Lake Village in the Hoosier state of Indiana." Here at Heidelberg, she's made a name for herself, between running student organizations, communicating with alumni and planning community outreach events. Kailyn is an exercise science major, minoring in psychology and biology with pre-physical therapy.
What's up, Kailyn?
Kailyn is involved all around Heidelberg's campus. She plays on the softball team and is a member of the Student Athlete Advisory Committee. She is the budget and fundraising chair of the Philalethean Society, working closely with their treasurer to make financial decisions for the group. Kailyn is the vice president of CRU International campus fellowship, where she creates agendas and advertises the space they've created for students to practice their faith. She works with the Student Alumni Association, working to share her appreciation and assist Heidelberg alumni. "I love Kailyn. She's hardworking, committed and passionate about everything she engages with!" said Ashley Helmstetter, advisor to the Student Alumni Association.
Kailyn's greatest passion is being a friend. In all areas of her life, she strives to emulate that level of service and empathy that is crucial for a good friend and a great leader. "My overall goal in life is to be a person who is able to help others," Kailyn shared. For those reasons, Kailyn was the student leading the charge to reignite Heidelberg's chapter of Alpha Phi Omega, the national service fraternity, after a regional representative reached out to her before she began her freshman year at Heidelberg. Currently, Kailyn serves as the president of Heidelberg's chapter of APO. She coordinates with the national Alpha Phi Omega office to educate other members on how to prioritize service in their lives. 
Leadership skills
With so much on her plate, Kailyn is often forced to prioritize. She has been fortunate enough to be able to make some of her top priorities into jobs she has around campus. "Each of the priorities I have are to help me accomplish my goals in my life. Each group that I am a part of allows me to experience each different part of me that I love," Kailyn explained. "From athletics, friendships, religion, community service and networks, I have a fulfillment of each of those sections of my life that allows me to continue making an impact on other people through helping and being a friend." Wanting to fulfill each of these areas, Kailyn has learned to time-manage, and uses the tools at her disposal to the fullest – alarms, virtual and paper calendars help keep her on track.
Kailyn's dedication to serving others, and her proficiency in time management, prioritization and multitasking have all lent to her growth as a servant leader, the only way to be a leader, according to her values and upbringing. "Leadership is when an individual takes up ownership of their actions, directs the group with assertiveness and compassion. It is also the ability to be able to have a sense of relation to those you are helping lead. Overall, leadership is to be of service." Kailyn shared. She works hard to exemplify that throughout her life, by sharing her true character when she's part of a team, helping those around her within Heidelberg's community, or utilizing her gifts here to help others in the Tiffin community and beyond.
Inspiration and purpose
With compassion and friendship at the forefront of her efforts, it comes as no surprise that friends and family are Kailyn's greatest influences. Kailyn comes from a family rooted in selflessness and love for the community. Her father and grandfather both served as volunteer firefighters in her hometown, and her mother and grandmother were always quick to help others when tragedy struck.
Like her parents and grandparents, Kailyn strives to be humble and confident. "My father taught me to have a voice by actually enunciating my words and being clear," she explained. The lesson may have stemmed from her father's poor hearing, but it wasn't lost on Kailyn. Her dad encouraged her, as well, with her now-favorite quote: "Be who you are, say what you feel, because those who mind don't matter, those who matter don't mind."
Those who matter in Kailyn's life are those family members and friends who support her as she works to give back to her community and lead when she is called to do so. "My best friends, roommates and boyfriend constantly tell me they are so proud of what I do. Without them, I would not be always ready and able to keep going in everything I do."
With care at the forefront of her career goals, Kailyn is encouraged by her Heidelberg family, friends and her family back home to pursue her goals and continue growing into a great leader.
Programs
Biology
Exercise Science
Pre-Physical Therapy
Psychology