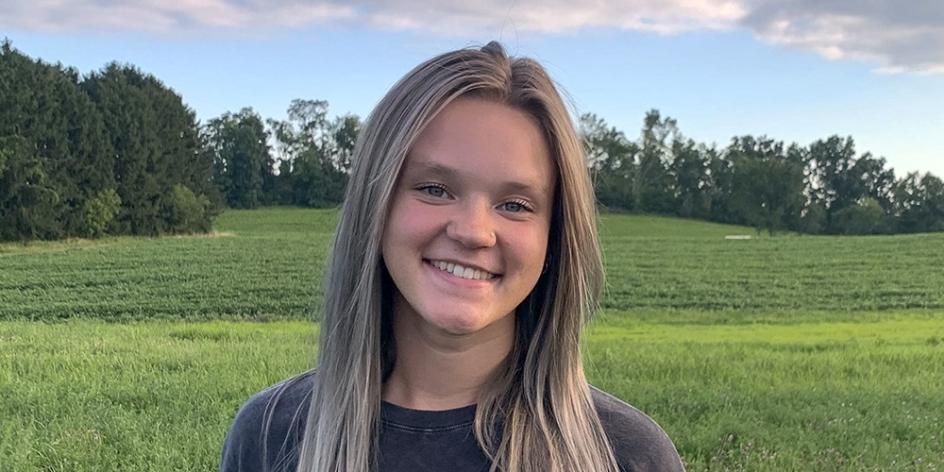 With a year of college education already under her belt, Logyn Chamberlin was looking for a more positive environment where she would feel respected, heard and supported as a student and an athlete.
She chose Heidelberg.
This week, Logyn will join other new students to begin the 2022-23 academic year. As a transfer student, she was looking for a place that would help her feel at home. 
"Since I was looking for a school that would make me feel comfortable, I thought Heidelberg would be the best option," she says. "The small campus and the feeling that you can speak to anyone about anything are very reassuring.
"Coming from a small town, Heidelberg felt similar to that and I immediately felt at home."
Logyn's parents, Amy (Richards) and Shawn Chamberlin, are both Heidelberg alumni from the class of '98, so she'd heard a lot about the campus and the student experience over the years; both were also student-athletes. They didn't pressure her into enrolling at their alma mater, but Logyn says hearing their insights was an advantage.
"Being able to hear from my parents that I'll be in great hands and set up for success during my time at Heidelberg made me confident in my decision," she says.
Logyn's decision was reinforced further after New Student Orientation this summer, when she received her schedule of classes for the fall semester. She plans to major in psychology and minor in sport management. "A lot of the classes I'm enrolled in interest me so I am greatly looking forward to beginning my classes." She's also looking forward to meeting her new softball teammates, her new coach, Mari Briggs, and getting to pursue something she loves.
So, what is Logyn looking forward to most about getting her Heidelberg experience started: "Just to embrace everything that is thrown at me and have positive hopes that I'll be surrounded by good people who are invested in my success throughout the year."
Welcome to your new home away from home, Logyn!
Published on
Aug 10, 2022
Programs
Psychology
Sport Management