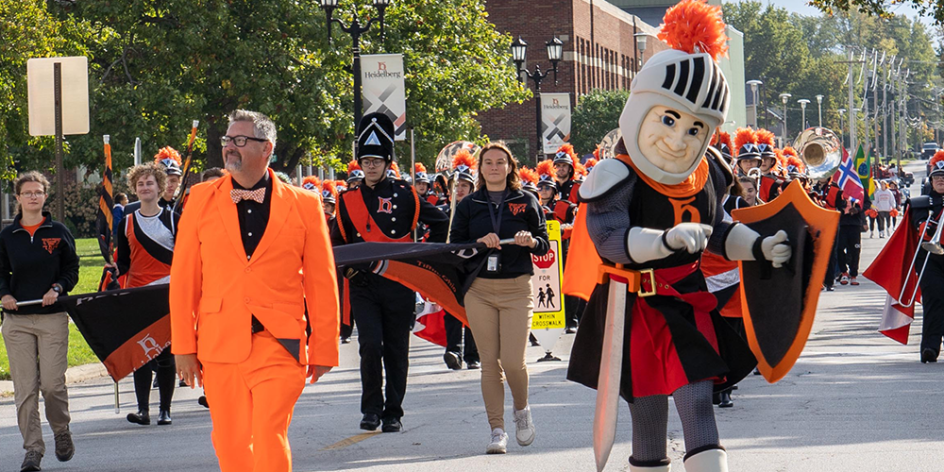 Homecoming Week is always filled with fun surprises for our underclassmen and wonderful nostalgia for our upperclassmen, through the efforts of BEC. For those seniors who remember their Black and White Casino Night during their freshman Welcome Week, all the way back in 2019, Viva Las Heidelberg will be a weeklong blast from the past. Spend your week meeting alumni, engaging in campus favorite activities, supporting our seniors on the Homecoming Court, and celebrating the wild wins found on the Las Vegas Strip. 
Meet Your Homecoming Court
Clay Bowden
Maximillian Hatty
Jayce Porter
Ryan Shock
Ethan Campbell
Celia DeTray
Lexi Langwasser
Hanna Blasinsky
Megan Vesely 
Jeanna Fullom 
Week's Schedule
Monday, October 17
Doug's Wire Writing
3 P.M. on Legacy Patio 
Doug has been a previous visitor on campus, and quickly became a favorite. Doug makes picture holders using his wire art skills, customizing them with words and little designs at your request!
Tuesday, October 18
A Night on the Strip
7 P.M. on Legacy patio
Enjoy Heidelberg's version of the Las Vegas Strip. Enjoy a DJ, food truck, street signs and LED board games. BEC will be passing out Homecoming shirts and buttons too, so get there early to grab yours!
Wednesday, October 19
Soccer Bingo
4 P.M. at Hidden Valley
Join our Homecoming Court in playing a game of bingo and support the women's soccer team as they take on Baldwin Wallace.
HoCo Court Showcase
8:30 P.M. in Seiberling Gymnasium
Watch the Homecoming Court show off their best fashion, their Las Vegas getup and their best or weirdest talents. Vote for who you think is best.
Thursday, October 20
Casino Night with the Court
7 P.M. in the University Commons
Join the Homecoming Court for a night of games, prizes and snacks. 
Friday, October 21
Tiffin City Walk
All Day in Downtown Tiffin
Learn more about downtown Tiffin! Visit the Student Engagement Office in Campus Center, or the Admission Office in University Hall to get the QR code to participate!
GLC's Greek Sing
7 P.M. in Seiberling Gymnasium
Meet alumni and watch current members of Greek Life perform songs, lip syncs and dances in a friendly competition.
Saturday, October 22
HoCo Hustle
7:30 A.M. in the University Commons
Kick off game day with a 1-mile Saunter or a 2-mile Hustle, hosted by Residence Life. Cost is $10 a person.
Parade
11 A.M. on Greenfield Street
Join members of the Homecoming Court, the Marching Band and other student organizations as they parade down Greenfield Street and onto Rebecca Street.
Football Game
2 P.M. in Hoernemann Stadium
Support our football team as they take on Marietta for our homecoming game. At halftime, watch a great show from the Marching Band, and watch the homecoming royalty be announced and crowned.
Soccer Game
2 P.M. at Hidden Valley
Support the women's soccer team as they take on Marietta.
Alpha Psi Omega presents, 'Spooky Dog and the Teenage Gang Mystery'
7:30 P.M. in the PAC Black Box Theatre in Founders Hall
Enjoy an R-rated Scooby-Doo parody play, produced entirely by Heidelberg students.
 
Published on
Oct 14, 2022