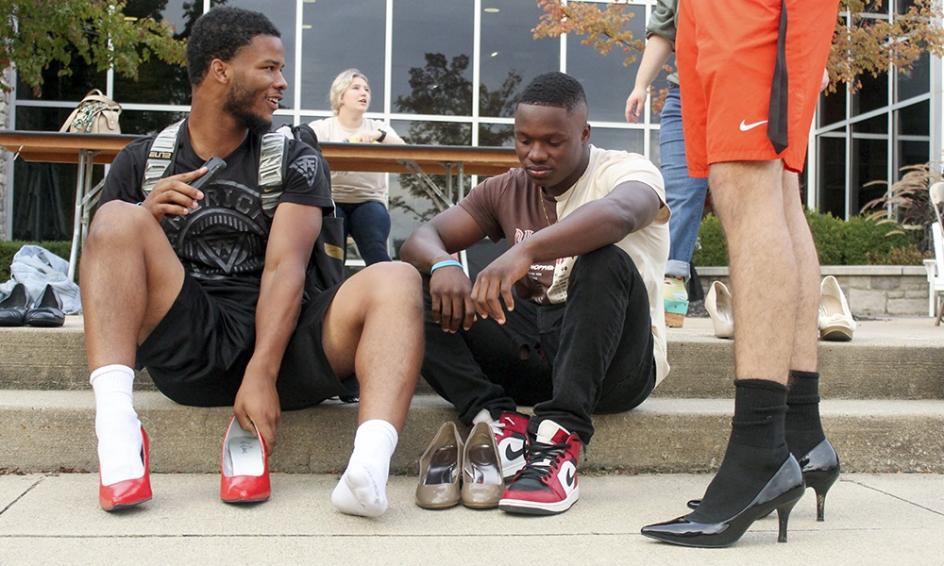 On Tuesday, October 11, a group of Heidelberg University's courageous young men began a mile-long walk unlike anything they'd experienced before. The Walk A Mile In Her Shoes event is hosted annually by Heidelberg's Center for Survivor Empowerment. The idea for the event comes from a national organization by the same name, which supports other campuses, communities and businesses as they partake in the signature event. This event, in which the men walk a mile in high heels, aims to educate and encourage communication about gender relations and sexual violence.
Leading up to the start of the event, multiple Heidelberg clubs and organizations such as SAAC, BEC and Green Dot were on hand to help educate those who came to participate in the walk. The members of these clubs and organizations presented eye-opening statistics and helpful information that students can use to help keep campus as safe as it can possibly be. For example, the Green Dot program is a bystander awareness training program, started  in late 2019. This program is designed to promote safety for all against sexual assault and violence. During the event, they let the campus know about upcoming training days and some of their key messages. 
As more and more young men showed up, the majority of the participants were some of Heidelberg's student-athletes. While they might not play the same sports teams, they definitely worked as a team before and during the walk. They encouraged each other as they tried on the shoes, swapping sizes and advice.
On the walk through campus, participants stopped at each checkpoint, which provided scenarios around the theme of sexual assault awareness and violence prevention. The participants responded freely, and were given additional advice so they would know how to react, if they ever found themselves in an environment that was hostile to the women in their lives. They were asked, "What do you do when you're at a party and see a girl that's passed out being picked up by a guy you don't know?"  Another scenario given was " If you hear something going on and it doesn't sound good, but it's behind a locked and closed door, what do you do?" While there were some great answers and a multitude of possible responses, the biggest takeaway was to hold each other accountable. At every turn, the participants discussed their feelings of personal duty to protect the people around them, and to use their privilege to make a difference.
When freshman Rayce Septer returned, he shared how the walk had encouraged him. 
"It was very fun and eye opening," Rayce said. "Most of the scenarios gave us the opportunity to learn how to approach situations and how to handle them, if we ever find ourselves in them. While we all know that this is a problem that occurs more frequently than it should, this is a great awareness program that teaches students how to be prepared."
After returning from the walk, all participants had bright, enthusiastic smiles on their faces and were equipped with some new awareness – even if their feet ached a little bit. While all participants had a fun time throughout the whole event, it was amazing to see how much they took away from the experience. 
Thanks to the efforts of the Center for Survivor Empowerment and all of the participating organizations, there's a new force of young men on campus, ready to hold themselves and others accountable, and protect their friends and strangers alike.
– by Kyla Stockdale '26
Published on
Oct 14, 2022