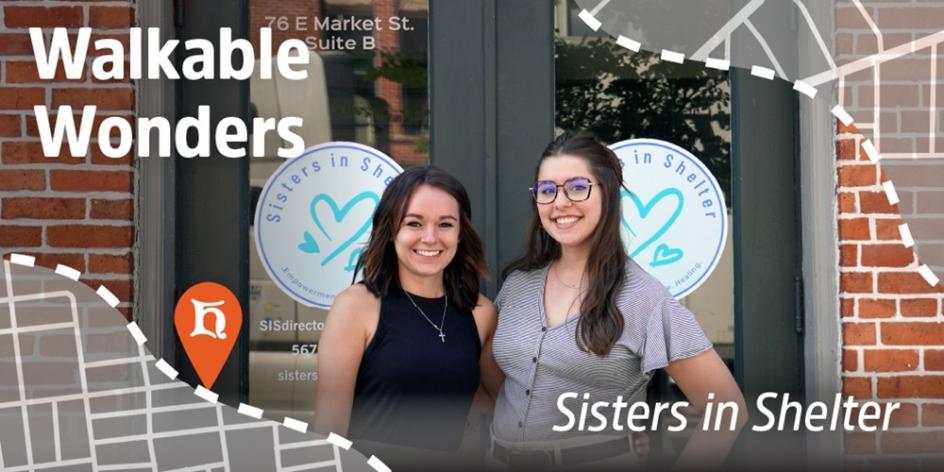 Join Marketing intern and new 'Berg alum Em Swain, '22, as they visit local businesses only a short walk away from Heidelberg University's campus. It's Walkable Wonders, our summer web series!
One block of East Market Street – just west of the South Washington Street intersection – houses several businesses that are essential to the community of Tiffin. This week, I want to highlight three of them: Reino's Pizza and Pasta, Sisters in Shelter and Hope's Landing. 
The connection between the three is primarily location. However, all three give back to the Tiffin community and work to provide ways that folks in the area can have a moment to breathe. Reino's does this with their family atmosphere and good food. Sisters in Shelter does this through their resources and care provided to survivors of human trafficking and domestic violence. Hope's Landing does this by providing a trauma-informed workplace for those survivors to reclaim their lives and their livelihoods. 
Reino's Pizza and Pasta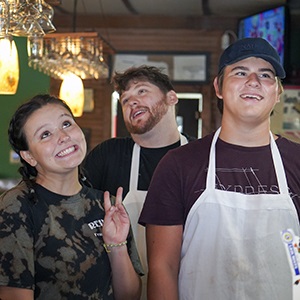 Reino's is a local Italian restaurant with close ties to Heidelberg. They offer a family atmosphere and affordable, hot meals. Reino's builds a homey feeling through their waitstaff, and is closely tied with Tiffin's community and Heidelberg. Frank Reino, the founder of Reino's, was an honorary Excelsior Men's Society alumnus, whose dedication to the school and the society has helped Reino's stay closely tied to its history. They have a secondary location for folks hosting parties or events – which frequently includes Heidelberg alumni events during special weekends. At the end of the day, Reino's doesn't hesitate to promote downtown Tiffin, whether it's through catering for other businesses or participating in downtown events. 
Whenever my family comes up to watch my friends perform in shows at Gundlach Theater, if we're eating downtown, we're eating at Reino's. When my aunts and grandfolks who haven't been to Tiffin recently visit, as soon as they say "you pick," we're going to Reino's. The family atmosphere in Reino's is something really special. The waitstaff works hard to make you feel at home. "We want people to be able to get a hot meal and take some time to escape from the rest of the world while they're here," Johnny, one of the workers at Reino's, told me. They build on that home feeling by being involved in the community.
Reino's is a 12-minute walk away from the center of Heidelberg's campus, located at 73 E. Market St. They're open every day from 11 AM to 10 PM. For more information and to look at their menu, visit their website. 
Sisters in Shelter
Sisters in Shelter is a nonprofit organization dedicated to providing aid and support to survivors of domestic violence and human trafficking. The organization began as it is known today in 2005 when Sister Mary Kuhlman of the Sisters of St. Francis continued the mission of a partnership between the Sisters of St. Francis and the Sisters of Toledo Diocese to educate and eliminate sex trafficking; the organization lost funding in 2010. Through Sister Mary Kuhlman's leadership, Sisters in Shelter earned 501(c)3 nonprofit status in 2014. Since then, their organization has only grown and continues in the work to aid victims of human trafficking, and (as of 2019) domestic violence. 
Sisters in Shelter offers a variety of services to its clients. The organization maintains a Safe House, complete with hygiene items, groceries and transportation. Sisters in Shelter also provides mental health services and access to physical health care for survivors. They provide advocacy for their clients, as well as legal assistance.  
The staff works to educate the Tiffin community, and get them involved in combating these issues. By involving local businesses and leaders, they are able to continue toward their purpose of raising awareness. Recently, they helped local leaders participate in the "Real Men Don't Buy Girls" campaign, raising awareness and discouraging the human trafficking market. Because of the proximity to Heidleberg, often their interns present research and warning signs: with their help and information, anyone is capable of interrupting a human trafficker, and saving a victim.
Sisters in Shelter offers two internship positions every semester (spring, summer and fall). There is an advocacy internship that concentrates on public education and involvement. The other internship is the social work internship, where interns work directly with clients to help them on the road to recovery. They are always accepting volunteers and providing ways for community members to give back. For internships or volunteering, you can contact recent alumna and current Community Outreach Advisor Emma Baughman at sistersinshelter.emma [at] gmail.com.
Sisters in Shelter is located at 76 E. Market St., Suite B, a 12-minute walk away from the center of Heidelberg's campus. For more information about their work, check out their website. 
Hope's Landing
Hope's Landing, a nonprofit founded by 'Berg alumna Leah Cordy, gives survivors of human trafficking or domestic violence the opportunity to work and earn their own money in a trauma-informed environment. Its office is currently sharing space with Sisters in Shelter, in the Laird Arcade, facing East Market Street. 
While they don't have a traditional storefront yet, their products are available at the Farmer's Market, at several stores including Washington Street Outfitters, and on their website. Students can intern or volunteer with Hope's Landing by emailing Leah (hopeslanding.leah [at] gmail.com).
Hope's Landing was a business inspired by the survivors at Sisters in Shelter. Leah interned with Sisters in Shelter during her senior year, at the height of the pandemic. She began to notice a trend of people who'd shown significant progress in Sisters in Shelter's programs struggling when trying to find work. Because of the level of trauma, and a lack of trauma-informed employers, these survivors of trafficking and domestic violence have many barriers to working in traditional businesses. And not being able to work was dangerous; the Freedom Business Alliance found that "over 80% of trafficking victims are re-trafficked if they do not have access to safe employment." 
Leah saw that there was no clear next step for survivors, and decided to create one. She created Hope's Landing "to provide empowerment, hope, and healing to survivors of human trafficking and domestic violence through employment and personal development." These women now have a sustainable way to get back on their feet and work toward a healthy future. And the Tiffin community has been excited to help. "Hope's Landing brings a lot of different aspects of the Tiffin community together," Leah explained. The Family of Faith Lutheran Church provides a safe space for survivors to work. The Farmer's Market hosts their booth weekly. And community members stop by to support the cause and help build connections. "We couldn't do it without our partners in the community," Leah said. "It really takes a village." 
Hope's Landing's office is located at 76 E. Market St., Suite B, a 12-minute walk from the center of Heidelberg's campus. For more information about them and the work they do, check out their website.
Published on
Jul 29, 2022