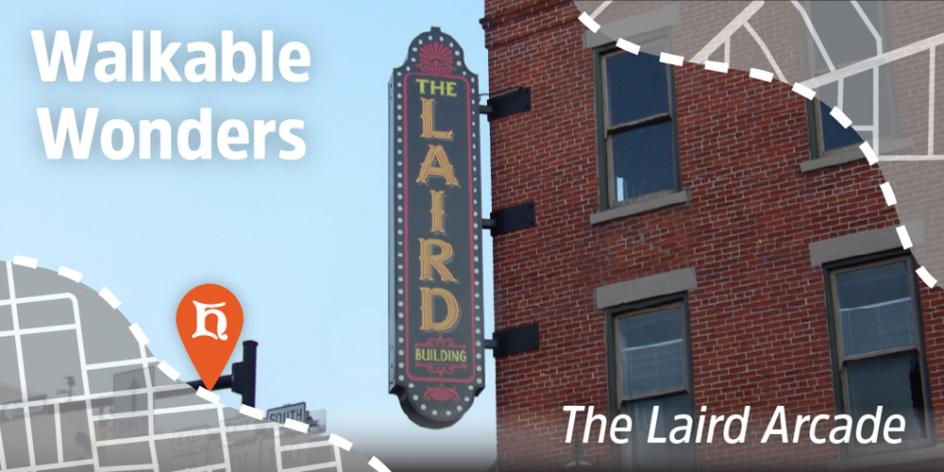 Join Marketing intern and new 'Berg alum Em Swain, '22, as they visit local businesses only a short walk away from Heidelberg University's campus. It's Walkable Wonders, our summer web series!
The Laird Arcade is a staple of downtown Tiffin, and contains a variety of businesses offering places to eat, shop, and things to do. In the past several years, the Laird has played a huge role in the Downtown Revitalization initiatives. The businesses there work to promote each other and all businesses in Downtown Tiffin, through taking part in community revitalization events like the Summer Stroll and Chocolate Walk.
The Director of Downtown Revitalization at the Tiffin-Seneca Economic Partnership is Amy Reinhart. She is deeply involved in the community, and serves on several boards and councils in Tiffin. Amy has been married for nearly 25 years and is the mother of four children. She is a graduate of Kent State University, and understands the importance of downtown revitalization, as she has much previous experience doing similar work in other Ohio towns. 
Amy's work as the Director of Downtown Revitalization has two main goals: the Main Street Program, and to make Tiffin a destination. The Main Street Program is a national revitalization effort, in this state, administered by Heritage Ohio. Tiffin became an accredited Main Street Program in December 2015. Since then, "all of our committees are in place and are working hard to make downtown Tiffin a great place to work, live, and play," Amy explained. Their involvement has led to $36 Million in investment for renovating the downtown area, and starting up new businesses and infrastructure projects.
When it comes to making Tiffin a destination, Amy has seen a lot of progress:
57 new businesses open since 2015
91% first floor occupancy rate downtown
244 housing units in the downtown
Over 70 different events downtown annually
107 facade projects approved for over $3 Million invested downtown through our Facade Enhancement Grant program to restore our historic downtown buildings
Since 2017, Tiffin has received 9 state awards with Heritage Ohio.
I asked Amy about her thoughts and the history of the Laird Arcade:
"The Laird is approximately the size of a city block. It had a fire in the '70s and was in disrepair. A group of people wanted to save this amazing piece of Tiffin history rather than see it torn down and they came together to purchase the building. They have done a significant amount of repairs and worked hard to fill it with businesses. Many of them were part of a group called Tiffin Tomorrow – in 2014 that group merged with TSEP and became members of the board for the Main Street organization that we have today. The Laird Arcade is one piece of downtown, but it has a number of great businesses. Here is an example of a few: The Laird Arcade Brewery, Releve Barre Studio, Yours With Every Stitch, Jolly's Drive-In, Melissa Perry Photography, Air Brush Beauty, Varsity Barber Shop, SameDay Signs, WTTF radio, RE/Max Unlimited Results Realty, Line Drive Sports Cards, FroZone, JT's Bagel, Level Up, Reino's Party Room, Ward Law Office, Ink Element, KKR Consult, Thrivent Financial, Ace Serenity Farm, Sisters In Shelter ... and there are more."
In light of the sheer number of businesses in the Laird Arcade, I wanted to provide a little disclaimer: I did my best to highlight the ones that are suited for folks between the ages of 18 and 24, and appeal to both their interests and their wallets. I also tried to stay away from speaking too much on businesses I've already covered throughout this series. This list is by no means exhaustive.
Jolly's
Jolly's is a root beer stand restaurant with an entrance through the Laird Arcade, as well as facing East Market Street. Jolly's has been in business since 1947. Its original location was a drive-in with car hops, located where the Tim Horton's currently stands. In 2016, they made the move to the Laird Arcade. Earlier this summer, they celebrated their 75th anniversary, and are still going strong. They sell affordable sandwiches and sides, and large mugs of their homemade root beer costs 75cents. Check out their website for their hours and menu. 

Yours with Every Stitch
Yours with Every Stitch is a new business, led by seamstress Danielle Park. Danielle opened her business in November of 2020 as an Etsy store that sold face masks and kids' clothes. In August of last year, Yours with Every Stitch moved to its current storefront in the Laird Arcade. The business does alterations, mending and some custom sewing. For more information, check out the website.
Melissa Perry Photography
Melissa Perry Photography does photography for families, weddings, graduates, and people needing professional headshots. The business began in 2010, and founder Melissa Perry continues to host photoshoots and post her work on her Facebook page and Instagram. A lot of her work emphasizes natural lighting, which is something I always admire in a photograph, and think others will often find beautiful! Melissa Perry Photography's storefront is located at 70 E. Market St. For more information, check out her linked social media.
Varsity Barbershop
Varsity Barbershop is an old-school barbershop, facing East Market Street. It was opened in 1969, and still offers old-school services, like a hot towel shave. The shop takes appointments or walk-ins, and accepts cash or cards. Varsity Barbershop's entrance is located at 74 E. Market St. For more information, or details on how to schedule an appointment, visit their Facebook page. 
SameDay Signs 
SameDay Signs is a small sign-making and print shop. They often help students print their posters for their Student Research Conference presentations. Their work can be seen at small businesses around town, as well as in Hedges-Boyer Park. They are able to print nearly anything and have a very quick turnaround. SameDay Sign's entrance is located at 76 E. Market St. For more information, check out their facebook page. 
Line Drive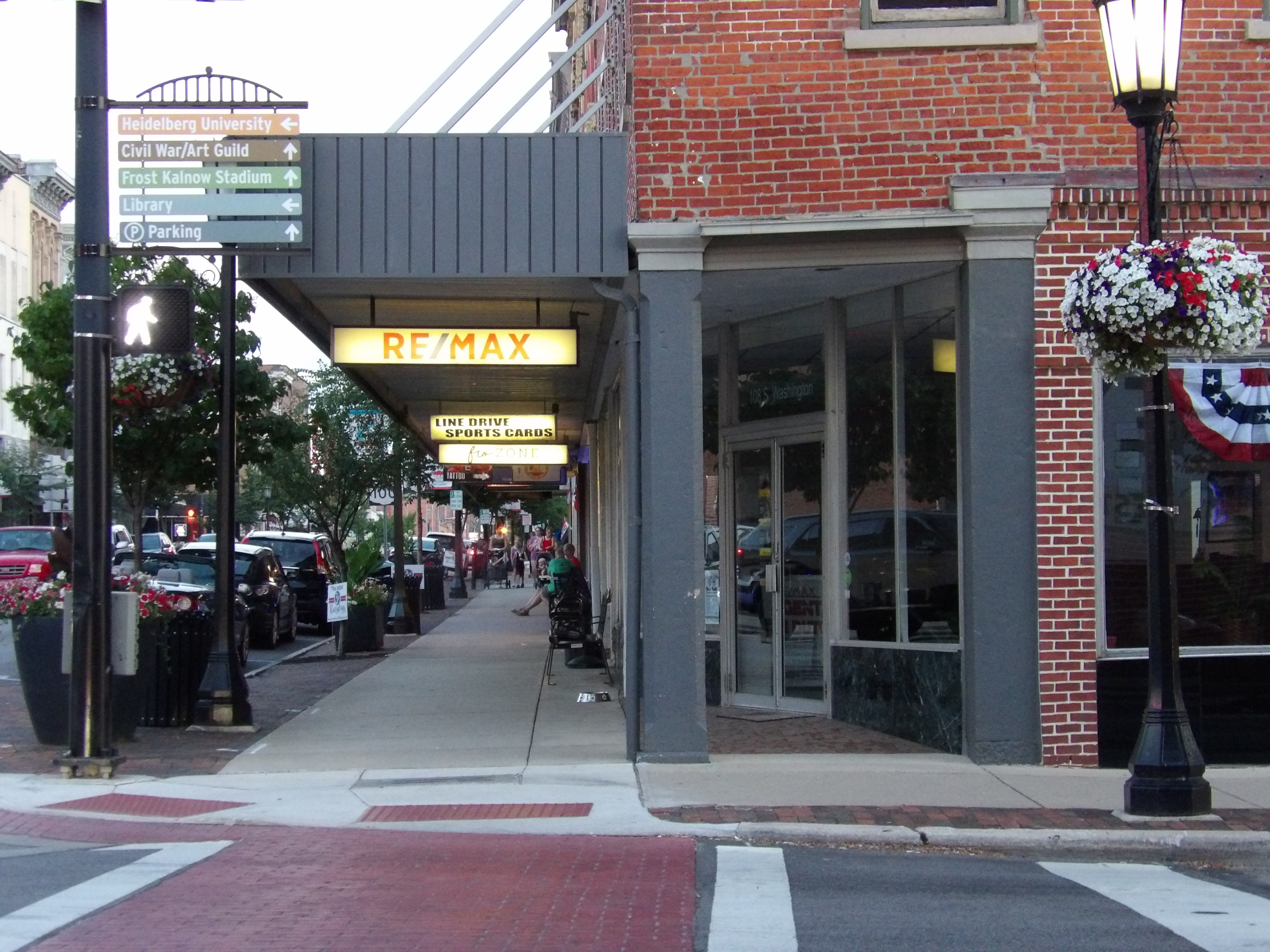 Line Drive Sports Cards sells, buys and trades sports cards and other collectibles. The shop sells a variety of games and memorabilia. Line Drive also hosts game tournaments, including Yu-Gi-Oh! and Magic the Gathering, every week. If you want to start or work on a collection, or just look at cool things and enjoy some games, Line Drive is the place to go. Line Drive's storefront is located at 118 B S. Washington St. For more information, call (419) 447-1864.
FroZone
FroZone is a frozen yogurt shop that sells fro-yo by the weight. They have a rotating variety of flavors that they offer, and toppings such as animal crackers, popping boba, and candy. FroZone often participates in the Berg Events Council's "Discover Days," where the BEC pays for all Heidelberg students to get a free frozen yogurt up to a certain price. FroZone has an entrance in the Laird Arcade, as well as at 114 S. Washington St. For more information, check out their website. 
Releve Barre Studio
Releve Barre Studio is owned and operated by Donna Gross, a '92 Heidelberg alumna and dance instructor. The studio offers Zumba classes, Barre vs. Boxing lessons, line dancing and ballroom dancing at affordable prices. During the warmer months, Releve offers Barre in the Park classes, located in Rotary Park on Frost Parkway. Releve is located in the center of the Laird Arcade. For more information about Releve's services and available courses, check out their website. 
Laird Arcade Brewery (LAB)
The Laird Arcade Brewery (the "LAB") opened in the spring of 2018 – the first brewery in Seneca County since Prohibition. Inspired by their acronym, the owners built a bar reminiscent of high school chemistry class, and serve their beers in beakers. The LAB is dedicated to Tiffin and promoting the history and businesses of Tiffin – which is why all of their drinks are named after locations and landmarks around here. The LAB has "Therapy Thursdays" where they bring in a local masseuse Erica Snyder and offer "therapy by the flight" for $5. The Laird Arcade Brewery is located in the center of the Laird Arcade, down the steps from Revele, and right through the back door of Jolly's – but you can also find their beers at Carmie's, TJ Willie's and The Wall Street Pub and Grille. For more information about the LAB, check out their website.
Level Up
Level Up is a resale store for video games, movies and skateboard supplies. They sell used games for the Switch, Wii, DS, XBox and Playstation. They also sell the current consoles and more retro consoles. If video games aren't your speed, they sell movies (DVDs or VHS). At the checkout counter, they have a rotating variety of stickers and little figurines to buy. Overall, Level Up is a fun place to hang around if you're interested in skateboarding or media. Level Up is located at 118 South Washington St. For more information on them, check out their Facebook page. 
Ink Element
Ink Element is a "modification studio" that offers tattoos, piercings and other body modifications. Their tattoo artists are careful and take their time to provide the best quality body modification to their clients. The studio is appointment only, as they want to be sure their clients are matched with an artist who specializes in the type of work required. The artists who work at Ink Element are capable of a variety of different styles. I personally enjoyed the photos I saw of the intricate line art and watercolor-style tattoos. Ink Element is located on the second story of the Laird Arcade, in suite 209. To make an appointment, visit their website.
Studio 605 Fine Art
Studio 605 Fine Art is an art studio that hosts paint parties. They regularly hold events for artists of all ages. They are deeply connected to the Tiffin art scene, and are collaborating with the Tiffin Municipal Arts Commission for the Court Street Market, an event happening the evening of August 18. You can find their complete monthly calendar of events on their Facebook page. Studio 605 is located on the second floor of the Laird Arcade, in suite 215. For more information, check out their website.