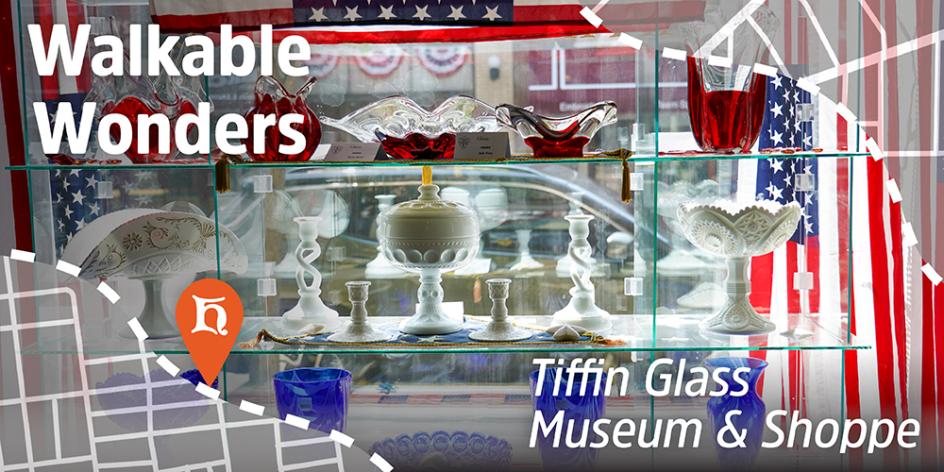 Join Marketing intern and new 'Berg alum Em Swain, '22, as they visit local businesses only a short walk away from Heidelberg University's campus. It's Walkable Wonders, our summer web series!
Tiffin is unequivocally "small town U.S.A." If you ask me, the type of community we have here is comparable to "Stars Hollow," (albeit, with a slower turn of phrase.) I think a lot of people are longing for that, but folks often miss it because we hesitate to romanticize our own realities. So, although there's no copyrighted background music or near-extreme saturation, the culture of Tiffin is worth taking the time to enjoy. 
Tiffin takes pride in the history that we have as a city, and we loathe to sacrifice that for the sake of a random corporate entity. Our celebration of community and history is paramount, and as visible as ever. So, if you've not had the time to re-watch "Gilmore Girls" since the reboot, take the time to follow what I did last week, and enjoy the culture, history, and beauty of our own Tiffin, Ohio.
The Ritz Theatre
Last weekend was the final weekend for "Anything Goes" – starring 'Berg alumna Kirsten Lilly as "Reno Sweeney." The show was put on by the Ritz Players, who will be putting on "Little Women" next month.  The Ritz Players' 2022 season starts in October with the play, "The Man Who Came to Dinner." Alongside their plays, starting in mid-October, the Ritz hosts its "Friday Night Live" – a cabaret series that features local performers.
The Ritz Theatre in Tiffin was built for $255,000 in 1928, as a movie theater and vaudeville house. It showed films during the Golden Age of Hollywood, until going bankrupt in the 1970s. In the early '80s, it was purchased at auction for $35,000 by the concerned citizens who renovated it and turned it into the playhouse it is today.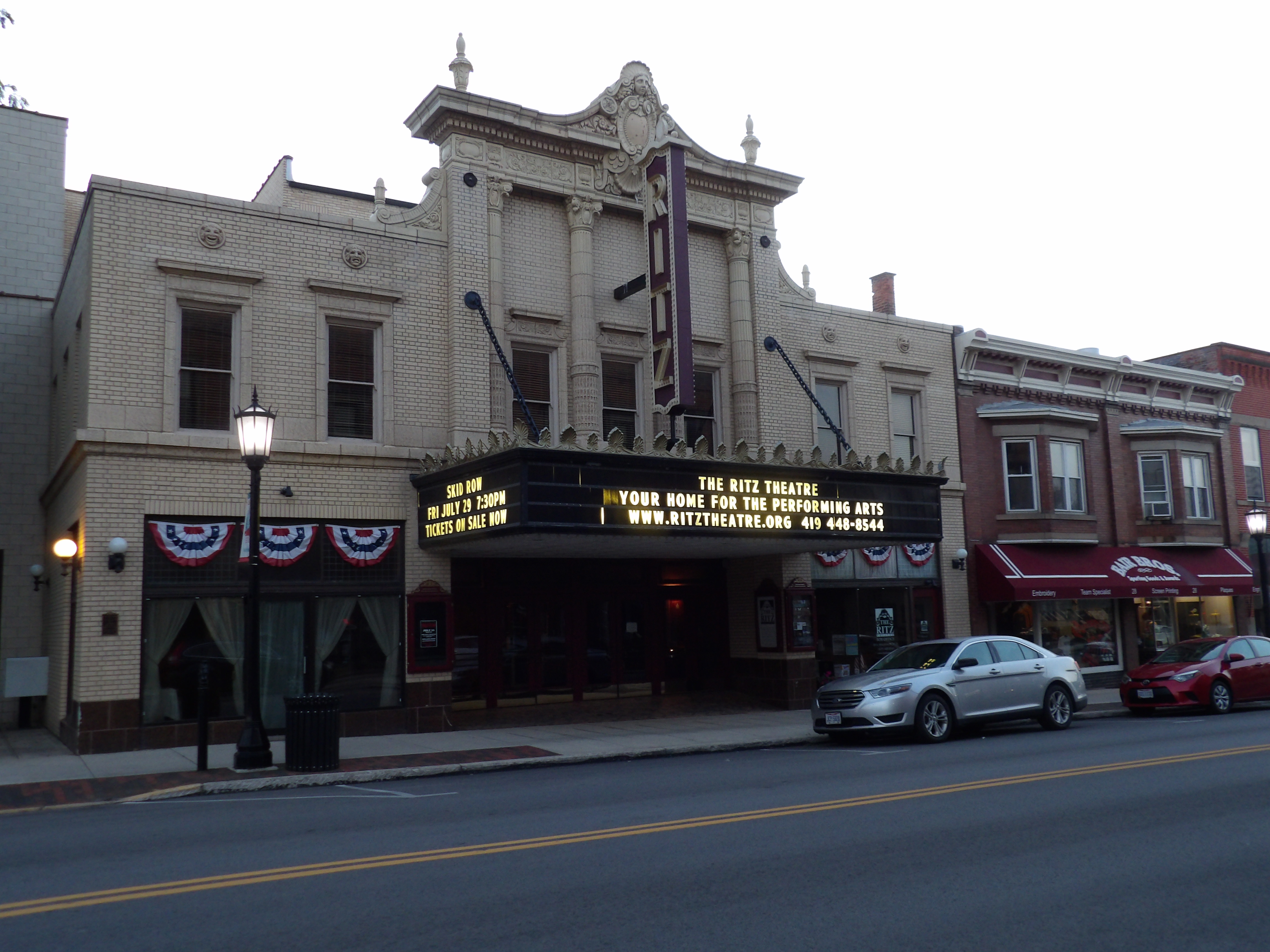 I talked to Michael Strong, the executive director of the Ritz, who told me about their engagement in the community. "I think of us like a jewel in the crown of Tiffin, and I'm happy that we're able to be part of the downtown Tiffin resurgence," Michael said. Today, the Ritz theatre helps generate $1.5 million in economic activity per year. "People don't just come to the Ritz. They go to other businesses and restaurants in the downtown area, as part of their night out," Michael explained. 
Michael also told me about the many ways that the Ritz shows its love and support to local students. The Ritz hosts Tiffin University and Heidelberg University in their Christmas pageants every year. They also offer a "Student Rush," where with the presentation of your student ID up to one half-hour before curtain time, you can purchase discounted tickets for $5. Students can also intern for credit, and are encouraged to audition for roles.
The Ritz Theatre is a 12-minute walk away from the center of Heidelberg's campus, located on South Washington Street. For more information about the Ritz, check out their website. 
The Tiffin Glass Museum & Shoppe
The Tiffin Glass Museum & Shoppe is a local museum capturing and celebrating the role that Tiffin played in the glass industry. The Tiffin Glass Factory, which was in operation from 1889 to 1984, was unlike many other glass factories at the time, in that it was a mass producer of hand-blown glass objects. In other factories across the country (and world) durability and the ability to use molds began to rise in popularity. Tiffin, however, continued in the tradition of artistic glass making, which solidified its place in the glass industry of the 1900s. 
Like many manufacturers at the time, Tiffin's Glass Factory produced a line of "Uranium Glass," which glows under black light due to, unsurprisingly, the level of uranium oxide within the glass. Unlike other manufacturers, Tiffin also made its own color-changing glass, called "Tiffin Twilight." The glass is mostly transparent, with a tint that changes between purple and blue based on the type of lighting. I found a set of 8 Tiffin Twilight plates on Ebay, in fair condition, going for near $400. (You know it's serious when they offer a payment plan.) Both types of glass can be seen at the museum, and their effects under different light is something that the volunteers are very proud to show you.
The Tiffin Glass Museum & Shoppe is completely run by volunteers, and is funded by selling some pieces of historic Tiffin Glass. For collectors, I have yet to see a cheaper way to purchase Tiffin Glass. For students looking to volunteer, to intern, or to learn more about the town, Tiffin Glass Museum & Shoppe is a great place to start.
Tiffin Glass Museum & Shoppe is a 12-minute walk away from the center of Heidelberg's campus. It is located on South Washington Street, across the street from the Ritz Theatre. For more information on them, check out their website. 
Cherry Alley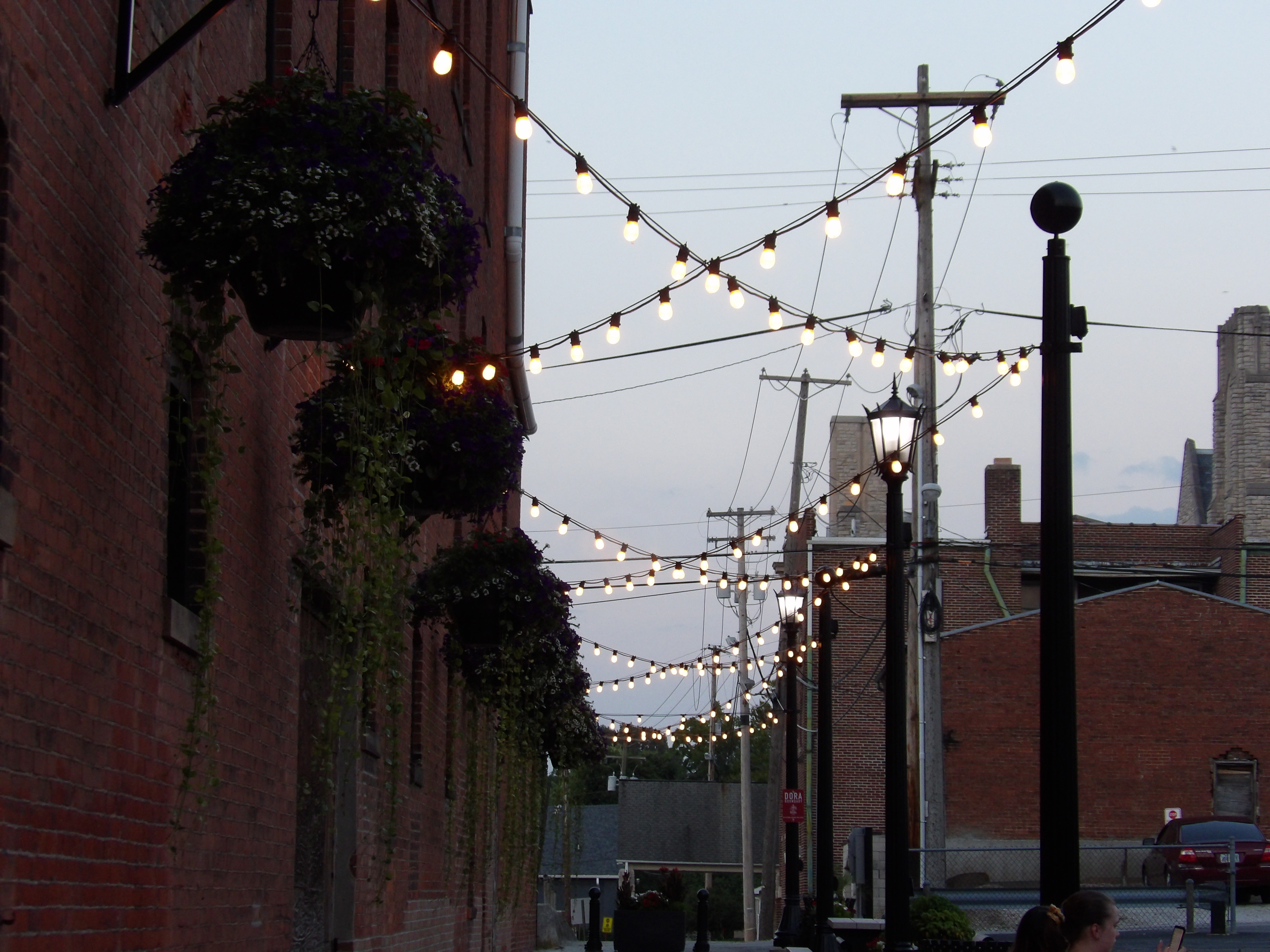 Google calls Cherry Alley a "Tourist Attraction" in Tiffin, Ohio. I don't know that I would call it that – but it certainly is beautiful, and definitely worth seeing! Cherry Alley, for those not familiar, is the alley with string lights and plants hanging above, across the street from the Ritz Theatre, next to the building that houses the Tiffin Glass Museum & Shoppe. While there isn't much to do here on the surface, Cherry Alley is a great place for taking photos. 
It's very pretty, so I thought I would mention it.
Cherry Alley is a 12-minute walk away from the center of Heidelberg's campus, shooting off from South Washington Street. While there isn't a website for Cherry Alley itself, Laura's Lenses, a local photography business, has this blog post showing off some of the work that she's done in Cherry Alley, and other scenic spots around town. 
 
Published on
Jul 22, 2022