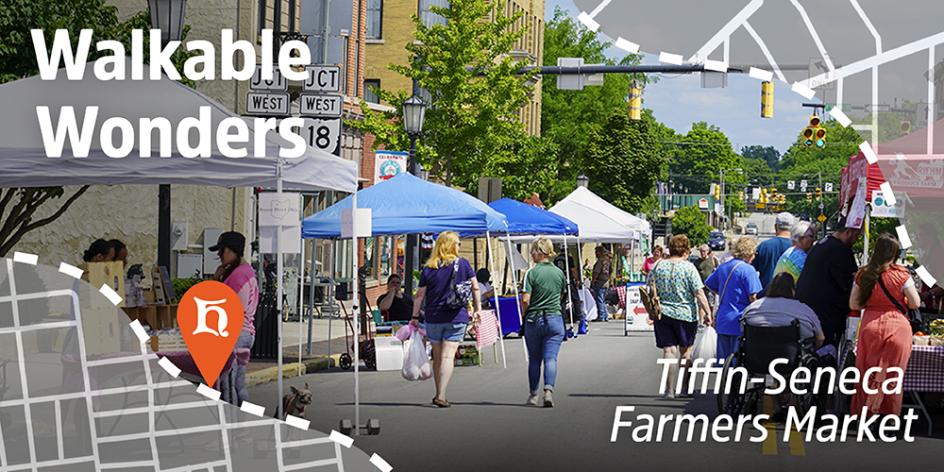 Join Marketing intern and new 'Berg alum Em Swain, '22, as they visit local businesses only a short walk away from Heidelberg University's campus. It's Walkable Wonders, our summer web series!
From now until October 29, the Tiffin Seneca Farmers Market will be held every Saturday morning from 9 a.m. to 1 p.m. The Farmers Market is located on South Washington Street, in front of the Tiffin-Seneca Courthouse. By bringing small-scale farms and local artisans closer to the consumer, the Farmers Market moves Tiffin to a more sustainable future.
The Market Manager is Kirsten Ameling, who graduated from The Ohio State University with a Bachelor of Science degree in Agricultural Communications. It is her job to review vendor applications, create street maps and ensure that vendors meet all ODA and USDA requirements. Kirsten creates all of the marketing materials for the Farmers Market and works to foster the enjoyable community atmosphere that helps make fresh food and goods accessible to all.
Kirsten's goals for the 2022 season included increasing the number of vendors and increasing each of those vendors' sales. In order to accomplish that, Kirsten implemented a Market Bank Program, which allows guests on low-income or those who forgot to bring cash to use their SNAP, EBT or credit cards to purchase $5-tokens that can be spent at any of the vendors at the Tiffin-Seneca Farmers Market like cash. In addition, Kirsten started inviting live artists to perform during the market.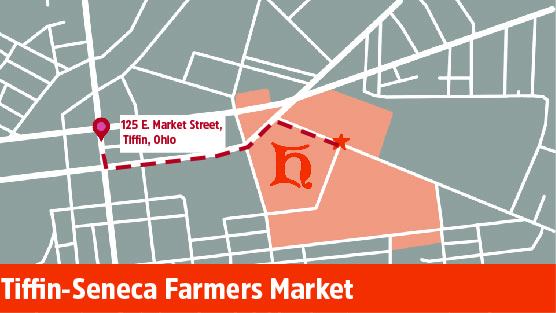 The Farmers Market is one of my favorite activities during autumns at Heidelberg. I've made whole day-plans around going to the Farmers Market -- and several meals. The folks who work at the Tiffin-Seneca Farmers Market are some of the kindest people in the town – I cannot speak highly enough of the community that is built on Washington Street, every Saturday morning.
The farmers market hosts various local vendors each week, offering fresh produce and flowers, homemade food and treats, self-care products, and household items and accessories.
Produce and Flowers
Countryside Acres
Countryside Acres, a small farm located near Old Fort, sells a variety of products, from produce and eggs to their handmade goat's milk soaps.
Clay Hill Organic
Clay Hill is a 52-acre farm located just outside of Tiffin. Owners Kristy and Aaron Buskirk sell their certified organic produce and flower bouquets.
Drown's Produce
Drown's Farm is located less than 20 minutes outside of town. They sell produce from rhubarb to tomatoes and from blueberries to zucchini.
Riehm Produce Farm
Reihm is a produce farm about 15 minutes north of Tiffin. Reihm's provides fresh fruits and vegetables at the Farmers Market. 
Windy Hill Berries
Windy Hill Berries is a family farm in Bloomdale, Ohio, that sells strawberries, raspberries and blackberries by the pint.
Packaged Food
Adah Glee's Garden
Adah Glee's Garden is based in Bellevue, Ohio. This business sells pickled vegetables and relishes. One of their popular products is the green tomato relish that inspired the business – which goes great on brats this time of year!
Bella Cuisine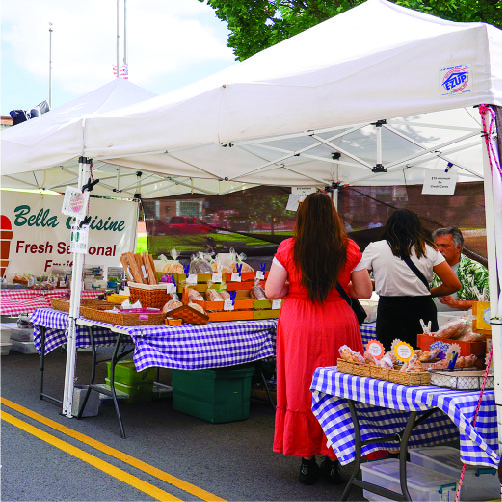 Bella Cuisine sells Italian breads, pastries and other treats. At their primary location, in Fremont, Ohio, Bella Cuisine also teaches cooking classes and offers catering services. Their homemade bread is to die for!
Catawba Island Juice Company
Catawba Island Juice Company makes cold-pressed juices from locally sourced ingredients. They sell over 25 varieties of cold-pressed juices.
DJ's Honey
Made by bees in Upper Sandusky, about 30 minutes south of Tiffin, Don and Jenny Wilson sell honey, combs, wax and candles.
Smith Brothers Sweets
Smith Brothers Sweets sells homemade jams, maple syru, and honey made by bees from Erie, Ottawa, Sandusky and Seneca counties. 
Homemade Desserts
Baked by Bells
Baked by Bells sells confections and candies, such as macaroons, cookies, lollipops and buckeyes! Their macaroons are my favorite – they taste great and the packaging is always so cute.
Enders' Maple Treats
Enders' Maple Treats sells a variety of maple products, including maple syrup, maple cream and even maple cotton candy! They also sell potted plants.
Flo's Homemade Pies
Flo's Homemade Pies sells - you guessed it – homemade fruit pies, baked with love!
I ♥ Cupcakes
"I Love Cupcakes" is a bakery and dessert catering business owned and operated by Jenny Young. They specialize in fun flavor combinations and beautiful presentations.
LB's Eclectic Eats Bakery
LB's Eclectic Eats Bakery is run by local nurse and mother Laura Beth Snyder. LB's sells seasonal desserts, cupcakes and snack bags. 
Raizen Girl Cookies
Raizen Girl Cookies sells big cookies with big flavors at the Farmers Market. They also sell cake pops and mini-breads.
Self-Care Products
Hope's Landing
Hope's Landing is a new business connected with Sisters in Shelter, and founded and directed by recent Heidelberg alumna, Leah Cordy. They sell candles and bath products, all of which are made by survivors of human trafficking or domestic abuse.
Me and the Boys
Me and the Boys sells self-care products, such as handmade soaps, shampoo bars and candles. They have a variety of seasonal scents and fun designs.
Household Items and Accessories
Blossoms & Butterflies Garden Club
Tiffin's community garden club which helps educate about plant life. They sell houseplants and outdoor hanging plants.
Buckeye Star Alpacas
Buckeye Star Alpacas is a small herd farm in Bloomville. They sell hand-made decor and purses, as well as alpaca wool, yarn, felt and socks. Their primary location is a 20-minute drive away, in Bloomville, so you can visit the alpacas that grew your socks!
Creative Pottery
Creative Pottery is owned and operated by Mark Levans. The business sells hand-thrown pottery. Mugs, pitchers, bowls and vases – all made on a wheel, and creatively painted.
JP's Carving and Designs
JP's Carvings and Designs is a business owned by John and Paul Reinhart. They sell intricate wood carvings and signs, and their work is also available on Etsy.
Tiffin's Lions Club
The Lions Club is an international service organization founded in 1917. The Tiffin chapter sells cleaning supplies at the farmers Market.
Put Your Name on It
Put Your Name on It sells a variety of handcrafted tumblers. These are perfect for keeping your hot drinks hot and your cold drinks cold.
Subtle Verse Photography
Subtle Verse Photography showcases and sells the artwork of local photographer Tiffany Kimmet. Cards, magnets, ornaments and prints are available!
The Tiffin-Seneca Farmers Market is hosted every Saturday from 9am to 1pm. It's located on South Washington Street, in front of the courthouse, an 11 minute walk from campus. For more information about all of these local vendors, visit their website.
Published on
Jul 15, 2022