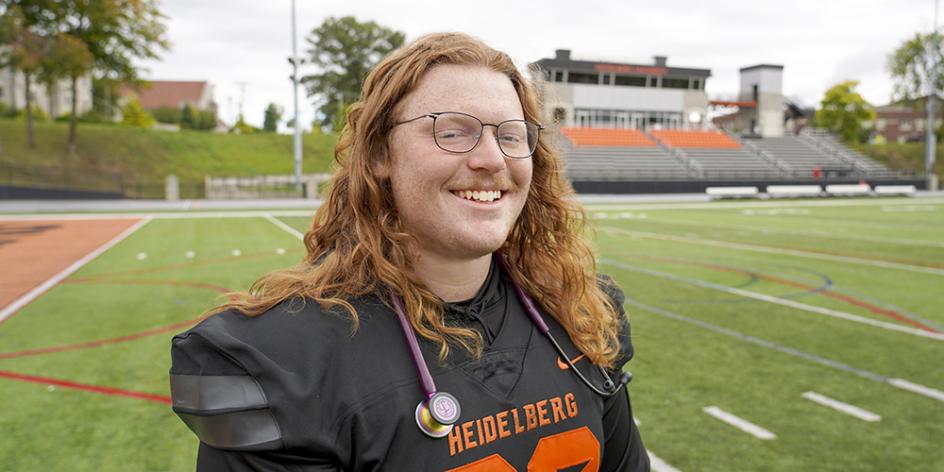 Walter "Wally" Kalinowski, a senior nursing major from Canal Winchester, Ohio, is walking a collegiate tightrope. With a career goal to become a pediatric nurse practitioner or a pediatric physician, he currently plays offensive lineman with Heidelberg's football team and works the night shift as a registered nurse at Mercy Health -- Willard Hospital.
When he isn't working the night shift, practicing football or finally getting some rest, Wally is doing his homework and working toward his bachelor of science in nursing degree at Heidelberg.
How do you spend your time -- what does your average week look like?
My average week includes a lot. 
Monday, I sleep during the day because I work Sunday nights. Then I have film and running with the team. After that, I spend time with my friends and do homework. 
Tuesday and Wednesday include working out, doing homework and going to practice. 
Thursday is the same – except, after practice, I get ready to go to work. 
Friday is a day of recovery and getting ready for the game. My friends and I like to go to dinner for a pre-game meal. 
Saturday is GAMEDAY! After our games, I like to go out with my friends and have a good time. 
Sunday, I rest, do homework, and go to work. Repeat!
How do you balance everything that you do?
I find peace in the little things in life. I find a break in life while working out, just messing around with my boys, and playing football. Football is my escape from reality and I can just be myself and not worry about anything. 
I love my job and helping those in need. When you love what you do, you enjoy going to work and it does not feel like work.
I like to stay busy as well. The biggest thing is time management. I know how to create time for myself as long as I do what I have to do on a daily basis. You have to have free time for yourself or you will find yourself burning out.
What differentiates a good week from a bad week?
Having a good, bad or great week is how you make it out to be. Life is about perspective and when you keep a positive attitude every week can be a good week. 
Of course, I still have bad days as we all do. I just do my best to continue, in spite of those bad days. If I have a bad moment during the week, I will take a step back and remind myself to be grateful for every day. 
A good week for me is being able to play the game I love, spend time with my friends and family, and go to work to help those in need. I love my life and wouldn't change the opportunities I have for anything. 
Why did you decide to pursue nursing?
I have always been interested in the medical field and finally found that nursing was for me my freshman year of college. There is an endless amount of opportunity in the nursing field. 
I chose nursing because of the constant interaction with patients. There has to be an emotional, trusting relationship between the patient and the nurse and that was a huge deciding factor for me when I decided to pursue nursing specifically within the medical field. I have to be able to connect with them and give the best care I can. I want to help people in my life and I felt nursing was a great way to do so. 
How long have you played football? What does football mean to you?
I have played football since the 4th grade – which would add up to about 13 years. Football means the world to me.
It has honestly changed my life for the better. It has created countless relationships that will last me a lifetime. It has taught me how to face adversity head on and push through when tough times occur. It has taught me how to be a great leader and help those around me to be the best version of themselves. Being a captain of the football team has shown me that there are young guys who look up to me: I have to set a great example for them and be the best version of myself at all times. 
Football will always be my first love.
What advice would you give your freshman self? What classes would you tell him to pay extra attention in? 
I would tell him to remember to be grateful for everything you have in life and don't rush the process. It has flown by and I wish these days could last forever. 
I would tell him to focus on his science classes as I use the knowledge from them in my career today, specifically anatomy & physiology and chemistry. 
I'd also encourage him to pay attention during public speaking and take that class more seriously – it is a skill that you will use forever.
What's the best part of the nursing program at Heidelberg? 
The best part is the flexibility. The program has allowed me to do everything I want to along with staying on top of my studies.  How many people can say they played college football while practicing as an RN? 
How did Heidelberg help prepare you for today?
Heidelberg prepared me in many ways. Being a small but successful school, Heidelberg has helped me develop an underdog mentality for myself: this idea that I can do anything I set my mind to, against all odds. The people here have helped me grow into the strong-minded person I am today. 
A special thank you goes out to my offensive line Coach Jason Lewis, who has supported me through all of the ups and downs in life. He has pushed me past my limits and for that, I am forever grateful. I will always be grateful for Heidelberg and the opportunities it has given me. 
Can you talk more about the people in your life who impact and support you? 
My family has always been supportive of all of my desires in life. My mother is the most loving person I know and would do anything for me and our family. She has supported me through hell and back: I will forever be grateful for her and our relationship. 
My father has always been the biggest role model in my life. He was a college football star at the Catholic University of America. He showed me the game of football and taught me how it should be played. My father is tough-minded. He taught me how to be gritty and get through tough times. Without him and my mom I am not sure where I would be. 
Finally, my cousin, Casey is a pediatric ICU nurse and he was a major influence in my nursing career. He always reminded me during nursing school that I could and would get through it. He set a great example for me. He showed me the blueprint and I did my best to follow it. I am thankful for him and his guidance.
Published on
Sep 29, 2022