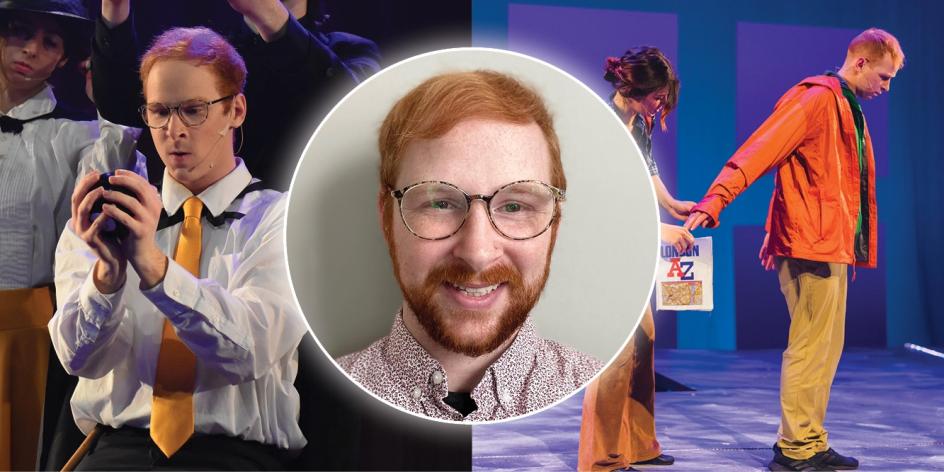 James Ogle '21 fell in love with theatre when he was 14, sitting in the audience at his first-ever performance, Little Shop of Horrors, at a community college near his Henagar, Alabama, home. Since then, his love of theatre has only grown.
Today, that love multiplied into an awesome career in James' chosen industry specialty of wigs and makeup. About 8 months ago, he became the Wig and Makeup Crew Foreman for the Lyric Opera of Chicago.
Defining a career
When James arrived on campus as a transfer student in the fall of 2018, he wanted to do it all in the theatre, both on stage and behind the scenes.
"When I first got to Heidelberg, I wanted to learn all I needed to be able to market myself as an on-stage professional performer and how to network with bigger companies," he says.
He also knew he wanted to delve into the artistry that is wigs and makeup.
Heidelberg provided exactly what James was looking for – an opportunity to work with people in the industry and talk with them about their jobs. But importantly, a stage to practice his craft.
"Heidelberg gave me that chance. I got to work in different areas of the theatre so I would be a well-rounded artist, instead of just having a focus in a single area."
First big break
While at Heidelberg, James was involved in nearly every theatre production in all different roles, including his favorite as the lead, Christopher Boone, in The Curious Incident of the Dog in the Night-Time. 
The Curious Incident taught him how to manage his time, really connect with a character and tell an extraordinary story through his on-stage performance.
Not long after he graduated from Heidelberg with his bachelor's degree in theatre in May 2021, James landed his first professional position with the Des Moines Metro Opera as assistant wig supervisor for the opera's production of Mozart's The Magic Flute. After that production closed, he accepted his current position. He returned to Des Moines for his third summer festival season as Wig Department head and shop manager – a role that set him up for his current position with the Lyric Opera of Chicago.
As Wig and Makeup Crew Foreman, James oversees the rest of the show's running crew. When productions near the first dress rehearsal, it's his responsibility to organize show paperwork, assemble makeup kits and prepare the run crew for the challenges of each individual opera. With a crew of up to 18 wig and makeup artists, the foreman is the liaison between the wig shop, the chorus, the principal singers and the run crew.
It's a lot of responsibility, but James is enjoying every minute of it. "One of the best parts is getting to work with so many talented artists on a daily basis and share our knowledge with each other," he says.
And he feels very well prepared by his time and experiences at Heidelberg.
"Learning how to effectively manage my time with classes, rehearsals, vocal lessons etc. was a huge factor," he says. "I had the opportunity to design a lot of shows while at Heidelberg. Having that experience allowed me to 'trial and error' many ideas and techniques for styling. It helped me with how paperwork is set up so that I could lead and teach those who were interested in being a wig/makeup artist as well."
Close-knit community
Although he's in the early stages of his professional career, James has found great support from colleagues who have been in the industry much longer. "That has meant the world," he says.
He's even learned to trust his instincts when making decisions about productions. "I want my team to be able to trust my leadership skills that, yes, we might go through a rough run, but we'll come out on top with confidence." It's all a part of growing professionally, and James has tackled it head-on.
Ultimately, James would like to develop enough knowledge to build wigs from bones to completion for people around the country and one day operate his own wig business for theatre and drag queens.
Advice for future theatre majors
If you have a passion for theatre, never give up on yourself and always "work for the things you want most."
That's James' message to prospective students who may be considering a career in theatre. It's not always easy – but as his early career success demonstrates – it's worthwhile in the end.
"There will be times when giving up seems like the right thing to do. It's in those moments that we need to lean on our colleagues for support," he says. "Stay true to yourself and always follow your heart, because, in the end, you are the pilot of your journey."
Published on
Nov 14, 2022