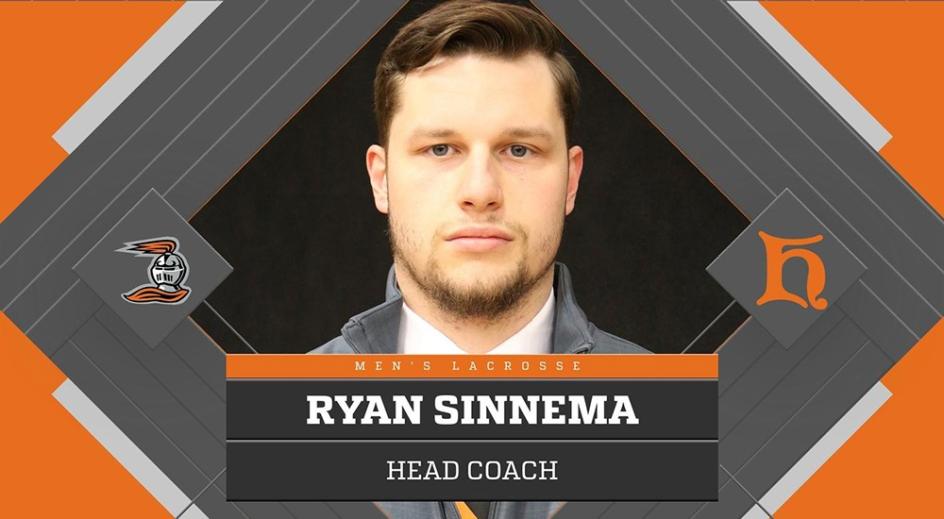 Heidelberg University Athletic Director Greg Cooper has announced the hiring of Ryan Sinnema as the next head coach of the men's lacrosse team, effective Aug. 28. Sinnema, a 2020 Heidelberg graduate, returns to his alma mater as the third head coach in program history.  
"Ryan emerged from a very deep pool of candidates," Greg said. "Ryan's passion for Heidelberg mixed with his strong Ohio ties made him stand out. His knowledge and experience with lacrosse throughout the Midwest club and high school scene also set him apart."
Since graduating from Heidelberg, Ryan was a coach at Saint Ignatius High School and a senior coach with the renowned Resolute Lacrosse club program.  
Ryan was a defensive stalwart for the Student Princes starting in 2017 when the program was restarted after a 30-year hiatus. He played 38 games for the Tricolor over three seasons until the COVID-19 shutdown brought an end to his career.
"Having the opportunity to come back to my alma mater and lead the men's lacrosse program is a tremendous honor," said Ryan, a native of Bay Village, Ohio.  "I would like to thank both President Huntington and AD Greg Cooper for entrusting me with this role and their belief in the lacrosse program."
To date, Ryan remains the program's record holder for caused turnovers in a game (7), in a season (43) and in a career (94). He was on the field for many of the program's biggest moments, including their first win -- an 11-10 overtime victory at Monmouth College in 2017.
"Berg lacrosse has played such an integral role in not only my lacrosse career, but my personal growth as well," said Ryan, who married 'Berg soccer standout Kate Mundy.  "I am excited about the opportunity to help student-athletes grow both in the classroom and on the field."
Ryan takes over a youthful team that won four games in 2023 -- more than the previous three seasons combined.  
Heidelberg lacrosse starts the 2024 season with three games on the road -- at Mount St. Joseph, Earlham and Anderson -- before the home opener against Hanover on March 9.  
 
Published on
Aug 31, 2023