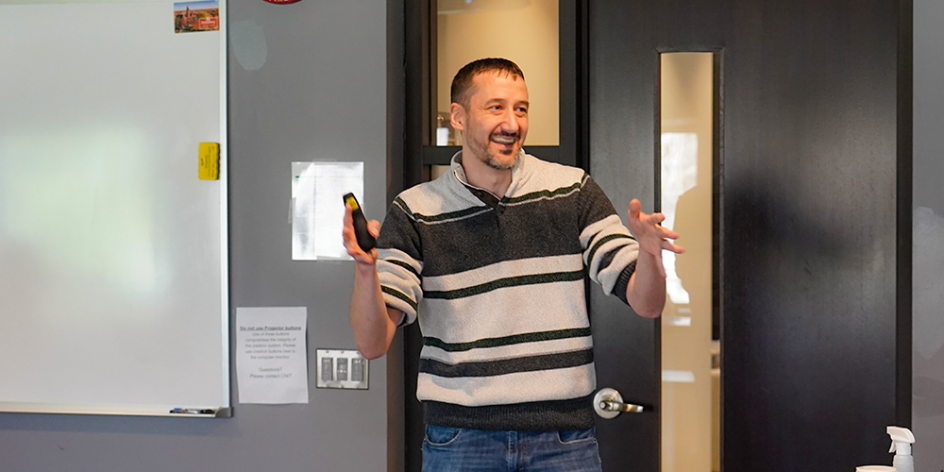 Heidelberg celebrated the 28th annual Faculty Research Symposium on Tuesday with a total of 10 professors presenting recent and ongoing research. Two students also co-presented with their faculty members
The ultimate goal of the symposium is to give students a sense of what a professional scholarly presentation should look like and to demonstrate techniques they can apply to their own presentations. The symposium also serves as a forum for faculty members to share their research and scholarly interests with the campus community.
Dr. Daniel Kane served as the faculty coordinator for this year's Faculty Research Symposium.
The following faculty members were presenters this year:
•    Dr. DoHee Kim-Appel (graduate counseling) – The Relationship of Psychological Factors in Predicting Level of Differentiation of Self
•    Dr. Aaron Sell (psychology & criminology) – An Empirical Test of the Evolutionary Origins of Hatred and Anger
•     Dr. Stacey Pistorova (education) – Bridging the G.A.P. from Kindergarten to Teacher Prep: A Case Study
•    Dr. Justin Pruneski (biology) – Using Podcasts to Engage Students and Content and Professional Development
•    Dr. Barry Devine (English) – Epiphany and the Bildungsroman Tradition
•    Dr. Michele Castleman (education) – It's a Quixotic World After All: Liminal Quests in Libba Bray's Going Bovine
•    Dr. Nichole Griffin (education) and junior Maria Welter – Reading to Learn: From Botswana to Ohio
•    Dr. Lisa Kahle-Piasecki (business) and Matthew Bereza, Visiting Assistant Professor of Psychology, St. John Fisher University – Digital Badges: A Pilot Study
•    Karla Kash (theatre) – Consent Forward Artist and Intimacy Direction
•    Dr. Diane Monaco (economics) – Student Debt
Published on
Mar 15, 2023
Programs
Biology
Business Administration
Criminology
Education
English
Master of Arts in Counseling
Psychology
Theatre