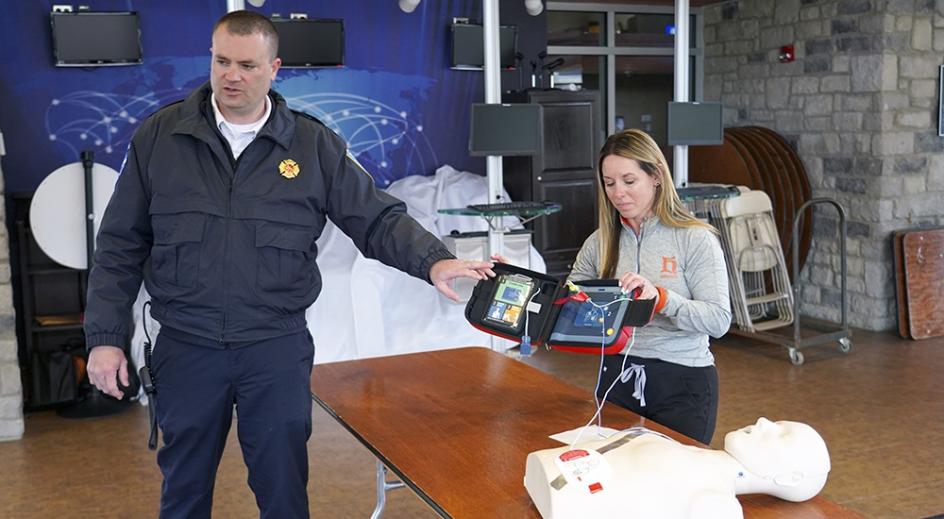 ---
Deputy Chief Mike Homan of the Tiffin Fire and Rescue Division had a captive audience of staff and faculty Tuesday when he and three colleagues conducted the second of three hands-on educational training sessions on the use of Heidelberg's new Automated External Defibrillator (AED) units and how to perform hands-on CPR.
The 35 new AEDs will allow for at least one unit in every campus building, especially residence halls, said Janelle Baldosser, CNP, director of Stoner Health & Counseling Center and organizer of the training sessions. The units are the gift of alumni couple Dr. Ernie & Bonnie Estep, both '63, who recognized a need and stepped in to fill it.
Deputy Chief Homan started off the session by explaining the difference between a heart attack and cardiac arrest and stressed that time is of the essence when assisting a patient. Heidelberg's AEDs are designed for use with hands-only CPR, and the units "talk you through the entire process," Homan explained. 
"The AEDs will walk you through, step by step, everything you need to do' if you encounter a person in cardiac distress. "You are the one who will be giving that person a chance for the best possible outcome."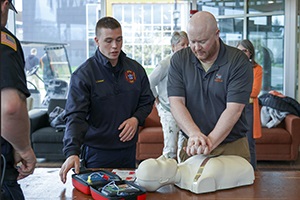 The combination of CPR and early defibrillation is effective in saving lives when used in the first few minutes following a collapse from sudden cardiac arrest. The AEDs will analyze a person's heart rhythm and indicate whether or not a shock is advised, and provide explicit prompts for users. Those who attended the training got an opportunity to practice using an AED as well as hands-on CPR.
"These machines really are awesome," Homan said. He also talked about "Good Samaritan" laws that protect an AED user from liability -- although he reassured the participants that using one of the AEDs is nearly mistake-proof.
Those who attended the sessions found them to be very beneficial. The Office of Alumni Engagement, for example, frequently hosts events and activities during which people of all ages visit the campus.
"It feels reassuring to have the new AEDs here in all of our buildings and more importantly, to now have this training on how to use them," said Ashley Helmstetter, assistant vice president of Alumni Engagement and HYPE Career Ready®. "I feel ready to assist in an emergency situation, if one presents itself."
There is one additional training session scheduled for this semester on Tuesday, May 2, 2023, in The University Commons. All students, faculty and staff are invited and encouraged to attend.
Published on
Apr 18, 2023